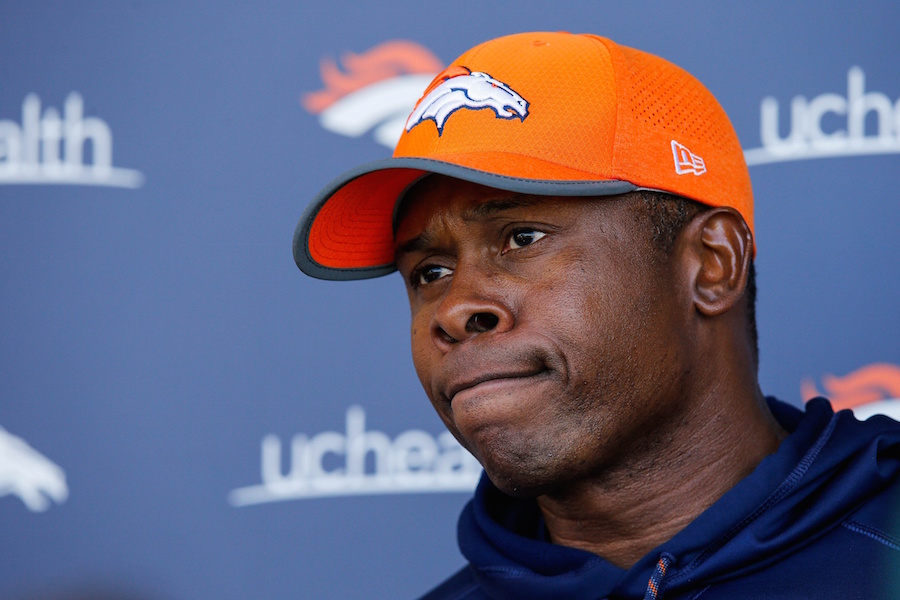 Broncos head coach Vance Joseph will face his first tough roster decisions of the year going into the week three matchup against the Buffalo Bills.
Offensive tackle Garett Bolles is listed as questionable with a bone bruise to his ankle and wide receiver Bennie Fowler listed as questionable in the concussion protocol. If neither player is able to go, the Broncos will lose two players who have been a part of 87% and 42% offensive snaps, respectively.
If Bolles is unable to go, the offensive line may have to start Donald Stephenson, who has only seen seven snaps so far this season in the first two games. Joseph was unable to offer any further clarification on Bolles' status during a press conference Friday morning.
"Not sure. He is obviously getting better fast. He is travelling to the game, so he is questionable," Joseph said of Bolles. Regardless of what the offensive line looks like, though, the plan remains the same. "We have a game plan to block their edge rushers. Again, you can't help both guys all the time, but you can help one. By the pass concept and by the overall game plan, I think we should be able to handle the rushers most of the time."
The potential absence of Fowler may hurt the offensive production as well. Fowler has been responsible for two of the team's six passing touchdowns and has been the target of seven of quarterback Trevor Siemian's 60 pass attempts. As of Friday morning, Joseph couldn't give a definitive yes or no on Fowler either.
"Bennie [Fowler] is in the protocol right now, still. So, we'll see," Joseph said of Fowler.
In his stead, the Broncos may have to activate wide receiver Jordan Taylor, who has been inactive for both games this season. Wide receiver Cody Latimer will most likely see more action than Taylor, though Latimer has only been on the field for 18% of offensive snaps this season.
The Broncos are also faced with the decision on whether or not to activate running back Devontae Booker. The combination of C.J. Anderson and Jamaal Charles has managed to keep rookie running back DeAngelo Henderson off the field for all offensive snaps this season. With the Broncos' running game being one of the top in the league through two games, Joseph is faced with the decision of interrupting his duo or continuing with what's worked.
Defensively, the Broncos now have to face the situation of using two players with no snaps in the season so far. Defensive end Zach Kerr will be returning from a knee injury that held him out of the first two games. Kerr will be playing behind Derek Wolfe, and may be used in place of Shelby Harris, who has seen a little over 50% of the snaps as a defensive end or tackle.
This game will also be the first action for newly acquired nose tackle Ahtyba Rubin. Rubin was signed in place of defensive end Jared Crick, who is currently on injured reserve with a back injury.  Rubin may be asked to forgo snaps at nose tackle and play as backup to defensive end Adam Gotsis, who's seen his snap count increase from 31 to 44 after a strong performance against the San Diego Chargers. Gotsis has seven tackles through the first two games, and may be asked to do more as the Broncos move forward with two players on the front seven depth chart who haven't played a snap yet this season.
The Broncos visit the Bills in Buffalo on Sunday at 11:00 a.m.