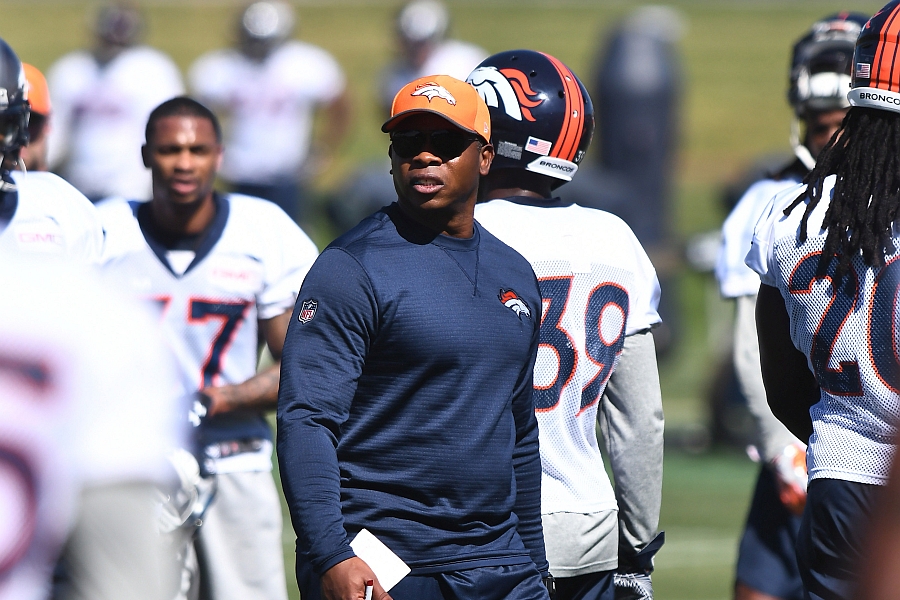 There's no rest for the weary as the Denver Broncos' coaching staff is back to work already, but this time, they're coaching the future of the NFL at the Senior Bowl in Mobile, Ala.
Vance Joseph began the week speaking to the North team in attendance Monday night, saying they "want Broncos…we want guys who love football."
"We want #Broncos … we want guys who love football."

Time to go to work, North Team.https://t.co/naeZL5AyDJ

— Denver Broncos (@Broncos) January 23, 2018
Joseph spoke about the opportunity to coach the young quarterbacks on the North team: Wyoming's Josh Allen, Oklahoma's Baker Mayfield, Washington State's Luke Falk and Nebraska's Tanner Lee, along with the many advantages that the Broncos receive by coaching the Senior Bowl.
"It's a great group of young quarterbacks here," Joseph said to the assembled media on Tuesday. "Like most positions, you want to see guys operate in the meeting room; how they engage their teammates, obviously the football part, arm talent, how they move in the pocket."
"To have the chance to coach the Senior Bowl gives you the chance to have an intimate-opportunity setting to evaluate the players. To me, it's a clear advantage to be here coaching this game."
Joseph spoke about how he will organize his practices this week and how he will attempt to highlight the individual college players.
"It's going to be like a pro training camp practice. It's going to be a lot of individual drills to showcase these kids' skill set. It's going to be a lot of one-on-one drills. Wide receivers (and) defensive backs. Linebackers versus running backs, tight ends and safeties. It's going to be set up like a training camp practice, with about three team periods and two or three competitive periods… It's my schedule. It's going to go as a Broncos two-a-day schedule would go; it will be fun to watch."
Click here to listen to the full press conference with Vance Joseph, including what he had to say about the quarterbacks he's coaching and more, or watch the full press conference below.
Video Courtesy of Denver Broncos Facebook – AMP users click here to watch on Facebook