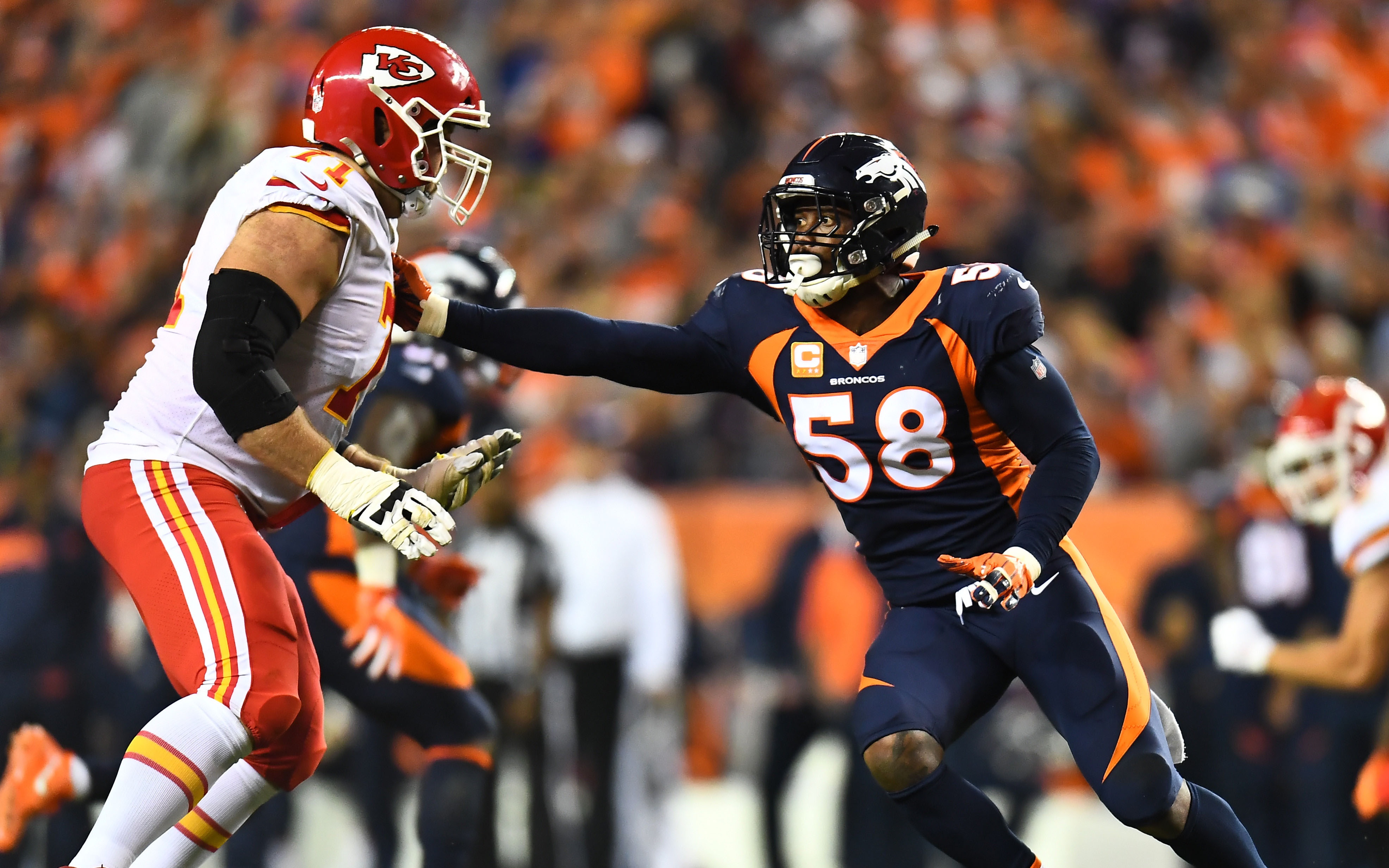 Von Miller just hasn't been himself lately.
For years, Miller's led the NFL in quarterback pressures, but currently through five games, he's not even in the top-5 per Pro Football Focus. While he started the season on fire, with three sacks against Russell Wilson of the Seattle Seahawks, Miller has only four sacks total on the year and zero in the last three games.
So, does head coach Vance Joseph need to see more out of the Broncos superstar?
"Not by himself. He has to play better, I have to coach better and [QB] Case [Keenum] has to play better. It's all of us," Joseph said on Wednesday to reporters at Dove Valley. "When you're playing big games—Sunday's going to be a big game for us—your best players have to make plays. He understands that. He wants to make plays for us. When he's one-on-one, he has to win. We'll have a plan to get him more attempts of being one-on-one, but he has to play well for us to win. He understands that each week."
Simply, Miller must play better, and it's a bit shocking how poorly he's played this year.
We can look at the PFF grades to get a better glimpse of how he's struggling this season. In his first seven seasons, Miller was never graded lower than a 90.0, which is considered "high quality" and three of those years he was considered "elite" by the website who grades every play, every week.
This year, Miller's a mere 69.0, which is "average" in Pro Football Focus' grading system. In fact, his games against the Baltimore Ravens and Kansas City Chiefs were graded in the 40s, which is extremely rare for Miller, and his game last week in New York was still only "average."
These Broncos are predicated on rushing the passer with great success, sacking the opponent's gun-slinger and even stripping the ball at times. That pressure leads to not only fumbles, but interceptions as well, and Miller is at the forefront of creating havoc in the pocket.
If Denver has any chance of winning this week, they'll need Miller to be in the face of white-hot Jared Goff repeatedly this Sunday.
Broncos (2-3) – Rams (5-0) kicks off at 2:05 p.m. MDT on Sunday.