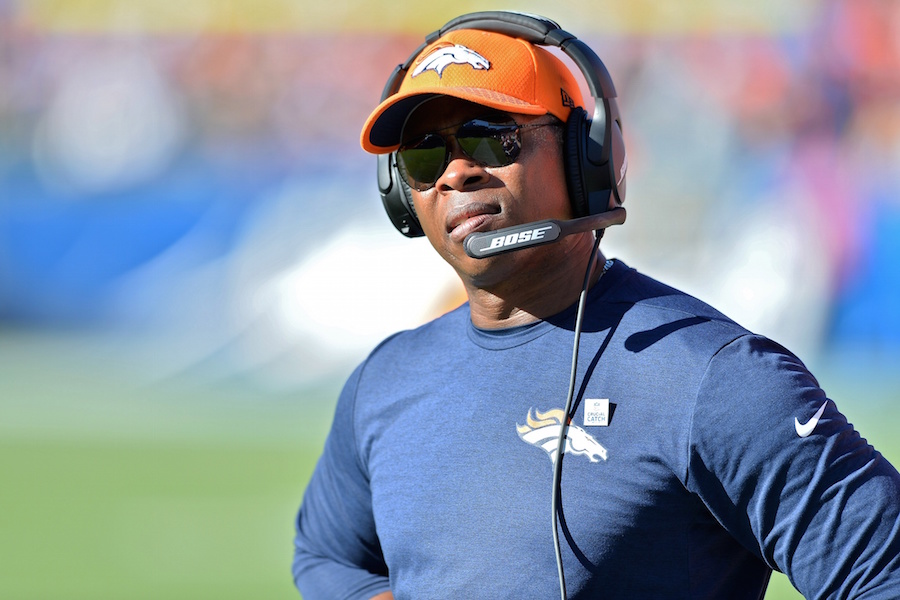 Several injuries and a season in rapid decline have left the Denver Broncos with a solid opportunity to see what's in line for them personnel-wise as they limp out of 2017 and prepare for 2018.
But what's frustrating is that head coach Vance Joseph has been so far noncommittal about the idea of giving his younger players valuable experience. After losing seven straight games, and with the fear of losing out weighing on fan's mind, Joseph is trying to do everything he can to win, even if it means hedging the experience of the younger players on the team.
However, after a flurry of key injuries heading into the Week 13 matchup with the Miami Dolphins, Joseph's hand is starting to be forced.
Defensive end Derek Wolfe left the Week 12 loss to the Oakland Raiders early in the first quarter with a neck injury. He was ruled out for the remainder of the game, and didn't practice all week. The injury is a potentially worrying one; Wolfe explained in a radio interview that he has visited several doctors and experienced numbness in his face, arms and legs.
"Kills me that I won't be battling with my dawgs this weekend," Wolfe said in a post to his Instagram.
Nose tackle Domata Peko left the same game with an MCL sprain in the third quarter. He insisted that he would potentially be able to play in order to continue his consecutive games played streak, which sat at 123. But, after a week of being unable to practice, the Broncos ultimately decided to keep him out, ending the streak for better or worse.
"All week I was trying to be positive with it, but just running around yesterday and in the pool today, just jogging in there, I just felt that my knee wasn't stable," Peko said. "And being in the trenches, you can't have a bad wheel. You've got to be 100 percent in there. I don't want to go out there at 75 percent and someone falls into me. That's not going to do us any good. I just want to get back to 100 percent and get back out in the field and start wrecking; start doing my job."
Right guard Ron Leary will also be held out this week with a back injury. Leary did not practice this week, although he did play all 59 offensive snaps against Oakland. He is optimistic he can return in Week 14 against the Jets. Second-year offensive lineman Connor McGovern will start in his place. McGovern saw his most significant playing time in Week 1 this season when he was on the field for 33 snaps (47.8 percent) in a win over the Chargers.
Joseph now faces a few tough decisions as the injuries pile up. With a 3-8 record, the Broncos have a less than one percent chance of making the playoffs. Meanwhile, the list of injuries are beginning to pile up. Along with that, players who were brought in or activated to shore up different aspects of the offensive and defensive game have been far less effective than their first- and second-string counterparts.
But would Joseph risk the team's future and his players' health to just break the losing streak and get a win?
"We want to win a game," Joseph said Thursday. "We have five ball games left and it's been a tough, tough year so far. We want to win a football game so we're playing the guys that can help us win."
The comment was in response to a question about whether there was a sense of urgency to play younger players in the closing weeks of the season. It came before the news that he would officially be without Peko, Wolfe and Leary in Miami.
Joseph would need to win out to avoid the team's first losing season since 2010 (4-12) when a 3-9 record cost Josh McDaniels his job. Riding a seven-game losing streak, Denver's schedule grows much more favorable down the stretch — beginning this week in Miami. With the Jets, Colts and Redskins on the horizon, followed by Kansas City at home in the season finale, Joseph has a chance to pick up even four wins over the last five games of the season. But he's going to need his best players on the field to make that happen.
Here's the players Joseph might keep playing to help win:
Peko has been an invaluable part of the run defense. After being ranked 28th in the league against the run in 2016, the Broncos were revitalized, now ranked fourth, while only giving up five touchdowns. Peko's MCL sprain was bad enough to require him being carted off the field, but he insisted he'd be able to go in order to keep the streak alive. Joseph only ruled him out for a week or two. Peko's two-year contract says that the smart move is to deactivate him for the season, and have him available for 2018, where he can keep the run defense stout.
Wolfe is just as valuable in both run and pass defense, but also as a vocal leader on the team. His injury is potentially severe, requiring the attention of several doctors and feeling numbness, but Joseph has not yet ruled him done for the season. Wolfe should also be shut down, not just for the future of the team's needs, but for the safety of Wolfe as well. He is a valuable defensive commodity, and would serve well to be healthy for a 2018 campaign in which the Broncos defense would be looking to re-earn their "elite" title.
Leary is on a four-year contract with the Broncos, signed this past offseason, so rushing him back onto the field may not be the wisest decision in the long term. However, he has been one of the few consistent players on an offensive line that again has failed in pass protection and underachieved in the run game. Leary without a doubt improves Denver's problematic offense, but exacerbating his injury could have lasting implications that could hurt an already struggling unit that desperately needs him over the long term.
Paxton Lynch had a shot at finishing out the season as the starting quarterback, a valuable opportunity for the Broncos to evaluate his development and make a decision regarding his future with the team in the offseason. Instead, Lynch went down injured against Oakland and is out for the next 2-4 weeks while Trevor Siemian fills in. There's no faulting Joseph for the injury, but Lynch's time in Denver may now be running short considering the wealth of quarterbacks available in the Draft and free agency in 2018. Rushing him back to the field also runs the risk that he flounders and loses trade stock. But Joseph hasn't ruled it out.
All of these players are ruled out for Week 13 against Miami.
Credit is due Joseph and the medical staff for not attempting to force any of them onto the field, considering where the season stands. So now, he needs to reevaluate his stance of "just get a win" from earlier in the week. With both sides of the ball now considerably less skilled and experienced due to injury, Joseph's focus should turn to his young, inexperienced players. He should be focusing on getting these players game-speed experience, something that's exponentially more valuable than just practice field work.
But this has been a point of stubbornness for Joseph all season.
Joseph and the Broncos keep playing Jamaal Charles, who has not only been ineffective — only 284 yards and one touchdown through eleven games — but is also costing the Broncos $78,125 per game in bonuses for every game he is active. Meanwhile, rookie De'Angelo Henderson is on the inactive list weekly. Henderson had an explosive preseason, but has only been allowed one touch of the football through Week 12.
Shane Ray is playing with a guard on his left hand as he continues to recover from a preseason wrist injury, and he was reportedly sick with the flu all week. Ray has one sack since being activated from IR in Week 8, a disappointing stat line considering he is lining up opposite Von Miller, who tends to be the focus for opposing offensive blockers. DeMarcus Walker, meanwhile, has only been on the field for 44 snaps this season. Although the Broncos have him tabbed primarily to play defensive end, he is able to play both the outside linebacker and defensive end positions. Joseph and the Broncos would be well-served to give Walker more experience, as it could lead to some unexpectedly good results — just as they've seen from second-year end Adam Gotsis.
But Joseph wants to win a football game, and for how he puts that at a higher importance than future player evaluation. In fact, he was asked directly on Thursday whether winning is more important in this situation. His response?
"Absolutely. It's more important than having a future look at a guy. We watch them every day here, so that's part of the evaluation also."
Winning and breaking the streak is important, not only for the morale of the team but for Joseph's job security. Joseph is hedging valuable playing time of players the Broncos are going to rely on next season. Walker may have to step into a bigger role, and with only 44 snaps of experience so far, he may not be able to fill it. Henderson, with his one touch, might end up being the primary backup to Devontae Booker in 2018 — depending on if the team decides to leave Charles behind, and if they feel the need to keep C.J. Anderson (who has no guaranteed money or dead-cap hit after this season) around.
It's unlikely that Joseph will lose is job should he fall to 3-9 like McDaniels did. He doesn't have a "Spygate II" controversy hanging over his head, for one. But every loss shortens Joseph's future in Denver.
So here's where Joseph has a decision to make. Barring catastrophic events, such as multiple new injuries, Joseph's job could be at risk if the Broncos lose to the likes of the Dolphins, Jets, Colts and Redskins. But under what circumstances should he sacrifice a portion of 2018's potential success to simply get a win in the lost 2017 season? Should he risk further injury to Wolfe, Peko or Leary if they come available down the stretch? Or can he make the decision to play his young, inexperienced players, putting the Broncos on more known, solidified footing for 2018?
Only Joseph knows, and only he can decide.