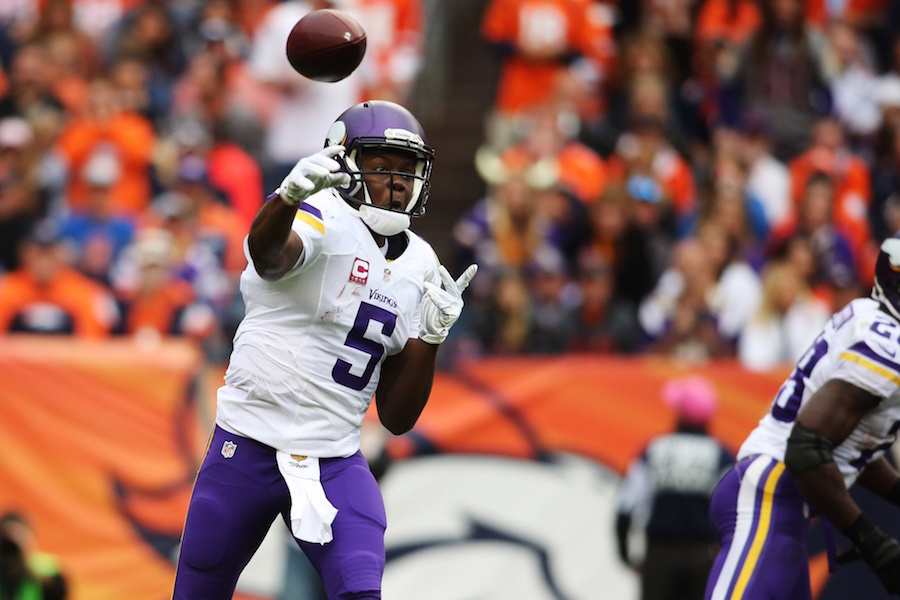 Hall of Fame cornerback Deion Sanders made headlines last week with his hot take suggesting that with (current Chargers) quarterback Philip Rivers on the roster the Denver Broncos would be a shoe-in for their fourth world championship. The thought that a team would move a Pro Bowl-caliber quarterback within their own division seems unlikely, but it does spark an interesting conversation.
The Denver Broncos look set to let the winner of the battle between Trevor Siemian and Paxton Lynch lead the team for the 2017 season and beyond. However, we would be remiss to not acknowledge that the game of football can be finicky. Injury or circumstance can waylay even the best laid plans.
Siemian has shown he can't stay healthy for a full NFL season (or college one, for that matter). The leash on Lynch may be short, given he was a first-round draft pick.
Should Denver's plans at QB unravel, here are three veteran quarterbacks who would instantly make the Broncos contenders and might be available come 2018.
The Spurned One – Mike Glennon
You have to feel bad for Mike Glennon after the NFL Draft when the Chicago Bears stunned everyone by selecting Mitch Trubisky with the second-overall pick. After finally getting out of a backup role in Tampa Bay behind Jameis Winston, Glennon seemed poised to break out on his own in the Windy City. Glennon may not carry much weight when it comes to name recognition among the causal fans, but Tampa thought enough of him that they didn't trade him in the last year of his contract, despite other teams showing interest.
The Bears got a solid, under-the-radar quarterback who would have been a steal at $8 million dollars this season when they initially signed Glennon. Now, with Trubisky on board and the team being in rebuilding mode, it doesn't make sense to have Glennon take up playing time that could help Trubisky develop. Glennon has a potential buyout after this season where he would only count $4.5 million in dead cap for Chicago. If something happens where Lynch and Siemian don't live up to expectations, Denver could be a nice landing spot for Glennon.
The Long Shot – Philip Rivers
Philip Rivers is the most far-fetched, but also the most fun to think about. He has been a rock as far as production, throwing for at least 4,000 yards to go along with at least 29 touchdown tosses with a completion percentage that has never dipped below 60 percent over a five-year span. What makes those numbers even more impressive is that in that same timespan Rivers played behind a mix-and-match offensive line, as well as having middling talent at the skill positions. Much like a Peyton Manning toward the end of his career, Rivers would have a chance to grab that elusive championship ring with only a few seasons left of viable productivity.
Of course, the Bolts would have to be crazy to trade Rivers within the division. Not to mention the nuclear fan blowback for trading the face of the franchise, regardless of what the team got in compensation for him. While there have been murmurs in the past of Rivers being reluctant to play in Los Angeles, he recently signed a contract extension that ties him to the team until 2019. Rivers could absolutely be the missing piece of the puzzle that leads the Broncos to another championship but it's also the least feasible as well.
The Damaged Goods – Teddy Bridgewater
Considered to be on the cusp of a breakout year last season, Teddy Bridgewater suffered a potentially career-threating knee injury in training camp. The injury was so severe, it necessitated the Vikings trading for Sam Bradford. Additionally Minnesota chose to not picking up the fifth-year option on Bridgewater, making him a free-agent after this season. If or when Bridgewater is able to suit up again, he would have missed two full seasons in the league and very well could be out of football at just 25 years old.
Bridgewater would have to be healthy for any team to even consider taking a huge risk in signing him. However, if he's even close to being the player he was before the injury, some team is going to get a really good quarterback for pennies on the dollar. Now there are some entanglements with Bridgewater's contract that could mean a messy divorce from Minnesota and the Vikings will have to make a decision to keep either Bridgewater or Bradford. In the event that Minnesota decides to part ways with Teddy B and Denver chooses not to go forward with either Lynch or Siemian, Bridgewater makes a lot of sense for a Broncos team that still figures to be a playoff contender.
In all reality, Denver is a top-15 quarterback away from returning to the postseason and challenging for another Lombardi Trophy. It's a "what have you done for me lately" league, and it wouldn't be unprecedented for Denver to cut bait on Siemian and Lynch that quickly if they can't get the job done this year. In the event that the fickleness of football (or the competitiveness of John Elway) gets too big to ignore, there are options that the team could look in to.