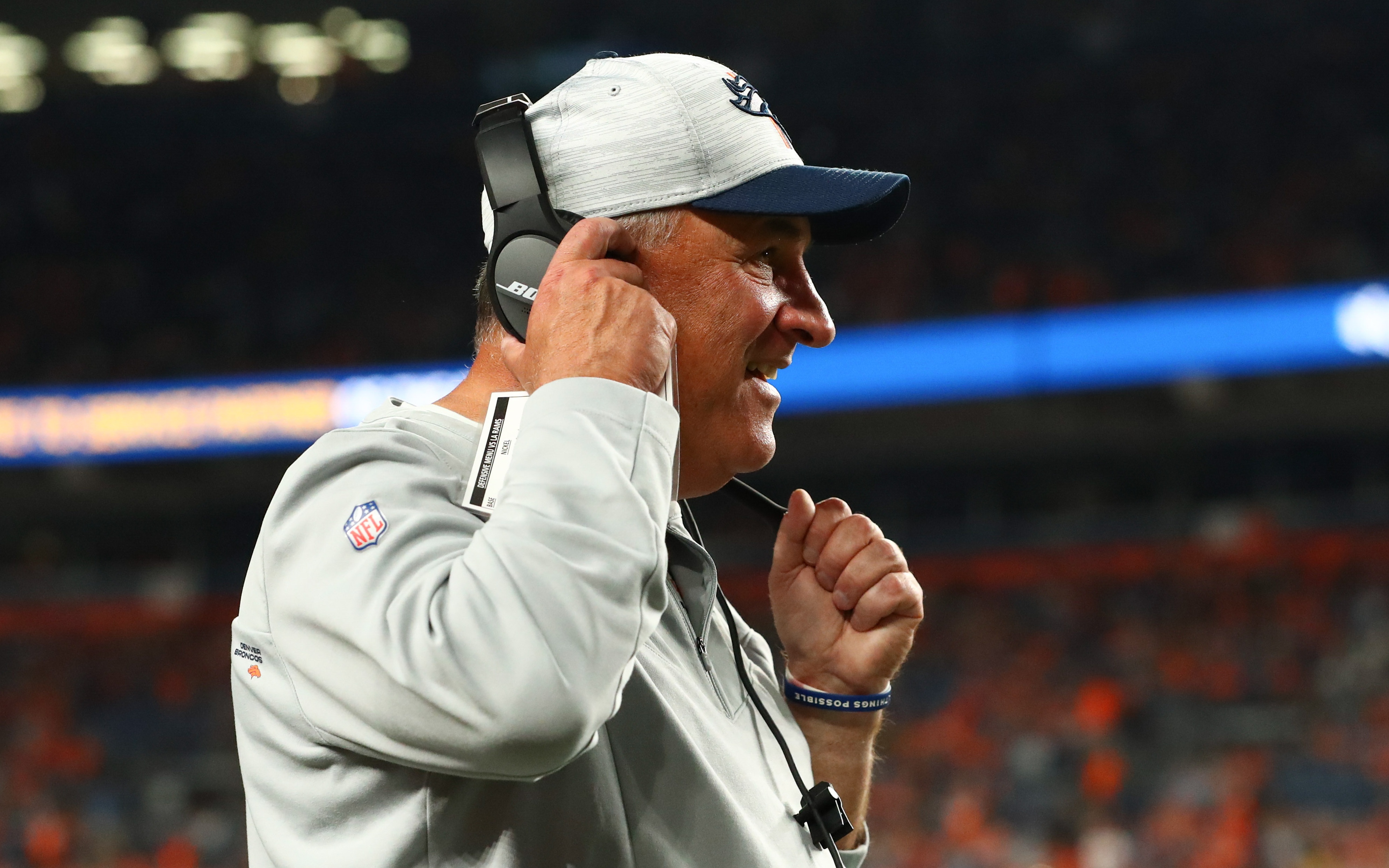 Love him or hate him, Vic Fangio is starting the third season of his head coaching career in 2021.
Fangio's teams have been so-so at best, going 7-9 his first year and then suffering even more to finish 5-11 last year. The bright side of Fangio's coaching career has been the defense, his specialty at the NFL level as a defensive coordinator and linebackers coach.
However, his defense has been lacking in the takeaway department. In two years, the Broncos have 33 total takeaways, which is ever-so slightly over one per game. That also ranks Denver T-29th, tied with the Bengals and Chargers and only ahead of the Raiders, Lions and Texans.
"Over 36 years, you're going to have some of those," Fangio said on Thursday about a defense that doesn't create turnovers vs. one that does. "Some of it is just the makeup of your team, the players, the way the games go, and the emphasis that we put on it. Sometimes we do a better job of it than others. We try to emphasize it a lot."
This year, Fangio has one of the best defenses he's ever been part of.
He's got Von Miller, Shelby Harris, Justin Simmons, Kareem Jackson, Kyle Fuller, Ronald Darby and the list goes on. It's a star-studded group that has no excuse if they're not in the top-10 this year, if not the top-5.
Takeaways must be a point of emphasis, but the place in which Fangio can really improve is going for it on 4th down. On offense.
According to Next Gen Stats, Fangio is dead-last in the NFL for going for it on 4th down when he should have.
Optimal Fourth-Down Decision %

📊: How often does the coach go for it when they should according to the NGS Decision Guide?

Among active head coaches, 2018-2020 pic.twitter.com/GCZfNgtrs5

— Next Gen Stats (@NextGenStats) September 8, 2021
Simply, Fangio has been the most conservative coach in the NFL when it comes to going for it, and his 33 percent means he's missing out on opportunities to take advantage of a game two-thirds of the time.
But, how does Next Gen Stats/AWS know when teams should go for it and when they shouldn't?
Well, they input all kinds of data, historical and otherwise, including the down and distance. Then, there's also the chances of kicking a field goal and weigh it against going for it and that tells everyone what a team should do.
The example the NFL gives is a tie game between the Colts and Texans, the ball is at the 36 yard line of Houston and it's 4th and inches. The probability of gaining the first down is 80-plus percent while kicking the field goal from 54 yards is a mere 42.5 percent chance of conversion.
Simply, all that info it plugged into the "Decision Guide" and the Colts were encouraged to go for it, and did. They not only moved the chains but also ended up winning the game.
Of course, going for it in those situations doesn't guarantee winning, but it can help.
And what's more stunning is the fast turnaround for the league since all this 4th down data has started coming to light. Back in 2017, teams went for it only 31 percent of the time when they should, but that number skyrocketed to 53 percent in 2020.
One thing is promising as far as Fangio is concerned. During the preseason, he went for it five times on 4th down and the team went 5-for-5. All of them were with now-starter Teddy Bridgewater and the Broncos were able to score two touchdowns on drives with 4th down conversions.
Now, Fangio needs to go for it more often in the regular season, too.
These Broncos will win more games than last year, and if they make the playoffs, it will be due to the dominant defense and winning close games in the end. That will likely mean going for it on 4th down in enemy territory rather than just hoping the defense bails out the offense again and again.
Last year, the Broncos were in 10 one-score games, and went 4-6 in those contests.
This year, Denver will need to win a much higher percentage of those close games to squeak into the playoffs, which they will do as a wildcard team.
And, the Broncos will likely need more guts from Fangio when it comes to going for it on 4th down.