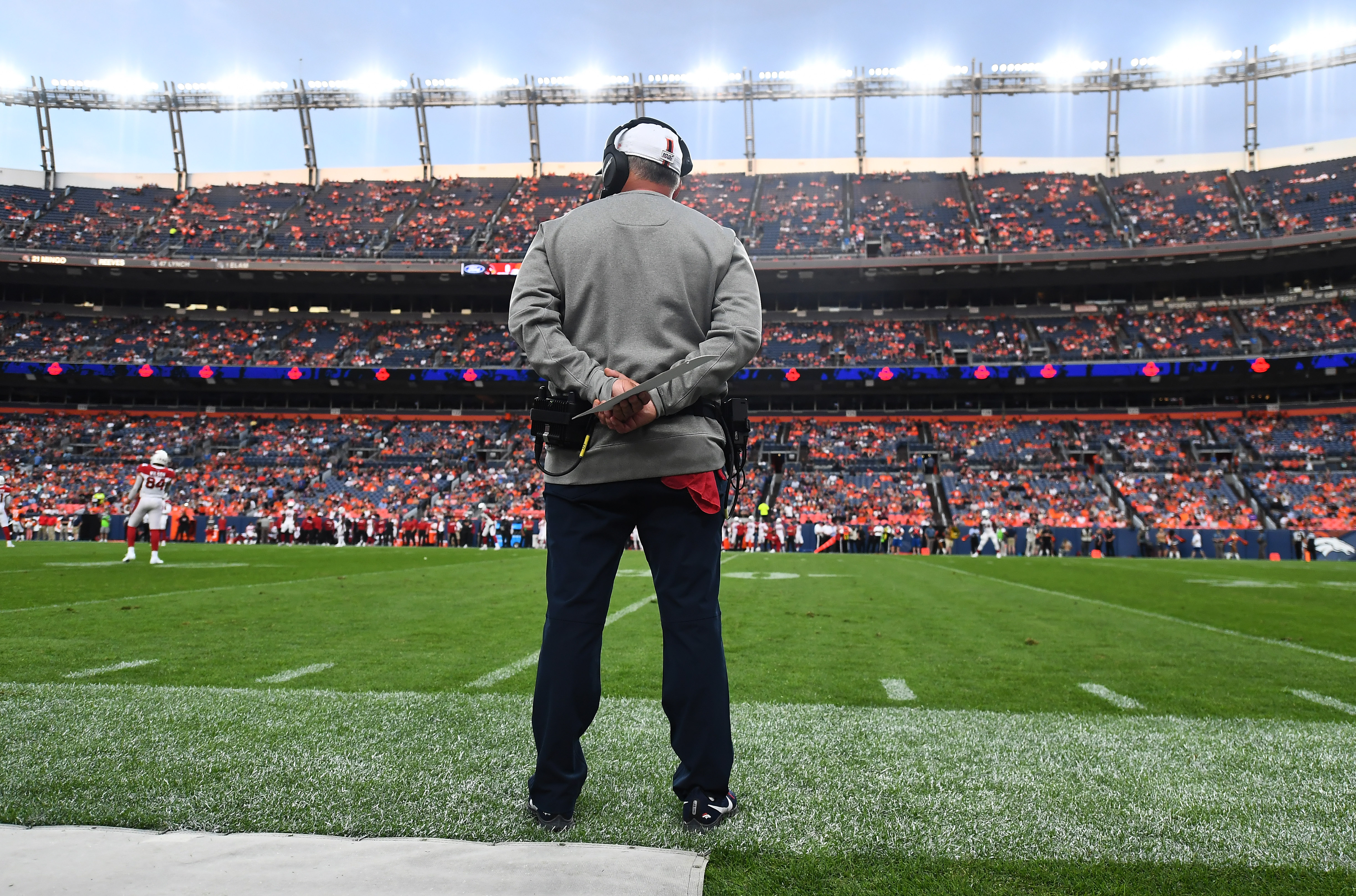 The Denver Broncos have turned the page following their embarrassing Week 1 loss against the Oakland Raiders. Denver now has their sights set on head coach Vic Fangio's former football club, the Chicago Bears.
Fangio helped lead the Bears to their first postseason appearances in a decade last season, fueled by his NFC-best defense. Fangio's defensive mastery led to him becoming the Broncos' top choice amongst the free-agent coaching pool last offseason.
Now running the show in Denver, Fangio is excited to play against the defense he helped mold in Chicago. And the Broncos head man is simply playing down the contest.
"It really is just another game, especially coming off of our last game," Fangio said. "We just need to go out there and play a little bit better no matter who we're playing. It'll be a little different once I see all those guys in pregame and what not. But after they kick it off, it'll be another NFL football game."
Chicago heads to Denver following an Opening Night loss to the division rival Green Bay Packers. While Fangio is familiar with the talent on the Bears roster, he's expecting the Bears new defensive coordinator, Chuck Pagano, to spice things up.
"I'm sure he has," Fangio said of if Pagano's changed anything. "They just have the one game. The preseason games, they weren't doing a whole lot. Yeah, he has. Anybody would. The worst thing you could do is go in somewhere and inherit a system, although it was successful, l and do it verbatim. You've got to do what you know and are comfortable with, so I'm sure there's been some changes."
Still, Fangio and the Broncos are familiar with Chicago's talent pool which factors into game planning ahead of Sunday.
"I was only there with them one year in their current offensive system," Fangio said. "I don't think it's a tremendous advantage other than knowing the players."
One of the anchors of Chicago's' defense is linebacker Danny Trevathan. Trevathan played for the Broncos from 2012-2015 and was a member of Denver's Super Bowl 50 team.
"I really enjoyed coaching Danny. He's a—as you guys know from when he was here—he's a fiery guy. He plays hard, plays tough, versatile linebacker and that he's versus the run and the pass. Danny really likes to play football, which is contagious to everybody."
Chicago's linebacker corps also includes Khalil Mack and Leonard Floyd, two players that will be a big problem for Denver's offensive line. Garrett Bolles and Elijah Wilkinson will be tasked with slowing Mack and Floyd. Fangio will provide them with help, but acknowledged that Bolles and Wilkinson will need to be able to stand tall individually.
"Obviously, those guys are really good accomplished passed rushers," Fangio said. "I'm sure we'll give those guys some help at times, but there's going to be times like in any game they're going to have to stand up and be able to block without a lot of help. Those are two tough guys to go against on the edges. Two highly drafted guys, two really good competitors and highly talented. Different body types, but still very good. That's why they play good defense."
While the Bears are led by their defense, Chicago's offense can be a difficult group to get a read on.
Chicago tends to utilize two running backs on the field, which is an unusual tactic for today's game. One of those backs is Tarik Cohen, a player who Fangio will be scheming for on defense.
"It's rare, but they have a guy that can play wide receiver, so it fits," Fangio said of the Bears system. "Tarik can play running back, he can play wide receiver, and he can do all the things that a wide receiver needs to do when he's split out. And yet, he can run the ball and when he's in the backfield, run routes out of the backfield and pass block. He's a rare and versatile player."
Third-year quarterback Mitchell Trubisky leads the Bears' offense. The 25-year-old struggled in his first game of the season, completing just 26 of his 45 pass attempts versus the Packers while failing to throw for a touchdown.
Despite his poor performance in Week 1, Trubisky is still a threat in Week 2 given his effectiveness outside of the pocket.
"He is dangerous when he is scrambling," Fangio said. "He is a very good athlete, he is fast, and he is elusive. He has a good feel for when to pull it down and run. He's made a lot of plays in his short career doing that. Yet, he's a very accomplished passer when he's inside the pocket, can make all the throws they ask him to make and he's a damn good player."
Both squads enter Sunday's contest winless this season. For Fangio, the game represents an opportunity to get the Broncos on track against a familiar foe. Should Denver fall to 0-2, the Broncos' fan base will undoubtedly start to rumble with displeasure.