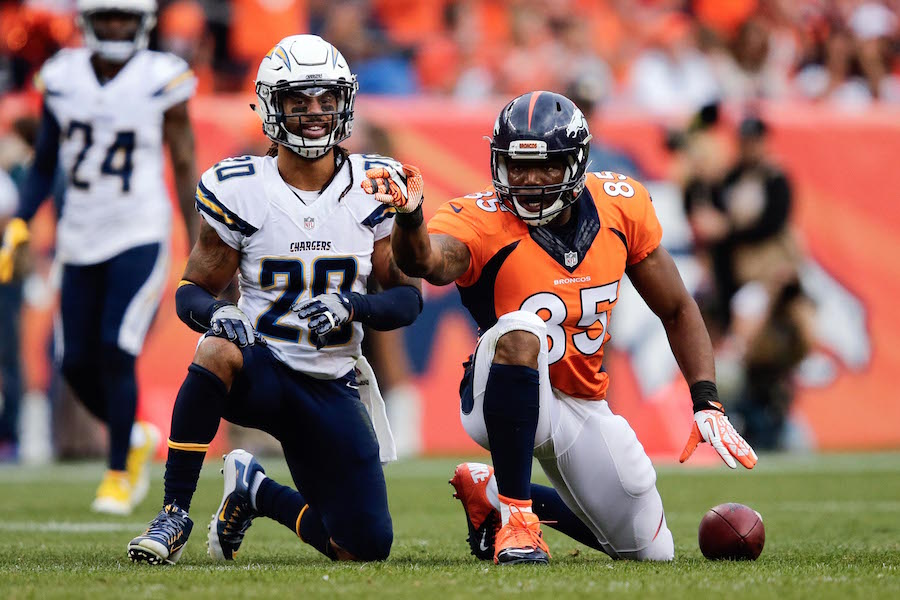 Virgil Green will still be playing in the AFC West in 2018, but it won't be for the Denver Broncos. Green, who has played all seven of his NFL seasons to date with the Broncos, will sign with the Los Angeles Chargers, Ian Rapoport reports.
Green's departure means that Von Miller is the only remaining member of the 2011 Denver Broncos draft class still on the roster. Cornerback Chris Harris Jr., an undrafted college free agent that year, was also a member of the 2011 Broncos rookie class.
Green, 29, played an even 100 games for Denver, serving primarily as a blocking tight end. He played in 10 playoff games, including two Super Bowls, winning one.
The University of Nevada product made 71 catches for 807 yards for the Broncos, scoring four touchdowns.
The Broncos selected Green in the seventh round in 2011, 204th overall and 202 picks after Miller. Green managed to outlast as a Bronco six other players drafted between he and Miller, including fellow tight end Julius Thomas.
Demaryius Thomas, drafted by the Broncos in 2010, was the only player on Denver's roster with longer tenure than Green, Miller or Harris.
Derek Wolfe is the only remaining member of the Broncos' 2012 draft class. No members of the 2013 Broncos draft class remain in Denver.