Broncos linebacker Von Miller surges toward history
*Despite the challenges of the last three games, Von Miller continues his push toward statistical dominance on the Broncos all-time sack list. The following article is from the October issue of Mile High Sports Magazine. Subscribe here!
"It's dope." 
Indeed. Skyrocketing up the NFL's all-time sack leader list is pretty dope, at least according to a guy who's doing just that. Denver Broncos linebacker Von Miller is dope, and so is the fact that he's chasing history. If you're somewhere north of millennial status (or if you've been living under a rock since, oh, sometime in the '80s), "it's dope" is a damn good thing. Urban Dictionary puts it like this: An adjective, meaning awesome, fab, cool, good. The source also adds, "Your car, dude, it's dope."
Miller's car – scratch that, all of his cars – are really dope. Just feet from the podium inside the Broncos practice facility, where Miller has the attention of the local media, his BMW i8 sits shining in the September sun, a mere door ding away from the parking spot where none other than John Elway pulls into work every day. Miller and Elway will forever be linked. Miller was Elway's first-ever draft pick as a Broncos executive. Miller handed Elway his first Lombardi Trophy as a suit. Miller held out just long enough to scoop up the largest contract ever signed by a defensive player, a $114.5 million dollar deal that – like it or not – Elway had to make. That contract? Of which $70 million is guaranteed? Also dope. Very dope.
Here's exactly what Miller said, though, when asked what he thought about history, about moving up the all-time sack list every time he makes a sack, which, by the way, seems to happen all the time:
"I'm still high, like [number] 48," said Miller, whose lone sack in Week 2 at the expense of Derek Carr bumped him just inside the NFL's all-time top 50. "It's still pretty high. It was higher before, but it's still pretty high. You can't really get a sack and be like, 'Oh! I'm 47.' I mean it's dope, it's great, but I'm focused on playing right now. I'm focused on being the best defense we could possibly be right now."
If the frantic (and unlikely) pace in which Miller began the 2018 season were to continue, a start that saw four sacks in the Broncos' first two games, he'd easily set the record for most sacks in a season (Michael Strahan's 22.5 in 2001). At half that pace, even, Miller could challenge his own record, the 18.5 sacks he tallied in 2012 playing opposite of Elvis Dumervil. It seems likely that Miller will finish somewhere close to No. 30 on the all-time sacks leader list by the time January rolls around.
There's reason to believe that any and all of it is possible this season, too, as the Broncos are widely considered to have one of the best pass rushes in the entire NFL. Last season, amidst injuries along the defensive line and to fellow pass rusher Shane Ray, playing from behind nearly all the time and against constant double-teams, Miller still managed to post 10 sacks. That seemed like an "off" year for the six-time Pro Bowler, who averages 11.9 sacks per season. In fact, Miller has recorded at least 10 sacks in six of his first seven NFL seasons. The only time he didn't was in 2013, where suspension and a torn ACL caused him to play just nine games and tally only five sacks.
Most believe that this year should be significantly different – call it dope, if you'd like. With the addition of rookie outside linebacker Bradley Chubb, the fifth overall selection in the draft, and the health of Ray, Derek Wolfe and others, opposing pass protection schemes can't afford to only stop Miller. With a significantly improved offense, Denver's defense won't be playing from behind as often, nor will it be on the field constantly.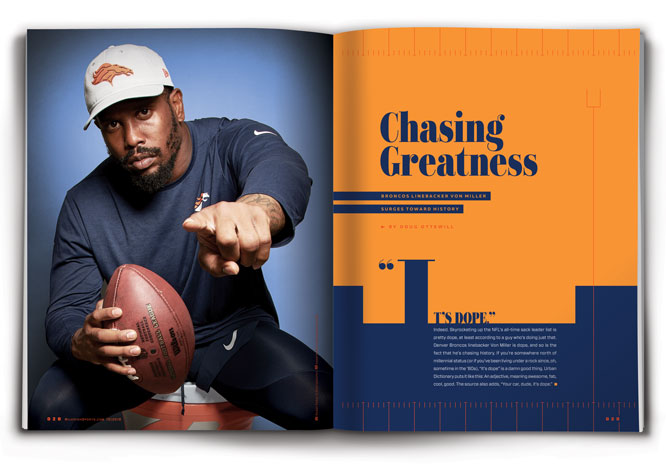 There's little disagreement that Miller is the best pass rusher in franchise history. Miller currently sits at No. 2 on the Broncos all-time list. He's chasing Simon Fletcher's 97.5, a number that took Fletcher 11 seasons to reach.
Miller, who just turned 29 in March, has a legitimate shot at statistically being one of the best that's ever played the game. The pure math suggests that if can stay healthy and in the game for the long haul, he'd be on pace to beat all-time NFL sack leader Bruce Smith's 200 career sacks. It took Smith 19 seasons and 278 games to get to 200 (a .72 sacks per game average); currently Miller boasts a sacks-per-game mark just over .80.
This season is Miller's eighth, and tacking on 11 more feels like a longshot in the modern NFL. Smith hung up his cleats at the age of 40, and there is only one 40-year old defensive player in the NFL currently playing – Minnesota defensive back Terence Newman; the rest of the 40-plus crowd is reserved for kickers and quarterbacks named Brady. The most recent comparable player to Miller might be linebacker James Harrison, who called it quits at 39 this past spring following one last stint with the Patriots. Still, Harrison was a "different" kind of linebacker, finishing his career on the inside. Where Harrison's body type was built for power and contact, Miller is built for speed.
Bottom line, catching Smith, or even Reggie White's 198, would take a Herculean effort, one that would rely more on health and longevity than anything else. Miller posting a 20-sack season this year would certainly make the conversation more interesting, but he'd still have to maintain a blistering pace for years to come. Smith's highest single-season output was 19, which he accomplished in his sixth season. After that year, his best topped out at 14, which he did three times.
Finishing his career as an all-time top-five sacks leader seems more likely for Miller. Numbers 3-5 include Kevin Greene (160), Julius Peppers (154.5) and Chris Doleman (150.5). At No. 6 sits Strahan (141.5). Those greats played for 15, 17, 15 and 15 seasons respectively.
Regardless of exactly where his career concludes, climbing the ladder anywhere near those rungs would be nothing short of dope.
***
The realization that fans in Denver are witnessing something truly and historically special – that Miller is likely the best defensive player in Broncos' franchise history, that he might ultimately go down as the best player in franchise history, that he could one day be considered among the game's all-time greats – might be less obvious, maybe less appreciated, than it should be.
And really, it's Miller who's providing the distraction.
Perhaps the only thing more entertaining than Miller's on-field play is Miller off the field. The statisticians and historians take note of Miller's monster numbers, but fans can't get enough of the antics that accompany them.
His social media efforts are off the charts. He's got his own camera crew and posts just about everything he does outside of football. Perhaps most notably, Miller's excitement over Elway's selection of Chubb was captured instantaneously on Instagram. He screamed and jumped for joy, knowing that Chubb represented some relief from that steady dose of double-teaming linemen.
At a Broncos charity function held at the high-end Denver restaurant Guard & Grace, Miller famously wore a dreadlocked and bearded disguise and played the role of a waiter in training. Though the event was loaded with Broncos fans, nobody detected their waiter was the best pass rusher in the NFL. He broke water glasses, he took cell phone calls tableside, he stuck his hand in one man's water glass. He asked one couple, "Would you like straws with your wine?" When the man looked at him strangely, almost as if he'd been insulted, Miller responded, "Wooden straws. It's amazing." During minicamp this past summer, Miller recycled the dreadlocks one day at practice.
After Super Bowl 50, where he was named the game's MVP, his celebrity status skyrocketed. Instead of being a star in Denver, Miller danced his way (literally, in fact) to the spotlight on the national stage. He shined on 'Dancing with the Stars'. He was a celebrity invite to just about every red-carpet affair and late-night talk show across the country.
His endorsement deals landed on televisions and magazines across the country; companies like Old Spice, EA Sports, Pepsi and Tostitos took advantage of Miller's hilarious and playful nature. The NFL and adidas made sure consumers knew that Miller was an elite athlete; one to watch closely, one to emulate.
This season, Miller finds himself in a rare and brilliant, ahead-of-its-time, advertising campaign with Carhartt, a clothing company that primarily creates clothing and equipment for outdoor enthusiasts. What appears to be primarily a social media effort was kicked off at this year's ESPY Awards, where Miller strode upon the stage wearing a three-piece suit made entirely of Carhartt's signature tan, rugged canvas. He'd been "working on" Carhartt for quite some time, but this opportunity was tailor-made – or at least it would be. The original suit matched the more traditional cuts and fits of Carhartt's gear, but for Miller, it was then tailored to fit perfectly to the same hulk of a body that terrorizes quarterbacks on Sundays.
The YouTube commercials and Instagram photos that followed the ESPYs positioned Miller as a tough, hard-working, red-blooded American – eating bacon, slamming anvils, hunting game and firing a pair of six-shooters as if he were John Wayne. He's flanked by his parents, still together and as grounded as he is. The message is simple: "Here's a true American, doing American things, and wearing a classic American brand (and, oh by the way, did you notice he's black?)." It's simple and refreshingly brilliant. It takes race out of the equation, cleverly and coolly.
In a strange era of the NFL, where it seems that Colin Kaepernick's protest of the National Anthem has divided black and white America – at least in terms of its football fans – Miller is adored by both sides. While angry, conservative Americans are busily burning their Nike shoes, and R&B artists are disgruntled about the halftime act selection of Maroon 5 for Super Bowl 53 in Atlanta, Miller effortlessly bridges the gap. Is there anyone in America who doesn't like a country boy whose garage showcases the aforementioned i8, a Ferrari, a blacked out Camaro with a Batman interior, multiple tricked-out heavy-duty trucks, wears Louis Vuitton and a mine's worth of jewelry; but who also raises chickens, regularly wears a cowboy hat and hunts big game or goes deep-sea fishing almost every chance he gets? Carhartt, a company that originally created gear for rural America – farmers, ranchers, hunters, fishermen (see white America) – wisely noted Miller's ability to walk seamlessly from one world to the other.
Von Miller, the individual, is as dope – if not more dope – than he is as a football player. What people notice about him is up to them. And that's just fine with him.
***
"He's the straw that stirs the drink, no doubt," Ravens head coach John Harbaugh said leading into a Week 3 game against Denver. "One of the very best in the league at what he does. We will have to have him accounted for at all times, on every play. If we don't do that, he'll wreck the game."
Harbaugh's quote could be cut, pasted and attached to just about any coach's name before heading into a game against the Broncos. It's Miller that teams must game plan for. It's Miller that wrecks a lot of games. Ask Cam Newton. Ask Tom Brady. Ask Russell Wilson.
On the Thursday before the Baltimore game, Miller is asked if he knows how many times he's sacked Ravens' quarterback Joe Flacco.
"No, I don't," he says candidly. Then he looks at the reporter as if he's asking for help. "One?"
He doesn't know. Doesn't care. Flacco will be waiting for him in Baltimore, and that's all that matters at the moment. It matters to him about as much as jumping from No. 48 to No. 47. It matters more to go 3-0 on the season.
If he does sack Flacco, he'll likely perform one of his signature sack dances that opposing coordinators have come to loathe. Maybe it will be the army crawl. Maybe one the kids love from the game Fortnite.
The dance will not be because he jumped from No. 48 to No. 47 or even 44 or 45 – all reachable within a single week's performance. But he is less concerned – for now – about chasing, or watching, history.
The dances are reserved for sacks.
Those are pretty dope.
***
*For more from Mile High Sports Magazine, subscribe here!