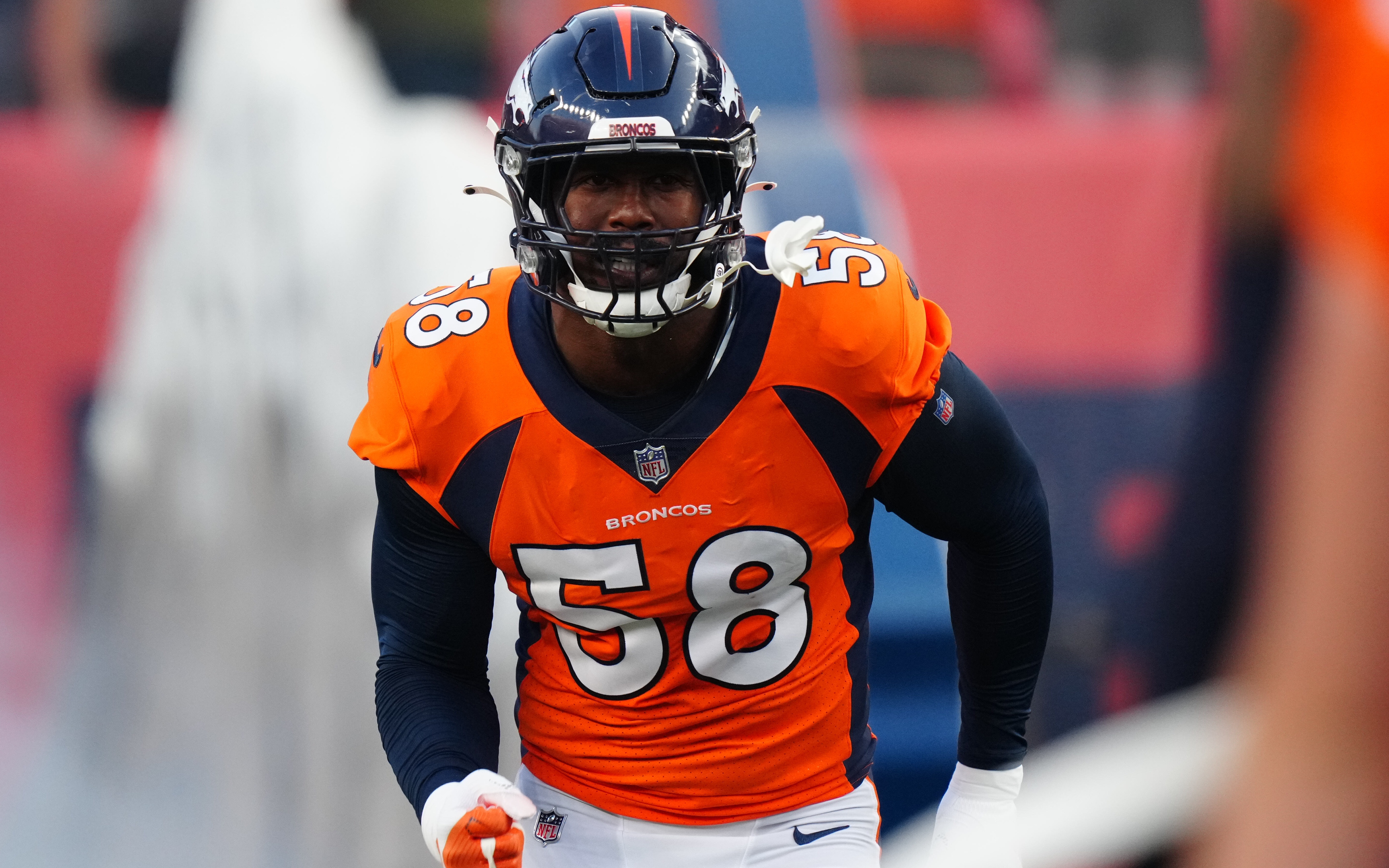 Von Miller is the highest-paid player on the Denver Broncos, and he's looking to earn that $18 million this year.
If he plays like he did in the first quarter and a half on Saturday night, Miller will once again be one of the best edge defenders in the NFL.
Miller is known for racking up quarterback sacks. In fact, he's the all-time Denver Broncos leader with 106 sacks in his career. And if he doesn't get a sack, Miller's diversity of dynamic moves — like the spin, stunt inside, the dip and speed rush around the outside — allow him to pressure the quarterback and force early throws, too.
On Saturday night, the greatest defender in the history of the Broncos played for the first time in 20 months, waiting to do so on real grass after tearing up his ankle on turf before last preseason.
And Miller didn't disappoint.
OK, he didn't have a sack, which is the best thing he can do besides forcing a fumble, but Miller still wreaked havoc on the Los Angeles Rams' backups on Saturday night.
On one play, he found his way into the middle of the field and came up with a stop on Xavier Jones. The next drive, Miller jumped off the ball as quickly as he ever has, tackling the running back Jones for no gain.
It was a great reminder of how much Miller can disrupt on the field, and that includes in the running game. He gets around the edge so quickly and easily that it allows him to crash inside for tackles for a loss or no gain. Those are quieter plays than sacks, sure, but they are crucial to a defense dominating.
To wit: Miller's averaged 15 tackles for a loss per season, and 11.8 sacks per year, too. Those are absolutely astounding numbers, and no one's doubting he will be a first-ballot Hall of Famer when he's all said and done.
But, he's nowhere close to done, as his play showed on Saturday night.
Besides the two solid run stops, Miller rushed upfield on a pass play and wasn't able to get to quarterback Bryce Perkins but still tracked him down for a mere one-yard gain. It was a near sack, but still an effective play which helped hold the Rams to a 54-yard field goal. He also hurried Perkins on a pass play, resulting in an incompletion.
These Denver Broncos look to be the most talented — especially on the defensive side — since the 2015 team which won Super Bowl 50. That year, it was Miller and DeMarcus Ware as well as Shaquil Barrett putting constant pressure on opposing QBs.
John Elway intelligently paired Miller with another dynamic pass rusher in Ware, and the Broncos led the NFL with 52 sacks that year.
Then, Miller was in the prime of his career and won Super Bowl MVP by strip-sacking regular season NFL MVP Cam Newton twice in the biggest game of their lives.
Now, Miller is the older veteran — kind of like Ware was back then — while Bradley Chubb is the younger, burgeoning star on the opposite side.
Chubb looked like Miller's heir apparent in 2018 as a rookie, with the two combining for 26.5 sacks that year. But Chubb was injured in 2019 and then Miller last year, so this is the only time since '18 the two will be playing together and causing havoc in the backfield.
This year's defense has a chance to be special like that 2015 team. Maybe not that special, but still; they'll attack the quarterback and then cover receivers with the deepest secondary in the NFL.
And it all begins with Miller.
At 32 years old, Miller is one of the oldest players on Denver's defense currently. He's in the waning years of his prime, but he's still the unquestioned leader of this defense.
If these Broncos are going to make the playoffs, they must be a top-10 unit defensively, and may need to be a top-5 group. Denver's offense has a lot of room for growth, although "Steady Teddy" Bridgewater looks to be the right call at quarterback and he has a ton of talent to distribute the ball to.
Yes, Miller's back, and that's great news for the Denver defensive pass-rushing attack.