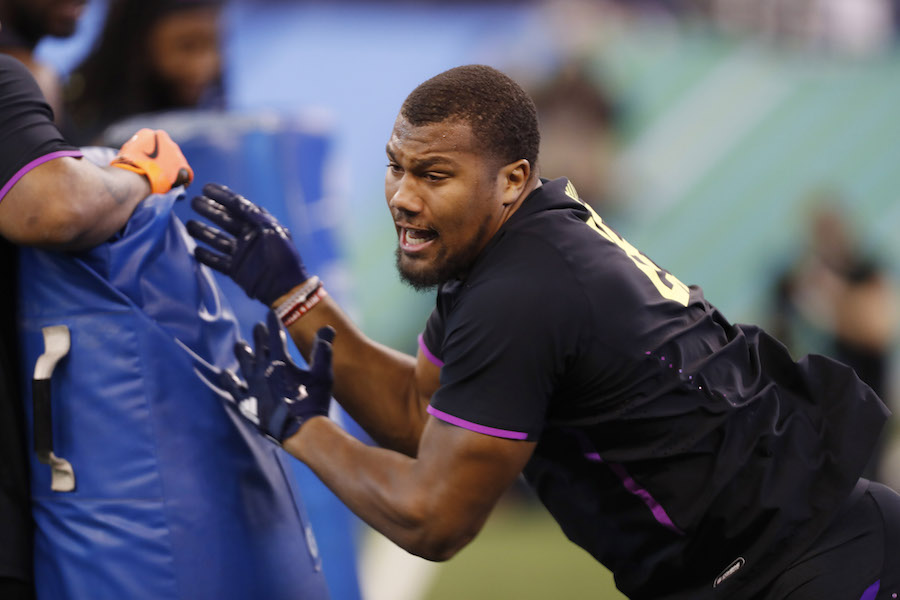 At the NFL Scouting Combine in March, top pass-rushing prospect Bradley Chubb was asked to compare his game to current NFL players. Chubb compared himself to be a combination of Von Miller and Khalil Mack — an ambitious comparison, given the success of those two players so far in their NFL careers.
However, on Tuesday, Miller was asked about Chubb as a prospect for the Broncos, and Miller responded with an almost identical answer.
"He's Khalil Mack and Von Miller put together," Miller said. "He's a great player, and I would love to have him on my team. You don't come across guys like that often."
But would Chubb be a good fit for the Broncos? In comparing the three defensive players, all have very impressive numbers. Chubb had 25 sacks and six forced fumbles in his three seasons at North Carolina State.
While at Texas A&M, Miller racked up 32.5 sacks and one interception across four seasons with the Aggies — 27.5 of those sacks came in his final two seasons. Mack logged 28.5 sacks over four years with Buffalo, plus five forced fumbles and four interceptions for the Bulls.
Miller's biggest moment to shine as a prospect, however, was at the 2011 NFL Scouting Combine, where he stunned scouts as a top performer in six of the seven primary measurement categories. Chubb was nearly as impressive in 2018, putting up solid numbers of his own.
Miller ran a blistering 4.53-second 40-yard dash in 2011. Chubb was slightly behind that number this year at 4.65 seconds. Chubb posted more reps on the 225-pound bench press, 24 to 21. Miller was slightly better in the vertical, 37 inches to Chubb's 36, and was five inches better in the broad jump at 126 inches.
Professionally, Miller has amassed 83.5 tackles and 21 forced fumbles during seven seasons with the Broncos, while Mack has 40.5 sacks and nine forced fumbles in four years with the Oakland Raiders.
Adding Chubb to the roster could add an extra boost to Denver's defense, which ranked 20th in sacks in 2017. Paired with Miller on the opposite side, Chubb could post some impressive pass rush numbers of his own and help ease some of the double- and triple-teams Miller faces week in and week out.
Miller acknowledged the fact that a team usually does not have the opportunity to pick a player of Chubb's ability.
"You don't come across guys like that often. Having the No. 5 pick in the draft, I hope we don't have a high pick like that for awhile. If we could steal a player like that, I'm all for it," Miller told the press at Dove Valley.
Although Miller may have his preferred choice for Denver's top pick in the draft, he says he trusts General Manager John Elway's decisions, and knows that whomever Elway picks will be beneficial to the Broncos.
"We've got a Hall of Fame quarterback leading the ship," Miller told the Broncos. "He's going to make a great decision for us, and I'll just let him make those hard decisions. Whatever happens, I'm going to be cool with it — if we take [Penn State RB] Saquon [Barkley], I'm cool with that. If we take Chubb, I'm cool with that. If we trade away, I'm cool with whatever he does with that pick."
If the Broncos were to draft Chubb, Miller believes the team would gain a tremendous player to add an instant infusion of talent to the defense. The numbers certainly back it up.