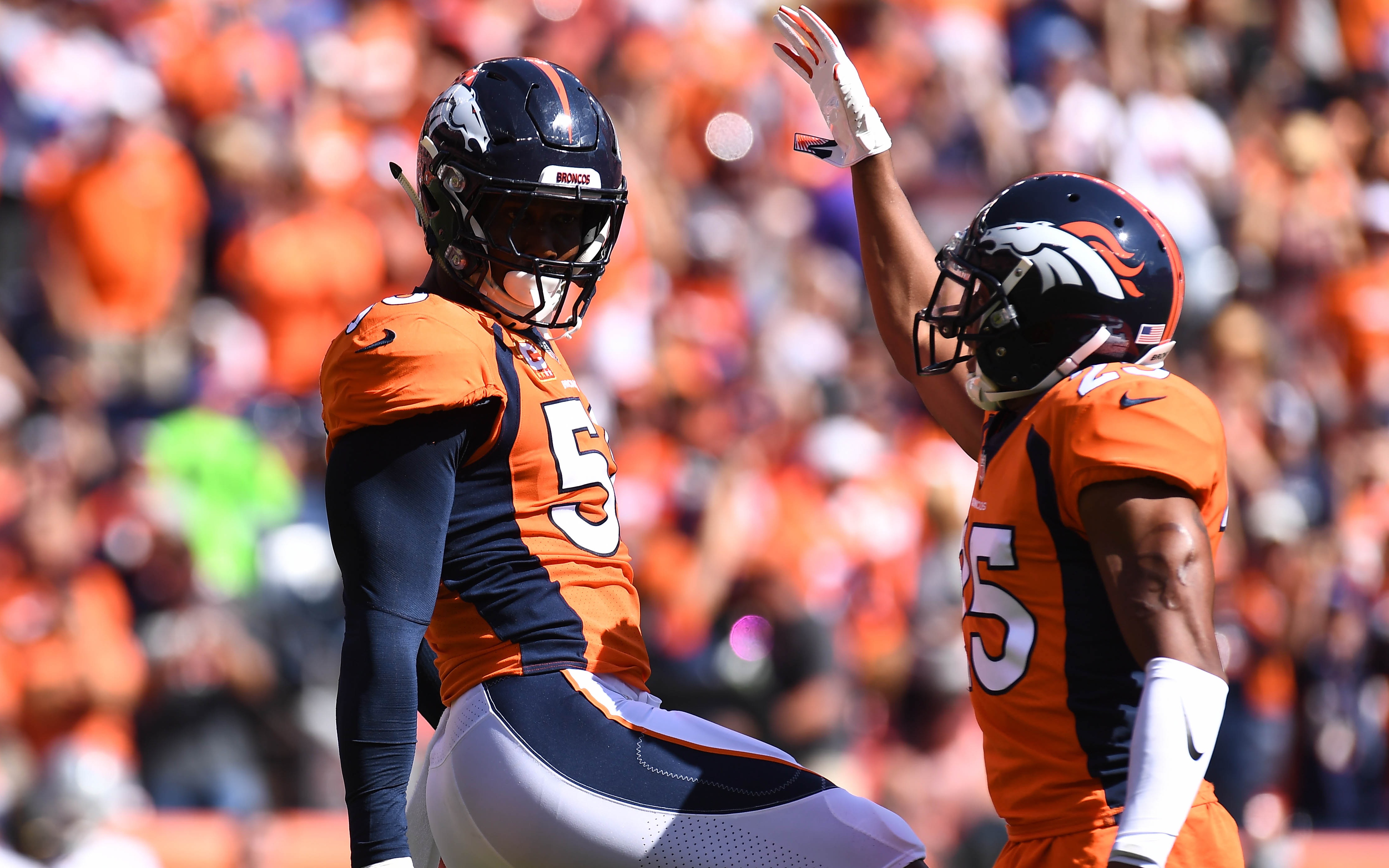 Von Miller, greatest defensive player in the history of the Denver Broncos.
Miller's accomplished nearly everything an edge rusher can during his eight-year career, pushing him to the top of an incredible and underestimated group of Denver defenders. Defensive rookie of the year, Super Bowl MVP, 3-time All-Pro and Broncos all-time leader in sacks.
And if he hasn't already gained that recognition as the Broncos best defender ever, the good news for Miller is he's still in his prime.
The eighth-year pro. was included in Pro Football Focus' annual 101 top players list, although he did fall, from No. 10 last year to No. 22 this year.
Overall, it was another stellar season by Miller, being graded a 90.3 by PFF. He's graded out over 90 every year since joining the league in 2011. While his sacks (14.5) were the most since 2015, Miller's pressures in 2018 (64) have dropped every year since that Super Bowl 50 run, which is partly why he fell down the list. He had nearly 20 less pressures (83) than last year and his 29 run stops were 15 less than 2017, although Miller's four forced fumbles were a high since 2015.
Also joining Miller on the list — after being snubbed last year — is Chris Harris Jr. at No. 73. In 2017, Aqib Talib took Harris' place as the second Broncos player on PFF's list, but Harris is back.
As the football analytics website explains, Harris was fifth-best in coverage (86.0) and his overall grade (85.1) was fourth-best among cornerbacks. Also, his 63.6 passer rating allowed to opposing quarterbacks was sixth-best in the NFL. Without a doubt, even in his eighth year, Harris is still an elite, top-10 cornerback. In fact, according to these numbers, he's still arguably in the top-5.
For Harris, it's his sixth appearance, while Miller has made the list all eight years in the NFL.
As Pro Football Focus explains, the list is compiled of their top-101 players in the NFL regardless of position, and the grading consists of only the players' performance during 2018.
Other Broncos who could have been listed but just missed out include Shelby Harris (90.8 grade, best on the team) and Justin Simmons for his sensational special teams play this year. Bradley Chubb, with 12 sacks, was tied for 14th-most in the NFL but he earned only a 68.1 grade during his rookie year.
Still, with Miller, Harris and those three studs — among others — Ed Donatell and Vic Fangio already have a whole host of talent ready to go on the defensive side as Denver looks to become one of the elite defenses in the NFL once again, in 2019.