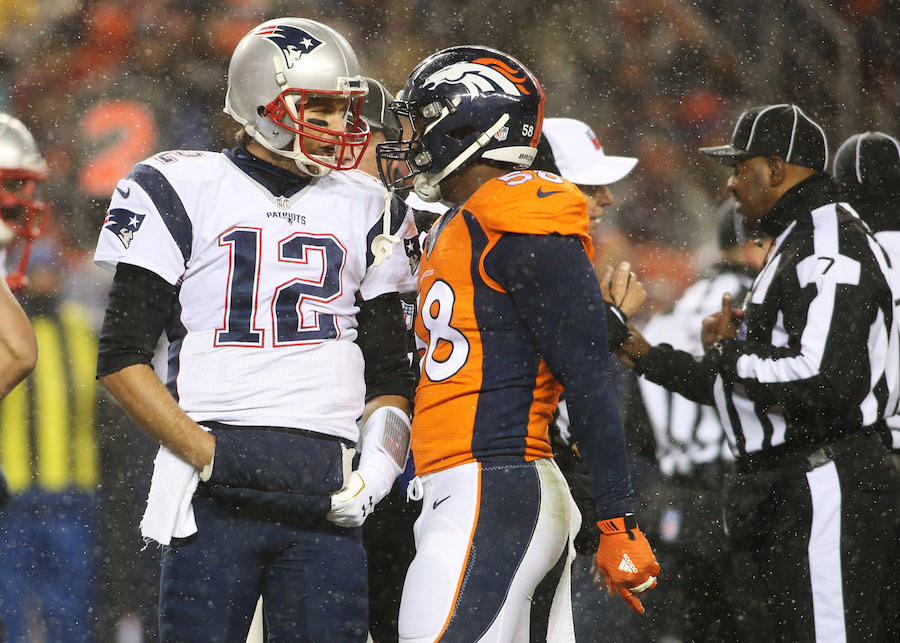 There aren't many people who love and respect the game of football more than Von Miller. Not many guys are sending out bottles of wine and christmas cards to every player in their division, just because.
More than anything, Miller knows what it takes to be great, and he loves seeing greatness, even if it's on the other side of the field.
That, I imagine, is why he detailed the five toughest players he's ever faced in his latest Players' Tribune article on Wednesday.
Von started with the Redskins' Trent Williams, who he said was the most-difficult tackle to match up against in the NFL, and then the list took on a distinctly, uh, Patriot flavor.
According to Miller, the New England Patriots are the most difficult team to face in the NFL, as he listed Tom Brady, Rob Gronkowski and Bill Belichick as the most difficult quarterback, tight end and coach to face in the NFL, respectively.
"What makes him the best isn't just his accuracy throwing the ball," Miller wrote. "His presnap vision is the best I've ever seen, bar none. He's able to predict your play just based off the presnap coverage. You can disguise your look all you want, but he's still able to move guys around and forecast what's coming. Brady almost turns the whole game into a seven-on-seven drill because of how fast he's able to get rid of the ball."
Fortunately, as our own Clint Daly detailed on Wednesday, if there's one team Brady has had a hard time reading, it's the Denver Broncos, the only team to consistently get the better of the Patriots during the Brady-Belichick era.
And while Gronk will be absent for this weekend's game, that doesn't mean much to Miller, as Belichick is capable of winning with absolutely anybody.
"But with Belichick, his genius comes from the fact that he always gameplans based on the personnel he has," Miller wrote. "He's had Hall of Famers like Randy Moss, and he's also had guys who you never heard of before, and no matter what, the Patriots are always contenders."
The Broncos have won three out of the last four matchups, including two AFC Championships, and New England will most certainly be looking for some revenge. We'll see if Von Miller can wreck the Patriots gameplan for a second straight season and keep Denver in the playoff conversation.