When the Denver Broncos decided to trade Von Miller to the Los Angeles Rams, it came as a gut punch to many in Broncos Country. Seeing such a beloved figure leave the team was hard, but fortunately for those members of the fan base, Miller appears to have a good chance of returning this offseason.
According to Aaron Wilson of Pro Football Network, a reunion between Miller and his former team is possible this offseason, as Miller is expected to explore the free-agent market.
"While there's strong mutual interest between Miller and the Rams, sources emphasized that he'll also explore the market once free agency begins," Wilson reported.
Unfortunately, the Broncos' interest might be one-sided after Miller got a taste of what it was like to be on a winning team again.
"The Denver Broncos, Miller's former team that traded him last season to the Rams, are also interested," Wilson wrote. "A reunion isn't necessarily Miller's first choice in free agency, though, per a source."
However, Miller made two posts to his Instagram story on Monday that should give Broncos Country some optimism about his future. The first asked whether he should wear 40 or 58 in orange and blue next season, while the next showcased him wondering to himself about whether or not he would get his old locker back.
That certainly isn't concrete, but it's about as promising as Broncos fans could hope for.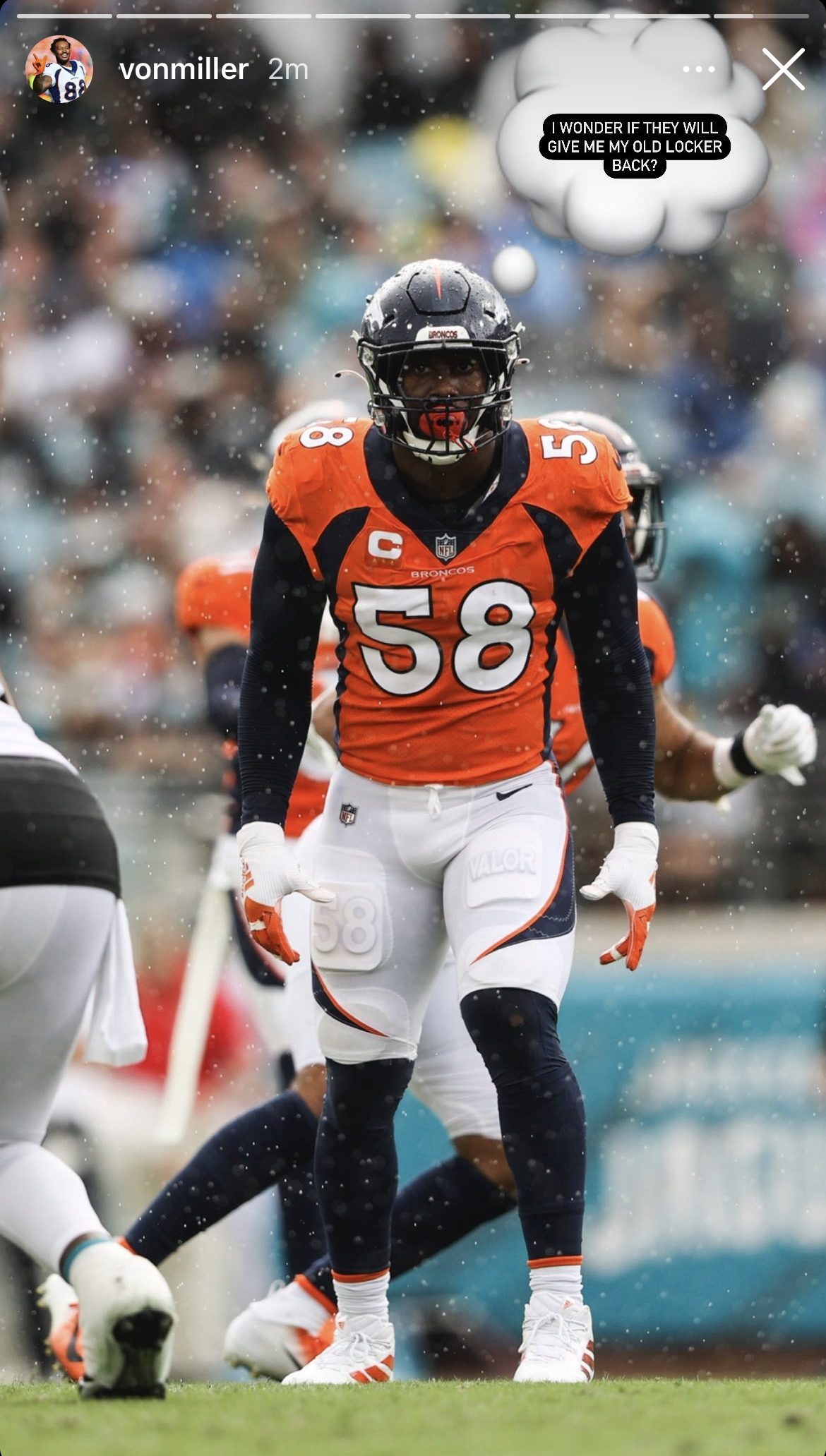 Miller deciding to return to Denver would be incredible, not only because it would return a fan-favorite to the team, but also because it would essentially mean that the Broncos got an extra second and an extra third-round pick for a half-season rental on a player north of 30. Not too shabby.
One aspect of Wilson's report that is sure to make the skin of Broncos Country crawl, it appears the Chargers also have a good shot to sign the superstar pass-rusher.
"Per sources, among the several NFL teams holding an interest in Miller are the Los Angeles Chargers," Wilson wrote. "If that happens, it would pair Miller opposite Joey Bosa and help soften the blow of the potential loss of Uchenna Nwosu in free agency."
The Chargers are a logical fit for multiple reasons. For starters, unlike the Rams, they have a ton of cap space and will rank near the top of the league in that department come free agency. They also have Brandon Staley, who Miller has played under in the past. Like the Rams, on the other hand, they're based out of southern California and have a Super Bowl-caliber quarterback, which likely appeals to Miller.
Fortunately, those social media posts couldn't be clearer about where Miller's heart lies.
UPDATE (3/7/22 12:00 P.M.): Since running this story Von Miller added on by posting the following tweet:
I kinda want that old thing back.. 5280

— Von Miller (@VonMiller) March 7, 2022
By "old thing" he's likely referring to his time with the Broncos, as evidenced by the '5280' which are numbers commonly associated with Denver, as it is the 'Mile High City.'