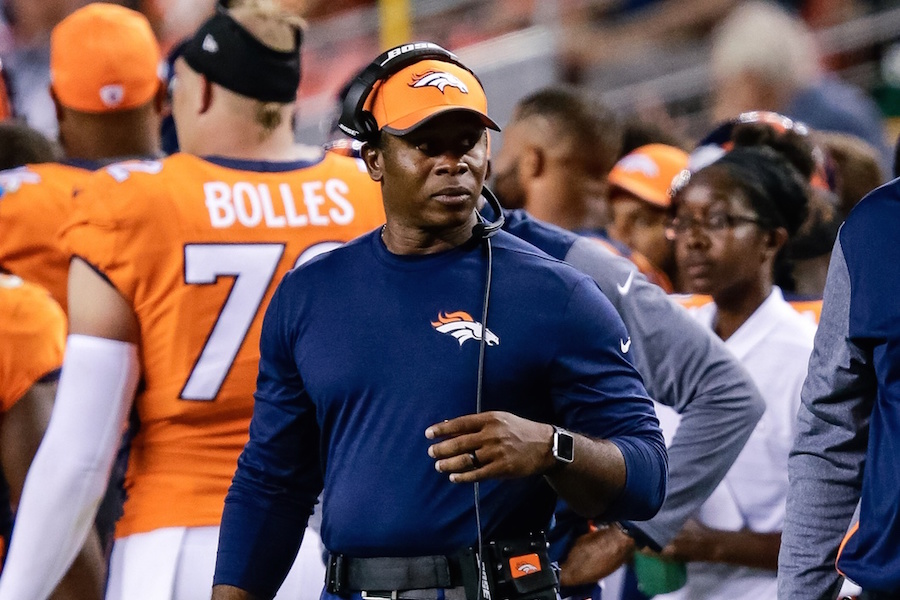 Vance Joseph has had a tough first year in Denver.
This outlet's feelings on Joseph's first season as a head coach are well documented. At 5-10 with one game remaining in his first season as a head coach, Joseph is understandably under fire in Broncos Country.
Yet, despite the Broncos extremely disappointing 2017 campaign, there hasn't been the revolt against the head coach that we've seen in other places around the NFL. Why is that? Without being involved in the day-to-day operations, the only glimpse we have into what goes on behind closed doors is what the players and coaches talk about.
Over the course of the tough season, that group has stood up for Joseph repeatedly.
"It's tough for all of us, but he had a vision in terms of what he wanted to accomplish when he got here," defensive coordinator Joe Woods said on Thursday. "I'm telling you, I've had the experience because I coached with [Steelers Head Coach] Mike Tomlin for three years. Vance is very similar to Mike because he tells the truth and guys believe him."
This is strange territory for Broncos Country. The Denver Broncos are a good organization. They are a no-nonsense organization. When they deviate from their winning ways, owner Pat Bowlen and more recently general manager and president of football operations John Elway find ways to get things back in line rapidly. It's a weird feeling for things to still seem like their going south.
According to Woods, their is a method to this madness.
"Things didn't work out for him, and I know it's tough on him. You can see it," Woods said. "It's wearing him out a little bit, but the things is, he was always positive. He always came back to what was important for us to win offensively, defensively and special teams. Guys heard that message. I know he's talked to you guys plenty of times about hey, the guys are coming out, they're putting the time in and they're working hard in practice. The guys did that and that's because of him."
The Broncos have shown flashes a few different times this season of the team they could've been. They got off to a red-hot 3-1 start. They blanked the Jets 23-0 just three weeks ago. Their wins haven't come against the cream of the crop in the NFL, but there is no reason a team should shut be able to shut someone out, something the 2015 Super Bowl champion Broncos weren't able to do, and not be in playoff contention.
The talent is there, but something else is missing.
On Thursday All-Pro linebacker Von Miller echoed Woods' comments.
"I don't think it's behind the scenes," Miller said. "I just think it's the type of coach that he is. He's just a truthful coach. It was just a tough hand that he was dealt. I feel that coach VJ is one of my favorite coaches that I have ever played with."
Miller has forgotten more about football than most fans know, but Joseph was dealt effectively the same hand that former head coach Gary Kubiak was just a year ago and Kubiak found a way to win nine games. Regardless of how 2017 went for the Broncos, Miller made his respect for Joseph clear on Thursday.
"But coach VJ taking on the job that he had and still trying to finish the way that he is trying to finish, I respect him for that," Miller said. "I respect him for not changing and being the exact same coach that he was Day 1 in the spring that he is today. I respect him for that. I respect him for not changing his philosophies and being the exact same person and believing in his dreams. If the shoes were switched and the roles were switched, I would want a player to do the same for me. That's just what we're trying to do."
Something has to change. John Elway has already said that he's going to do whatever it takes to get it fixed heading into 2018, but he hasn't elaborated on what that change will entail.
When it comes to Joseph's team and staff, they still believe that he can get the job done moving forward.
"I felt like he did a great job even though the wins don't show that, but I feel like he definitely is the right guy for this job," Woods said.
"It will turn," Miller said. "It will turn. It's just a tough year this year. It was a tough year last year. We have great leadership. We have great guys in our locker room, we just have to put it on the football field. And, we will get it done. I believe in everything at Dove Valley. We will be good."
It has to turn at some point.