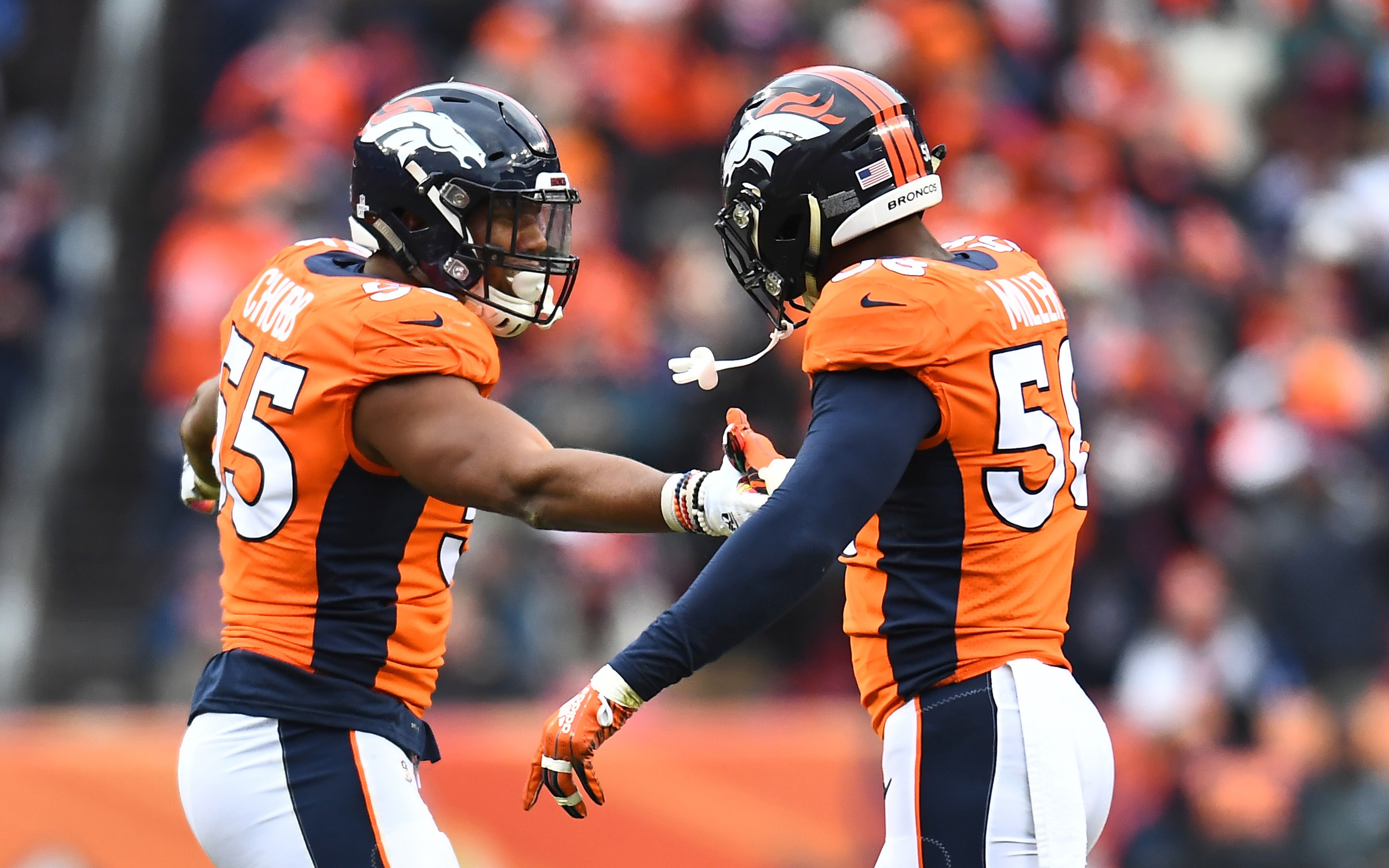 The Denver Broncos playoff hopes and dreams have come to an end, but that doesn't mean there's not still a lot to play for.
Specifically, two Broncos players are closing in on personal, single-season records in Phillip Lindsay (needs 114 rushing yards) and Bradley Chubb, who's a mere 2.5 sacks away from tying Javon Kearse's rookie sack record of 14.5 in 1999.
Chubb has been everything Denver had hoped he would be when they selected him with the No. 5 overall pick in April's draft, and more. He came in with a veteran mindset, looked to soak up as much information as possible and has excelled on the field.
Not only is he a phenomenal pass-rusher, but Chubb's most underrated ability is to stop run plays at or behind the line of scrimmage, much like his elder statesman, Von Miller. Chubb has racked up 31 "stops" on the year per Pro Football Focus, proving he's not just a pass-rushing monster, but an all-around dominant defender.
Of course, though, sacks are the name of the game for edge-rushers, and Miller wants to do whatever he can to help Chubb attain the record.
"Chubb is only three sacks away from breaking the rookie sack record and I'm going to do everything I can in my ability to make sure that happens for him," Miller said on Thursday at Dove Valley. "I'm sure that other guys feel the same about me."
After taking down the Denver franchise record for career sacks last week, now with 98 total, Miller needs a mere two more to hit 100 in his sensational tenure with the Broncos.
But back to Chubb; how specifically can Miller help the rookie?
"I can get close to the sack and he slips out of my hands (laughs)—but no, just keep being the same player I am," Miller joked. "I try to get attention over here. [DE Derek] Wolfe and me, we garner a lot of attention over there and I want to play as best as I can to keep that attention over by me to get Chubb one-on-one."
Basically, if he can lure attention away from Chubb, like he's done all year long, the rookie should be able to have a crack at the record. Although, it would be amazing to see Miller have his hands on a quarterback and let him go just to have Chubb take him down.
Still, the rookie's not too worried about breaking Kearse's record.
"At the end of the day, I'm going to try and get it, but I'm not going to force it," Chubb explained. "I'm going to play pass on every play and stuff like that. It'll be a great achievement though. Great for me, great for the team, great for everybody."
Simply, the Broncos have one of the best pass-rushing duos in the NFL today. In fact, with 26.5 sacks combined, they are the best one-two punch when it comes to sacking opposing quarterbacks this season.
Whether or not Chubb gets the rookie sack record is less meaningful than what his future is likely to bring. The Broncos not only got a dominant defender, they got someone who looks like a carbon copy of Miller.
And, Miller — even in his eighth year — is still in the prime of his career.
What Denver cannot do over the next few seasons is squander the playing ability of those two phenoms; they must get back to the playoffs repeatedly in the immediate future to secure Chubb for the long-term.