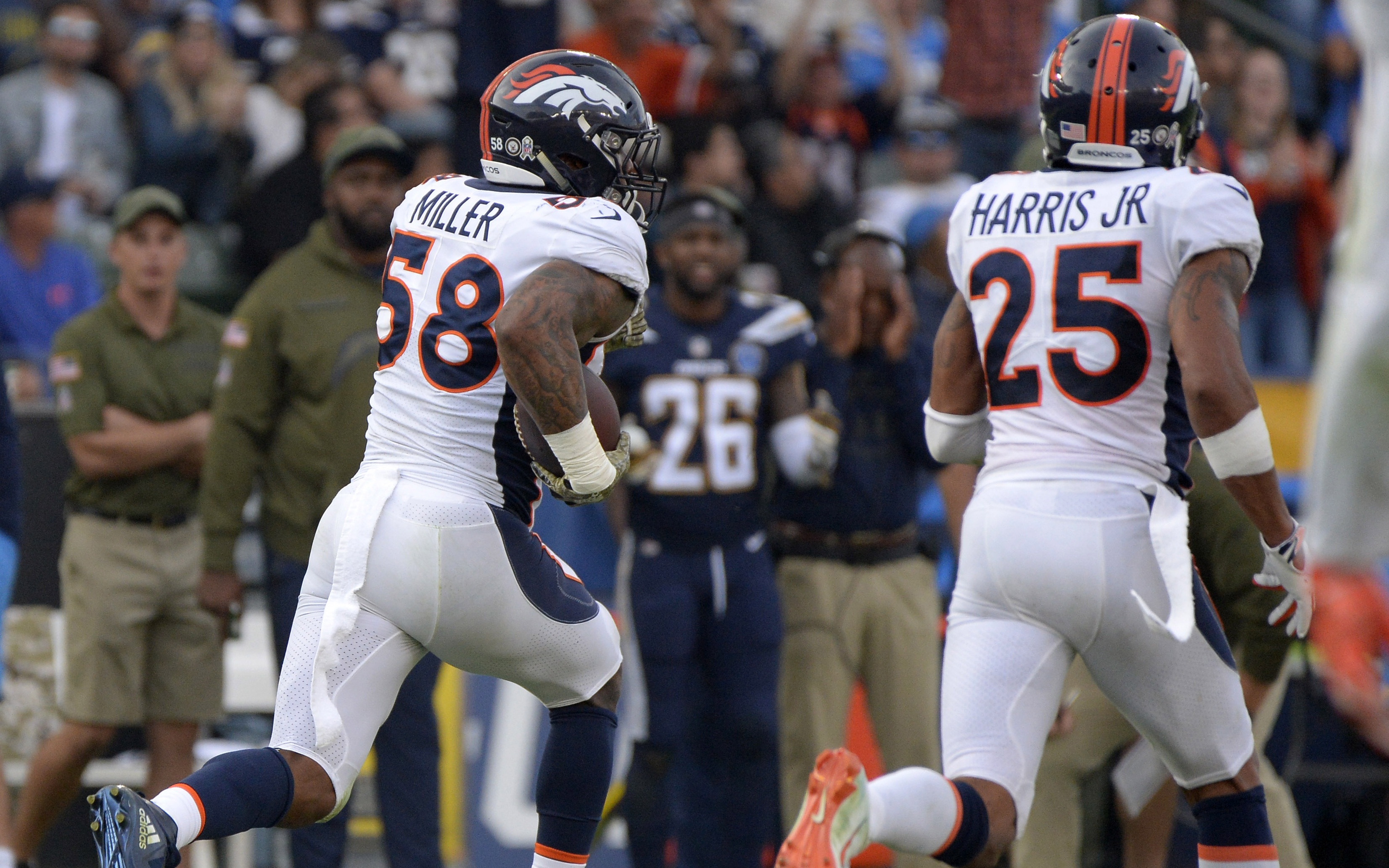 Von Miller, record-breaker.
In only his eighth year in the league, Miller has now racked up 93.5 sacks in the regular season, putting him a mere four away from Denver Broncos franchise-leader Simon Fletcher, with 97.5 sacks.
In fact, Miller's sack of Philip Rivers on Sunday — in the Broncos thrilling, 23-22 victory over the Los Angeles Chargers — pushed him to 100 career sacks if you include the playoffs. He's the fifth-fastest player to reach the century mark and a true legend in Denver.
Not only did he sack Rivers, Miller defended a pass and also intercepted a pass, returning it 41 yards.
That superb effort and domination on the field earned No. 58 his fourth AFC Defensive Player of the Week award, which is another Broncos franchise record. Miller passed another Broncos legend in Karl Mecklenburg, as each had three DPOW awards before this one pushed the current superstar ahead.
Mecklenburg is one of four Denver players to be nominated as Professional Football Hall of Fame semifinalists, which helps illustrate just how incredible Miller's career has been.
If he retired after this year, Miller would be at worst a probable Hall of Famer, and at best he'd go in after only five years of retirement.
Miller joins Emmanuel Sanders who also won a Player of the Week award this year, in Week 7, but on the offensive side of the ball.
Next up, the 4-6 Broncos face the AFC North leading, 7-2 Pittsburgh Steelers at 2:25 p.m. MST at Mile High Stadium. Keep an eye on Miller, as well as Bradley Chubb, as the duo has combined for 19 sacks on the season. Of course, sacking the huge "Big" Ben Roethlisberger is always a challenge, so it'll be interesting to see if they can continue their great play this Sunday.