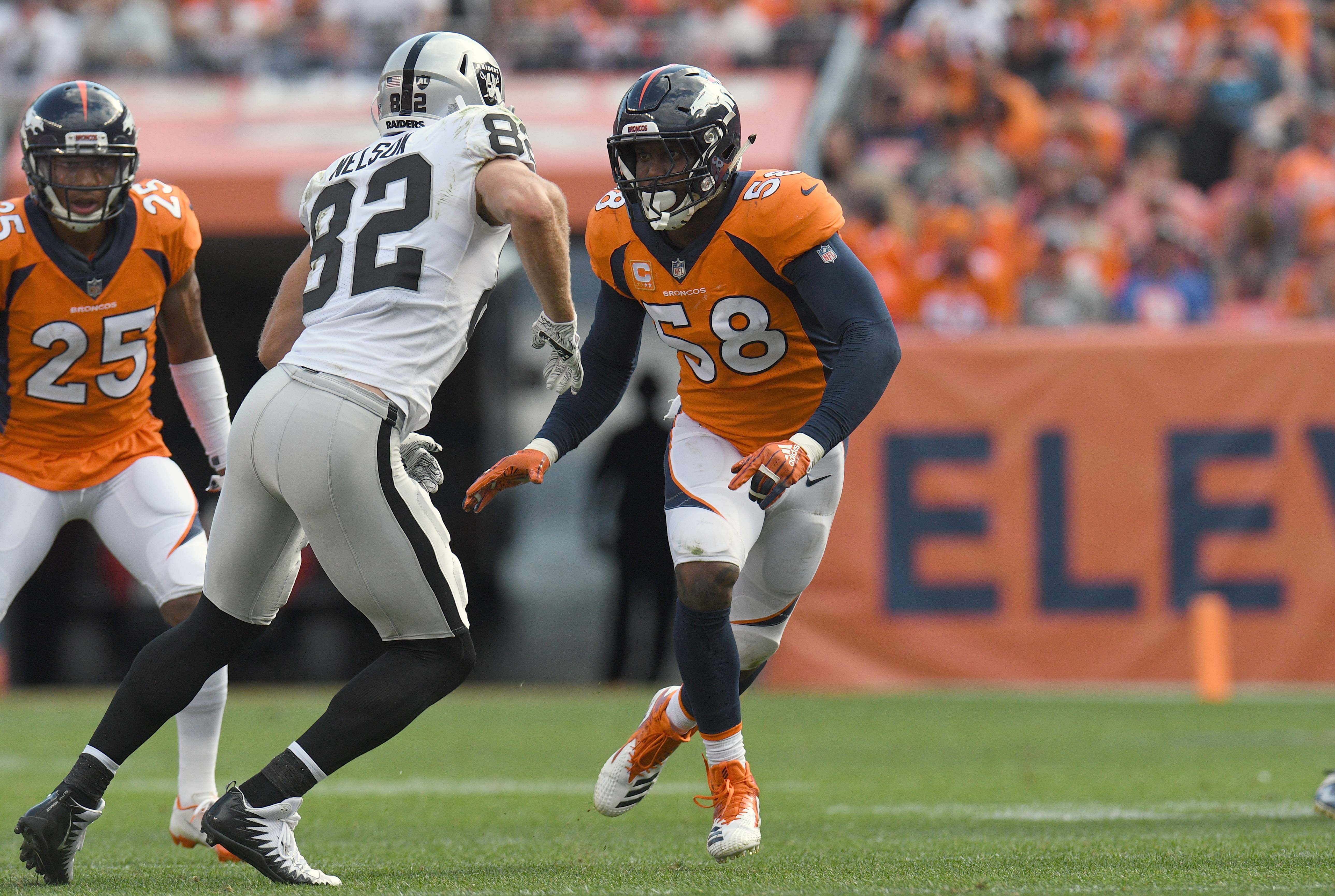 One can imagine it's been a long offseason for Drew Lock between having to hear frequent criticism, debates from strangers about whether or not his bosses should move on from him, and now being thrust into a quarterback competition with Teddy Bridgewater.
Was is Lock who put himself in this situation? Yes, but that doesn't mean you can't be sympathetic to his struggles.
Fortunately, Lock has one of the team's foremost leaders on his side and being sympathetic towards what Lock has been put through. At his recent fifth-annual Pass-Rush Summitt down in Las Vegas, Miller touched on the Broncos' quarterback situation and offered some words of encouragement for Lock.
Though, Miller did first acknowledge the benefits a player like an Aaron Rodgers could bring.
"It's crazy to think about, you know, getting an Aaron Rodgers," Miller said Saturday via the Las Vegas Review-Journal's Vincent Bonsignore. "You put him on any team in the league and he changes that team."
However, Miller understands that daydreaming about who the quarterback could be, has the the potential to do more harm than good.
"If you get too emotionally involved in those guys, and then it doesn't happen, now you got  Lock over here looking like … 'what about now?'" Miller said. "So you don't want to get too emotionally attached to the rumors."
For now, the Broncos have to roll with what they've got at the position.
"You start thinking, 'Oh, we're going to get Aaron Rodgers or Deshaun Watson,'" Miller said. "'But hold on, wait a minute, we've got Drew Lock. That's who we're running with. That's who we're going into the season with until anything changes.'"
Miller then shifted his attention away from the quarterbacks to discuss the squad Denver's bitter rivals, the Raiders, are building down in the Nevadan desert.
"I like to make jokes with the Raiders, but they're doing a lot of great stuff," Miller said. "The facility is nice. The stadium is nice. Las Vegas is ready for this. Las Vegas is ready to have a big-time sports team and for those guys to win some games.
"Hopefully, we can delay it a couple years. But they're ready for this. And I'm excited for it. It's good for the league."