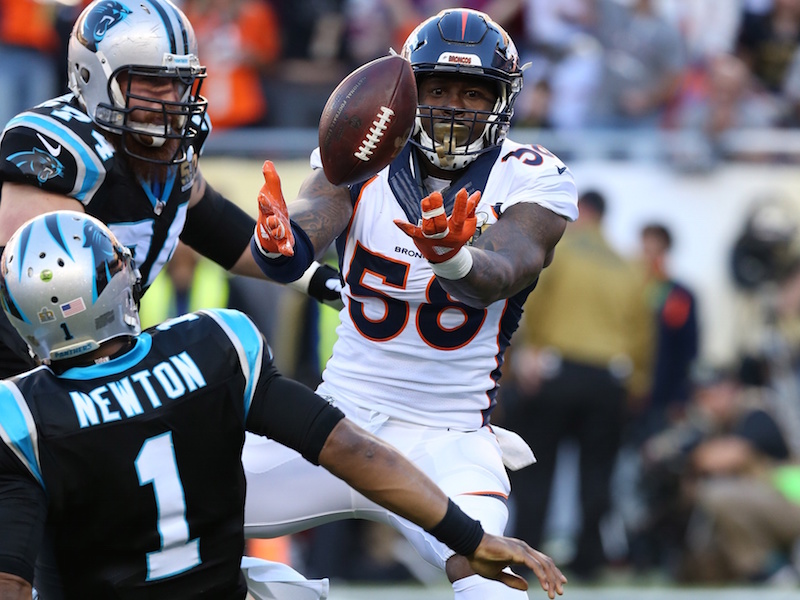 Von Miller is one of the most athletic players in the NFL and has many different skill sets, so him playing offense may not be such a strange suggestion.
"If you just put me out there, they're going to think I'm getting the ball," Miller said to Sports Illustrated's Greg Bishop. "Then just throw it to [the wide receivers]! Of course, I'm biased about it, but like I really do think that it could happen. I'm fast. I can jump. I can catch."
Miller can run, jump and catch with the best of them. In fact, last year's Heisman Trophy-winning running back, Derrick Henry, had almost identical combine numbers to Miller. Both are 6-foot-2, had a 37-inch vertical jump, and Miller actually beat Henry in the 40-yard dash with a 4.53-second time (Henry ran a 4.54). The only skill Henry beat Miller in was the bench press, where he did 22 reps and Miller did 21.
Other defensive players have gotten offensive opportunities, most recently J.J. Watt and Vince Wilfork of the Huston Texans. In 2014 Watt had three offensive touchdowns with most of those being from balls thrown to him close to the goal line. In 2015 during a playoff game against the Kansas City Chiefs, the Texans used both Watt and Wilfork in a play where Watt was snapped the ball and used Wilfork as a lead blocker. The play was unsuccessful.
Besides terrifying quarterbacks at DeSoto High School, Miller also played running back and returned kicks, so he does have some experience on the offensive side of the ball.
Maybe Von Miller can now make opposing defenses shake in their shoes, rather than just opposing offenses. It'll only happen, of course, if John Elway will man up and sign him first.