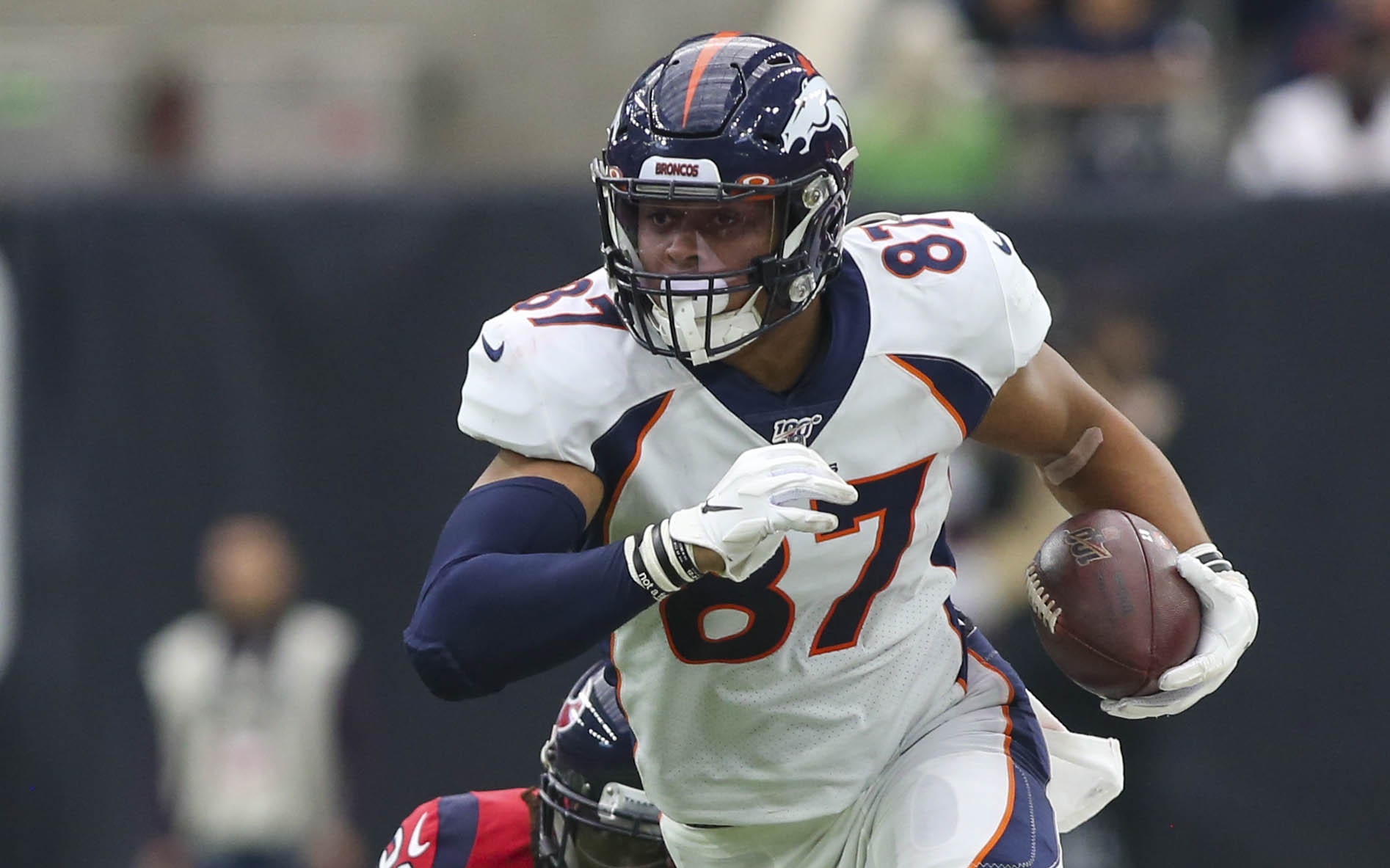 One of the Denver Broncos' young, up-and-coming stars is Noah Fant, who looked like one of the best tight ends in football last season, when he wasn't battling injury.
However, in ESPN's ongoing series of ranking the top 10 players at every position according to the thoughts of different players, coaches, and members of NFL front offices, Fant was notably excluded from their list of the league's top tight ends.
Fant did manage to snag a spot on the honorable mentions list though, thanks to an unnamed AFC scout.
"One of the most explosive players on this list," the unnamed scout said. "I think we will be having a far different conversation about him a year from now; [he'll be] high on this list. Not quite there yet."
Maybe Fant is ready to be slotted high-up on the list, but the fact he isn't even included feels absurd.
Sure, no one is touching the top three tight ends — Travis Kelce, George Kittle, and Darren Waller — and Mark Andrews might have that No. 4 spot locked up for now, but any other spot feels like one that should be up for grabs for Fant.
Having T.J. Hockenson, Dallas Goedert, Evan Engram, Hunter Henry, Jonnu Smith, and Zach Ertz ranked ahead of Fant is crazy in 2021.
Hockenson finished fifth in the tight end rankings despite having a nearly identical stat line to Fant in 2020, and a much better quarterback to get him the football.
Meanwhile, Fant had more receptions, yards, and the same number of touchdowns as Goedert, who entered the league as a promising tight end prospect and has seen his development plateau since. Sure, some of that is a result of being stuck behind Ertz, but if you're stuck behind Ertz at this stage in Ertz's career, you're not a top-10 tight end.
The inclusion of Ertz ahead of Fant is easily the most insulting, as he has deteriorated to the point where the Eagles might be lucky to receive a seventh-round pick in exchange for him. They've been attempting to trade him since before the draft, and so far, they have no bites.
Fant's exclusion caught the attention of multiple figures from around the world of NFL media coverage.
ESPN personality Mina Kimes chimed in on Twitter, criticizing the list for having Hockenson ahead of Fant, let alone keeping Fant off the list entirely.
TJ Hockenson is 5th (!) while his draft classmate Noah Fant didn't crack the top ten. I…do not agree! https://t.co/g70W01X0ki

— Mina Kimes (@minakimes) July 15, 2021
She was soon joined in her criticism by Bleacher Report's Connor Rogers.
"It feels like Fant has become one of the most underrated, ascending young skill guys in the league," Rogers wrote via Twitter. "He was a really good prospect that has put up 102 [receptions and] 1,235 [yards] in his first two seasons at a position that doesn't generate much production early in careers."
Don't be surprised if Fant is in that No. 4 spot this time next year.