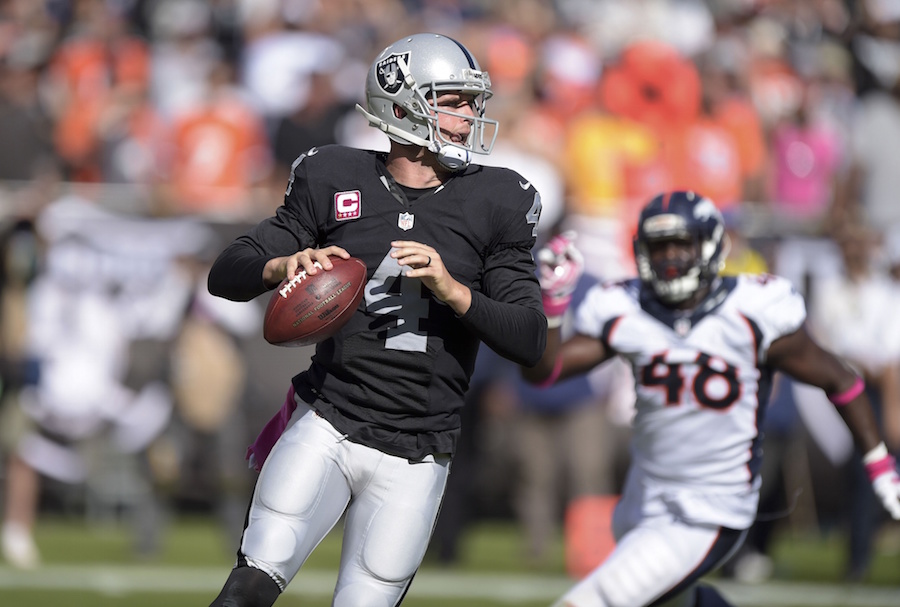 For the better part of the last four years, the Denver Broncos walked into every AFC West game knowing they had the advantage at the most important position on the field: Quarterback. That won't be the case on Sunday night when Denver faces the Oakland Raiders and Derek Carr, who has emerged as a legitimate MVP candidate for 2016.
Through the first half of the season, Carr ranks in the top-5 in passing yards, completions and touchdowns. He's 5-0 on the road and a win on Sunday night over the reigning AFC West Champion Denver Broncos would put his Raiders in the driver's seat to win the division for the first time since 2002.
Tyler Jacobs of 120 Sports has been keeping a close eye on Carr and is ready to hand the 2015 Pro Bowler his MVP award through eight games.
"This dude might be the hottest quarterback in the game right now," Jacobs says. "He is my MVP at this point in the season. I know Tom Brady's lurking. I know Tom Brady's coming. But the four-game head start Derek Carr has on Tom Brady, for this moment in time, after he threw for 513 (yards), four touchdowns, no picks – including the game-winning score to Seth Roberts in overtime – Derek Carr is my 2016 NFL MVP."
Not only is Carr playing lights out, he has his team in a great position to unseat Denver in the West.
"This team we thought was ready to take the next step? They may have taken a step two levels ahead of what we thought," Jacobs says.
Under head coach Jack Del Rio, who was part of three of Denver's five consecutive division titles, Oakland is aiming for an AFC West crown, not just a wild card playoff spot.
Standing in their way, of course, is a Denver Broncos defense that is playing nearly as good as it played during last year's Super Bowl run and is in some ways more dominant. Denver leads the league in sacks (tide with Buffalo) and pass defense, improving by 16 yards per game on last year's league-leading average of 200.
Carr's numbers are certainly worthy of MVP consideration through eight games, but he has the Broncos (twice), Texans, Panthers, Bills and Chiefs all on the docket in the second half of the season. His candidacy will see its biggest test of the season so far this Sunday with the Broncos in town.