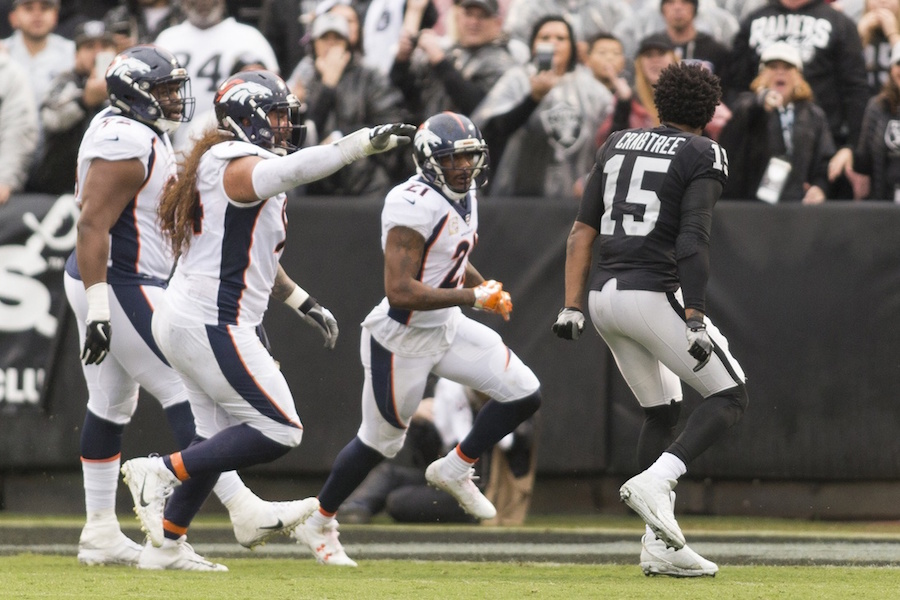 The bad blood is back. Oakland and Denver. Just like old times.
Spawned from their "chain-snatching" event that took place last year, Broncos cornerback Aqib Talib and Raiders wide receiver Michael Crabtree went at it again in the first quarter of the Broncos Raiders game.
Talib vs. Crabtree Round 1. #4Broncos pic.twitter.com/KhIIMoGV91

— Mark Haas (@markhaastv) November 26, 2017
But they weren't done after the play was over. Both players jostled, and Crabtree is caught throwing punches at Talib.
Talib vs. Crabtree Round 2. #4Broncos pic.twitter.com/ZGx9TbFeM8

— Mark Haas (@markhaastv) November 26, 2017
Raiders offensive lineman Gabe Jackson was also ejected from the dust-up, after shoving an official.
Following the game, Broncos defensive back Chris Harris Jr. explained that Crabtree had sucker punched him in the stomach on the previous play. The punch caused Harris to miss the play that then spurned the fight.
As NFL weighs possible discipline for Michael Crabtree, it is expected to consider what Broncos CB Chris Harris Jr. detailed on play before fight with Aqib Talib. Harris said Crabtree sucker punched him in stomach here (video via CBS broadcast). pic.twitter.com/w3GtfNvkqD

— Michael Gehlken (@GehlkenNFL) November 27, 2017
For what it's worth, Talib snatched Crabtree's chain for a second consecutive year.
TALIB RIPPED OFF HIS NECKLACE AGAIN. @bustedcoverage ? #Broncos #Raiders pic.twitter.com/0TGg3g0LOZ

— // '/ // (@WynHere) November 26, 2017
The Broncos lost the game, however.