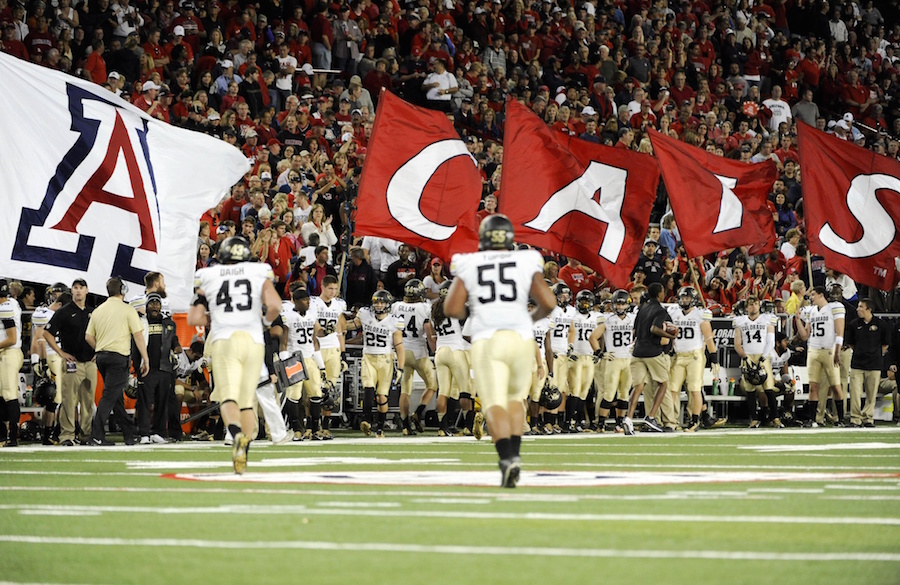 The Colorado Buffaloes need to show they are more the disciplined, veteran team that went into Eugene and beat Oregon than the penalty- and mistake-filled one that allowed UCLA to hang in the game late last Thursday. Despite entering the game as the Pac-12's least-penalized team, Colorado racked up 12 penalties, including eight personal fouls against the Bruins.
"If they're going to play that way, look out, because it could be upset city in Tucson with Arizona hosting the Buffs this Saturday night," says Yogi Roth of Pac-12 Network.
The Buffs will have to correct those mistakes or they could be in danger against an Arizona squad that historically has been known to pull off at least one upset each year. Last year they beat No. 10 Utah in Week 11. Two years ago they beat both Utah and Arizona State late in the season.
"We know, Rich [Rodriguez's] team, they get one [upset] every year and this is their final time playing a ranked opponent," Roth notes. At 2-7, the Wildcats are 0-3 so far this season against ranked teams.
"If they're going to do it, I think Paul Macgloire Jr. is going to have to have one of the top games of his entire career. This young man is playing all over the yard. He's got an incredible career from cornerback to safety to linebacker. He's got all these positions and the last couple weeks he's been extremely productive – 15 tackles last week in the ballgame against Wazzu."
Macgloire leads the Wildcats with 58 tackles (40 solo) and his 2.5 sacks are second behind Deandre' Miller with 3.0.
"Overall, Colorado needs to be the mature team in this ballgame as they control their destiny in the Pac-12 South and potentially their way to Pasadena for the Rose Bowl," Roth says.
Utah posted a convincing win at Arizona State on Thursday night, ratcheting up the pressure on the Buffs this Saturday. How they respond this week will be a good indicator of their chances down the stretch when they face Washington State and Utah to close out the regular season.