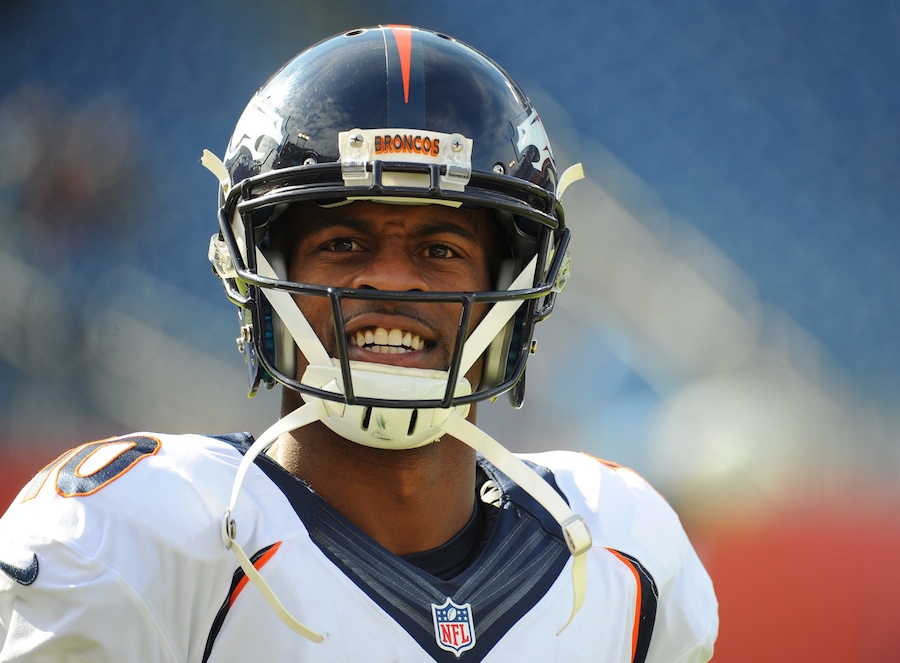 Super Bowl week brings gobs of extra media attention to the NFL, and "Jimmy Kimmel Live" was no exception. Two Denver Broncos (and one former Bronco) appeared in a "Mean Tweets" segment on the late-night talk show Thursday.
Emmanuel Sanders and Aqib Talib — who have a combined seven Pro Bowl nominations to their credit — were among a group of nearly a dozen current and former NFL players who took one for the team and read nasty social media messages about themselves for all the world to see.
About Sanders, Twitter user @awarerupert wrote, "Dear Emmanuel Sanders, F**k you. Catch the ball when its in you damn hands."
Sanders had a great retort, however.
"First of all," Sanders says with a raised eyebrow. "That doesn't make any sense, because if it's in my hands that means I caught it."
Touché, Mr. Sanders.
About Talib, @BradyToCooks wrote, "I find it hilarious that Aqib talib tries to act all hard and s**t when the hardest thing he's ever done is shoot himself in the leg."
The tweeter is of course referring to Talib's 2016 offseason in which the All-Pro cornerback accidentally shot himself in the leg in an incident that remains somewhat shrouded in mystery.
Talib takes the fifth-amendment approach to responding to that mean tweet, waving his hand and walking off the set with a smile.
The most famous Bronco of all even made an appearance for Kimmel. Future Hall of Fame quarterback Peyton Manning is retired, but he still was willing to poke a little fun at himself.
Manning is deadpan, per usual, when he reads @boobieboyd's tweet: "Peyton Manning is the only player in the NFL that looks like the mascot of the team for which he plays #horseface ?"
We'll leave you to check out @boobieboyd's profile yourself, decide what he looks like and tweet accordingly.