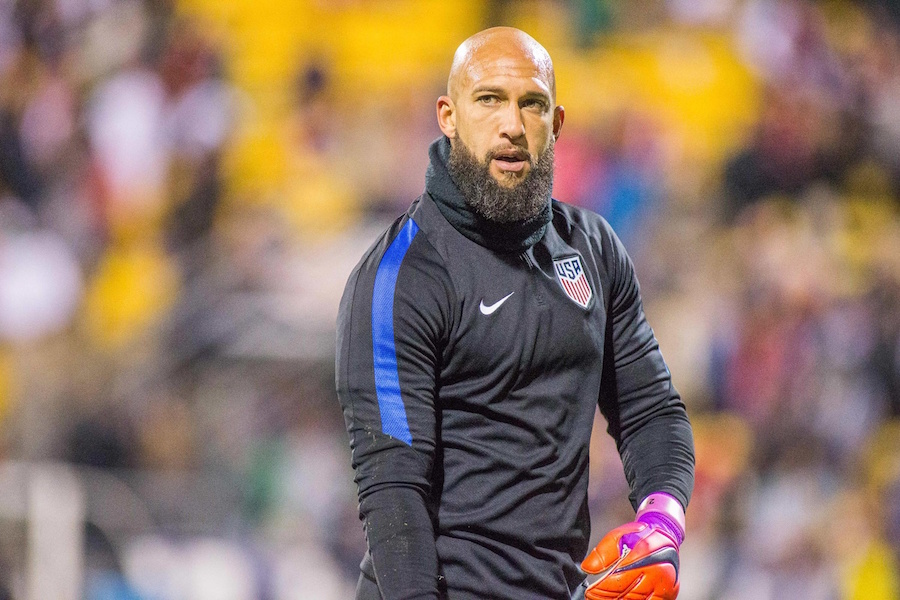 The US Men's National Team has reached the midway point of their annual January training camp, now (again) under the leadership of new (and former) national team coach Bruce Arena. The USMNT entered this year's camp with both uncertainty and scrutiny, as the squad currently sits in last place through the first two matches of the final qualification round for the 2018 World Cup. And although he's not attending this year's camp as he rehabs a groin injury, veteran UNSMNT goalkeeper Tim Howard (Colorado Rapids) is confident the team will turn things around.
The poor start to "The Hex" is partly what led to Jurgen Klinsmann's ouster in November and the return of Arena to the US bench. (He previously led the MNT from 1998-2006). It's also led to some uncertainty at goal for Howard and Brad Guzan (Atlanta FC), neither of whom are in this year's camp. Arena can use the January gathering to identify his No. 3. Howard reclaimed the No. 1 spot from Guzan in 2016, but suffered a groin tear in their qualifier against Mexico. Offseason surgery was a success and his recovery is going "as planned" but at 37 (he'll be 38 in March), the clock may be ticking on Howard. There's some question, too, if time is ticking on the US to qualify for Russia.
Howard sat down recently with MLS and said fans of the Stars and Strips shouldn't be counting them down or out just yet.
"Everything's going to be okay," Howard said during a break in camp. "I think people think the sky is falling, but, you know, I'm an old dog. I've seen this before, so we'll qualify for the World Cup, everybody will be happy and we'll move forward."
After a 40-year gap from 1950 to 1990, the US has not missed a World Cup for each of the past seven tournaments. Howard has been on the roster for the past three, beginning in 2006. The veteran of three World Cups was at camp on Sunday to check in on his team. He says the core of the team will come together when it matters most.
"For as good as we've become as a team, [what] we've always been at our core is just a bunch of hard-working guys who pull together when times get tough."
Nine of the players at this years camp have World Cup experience, a record. Howard and fellow veterans DaMarcus Beasley and Michael Bradley all have experience playing under Arena from the 2006 World Cup squad (Bradley did not make the final roster), breeding added familiarity to the group at camp in Carson, Calif.
But even though the US has retained some of its most experienced players, re-forging that chemistry from the 2010 and 2014 World Cup teams that both advanced to the knockout round with an ever-changing roster has proved somewhat difficult of late.
"I think we lost a little bit of that [bond] over the last few years, but we'll regain it and better for it," Howard said.
Key to regaining that form, Howard says, is Arena.
"He has this ability to get his teams to run through a wall for him," Howard says of his new, old coach. "He keeps us well-organized. He keeps us motivated. Tactically he puts us in the right positions. You put all of that together, you start to have a really good team."
The US will have to be excellent down the stretch in final qualification. After losses to Mexico and Costa Rica, the US has a pair of games against Panama, Honduras and Trinidad and Tobago as well as rematches with Mexico and Costa Rica to make up ground.