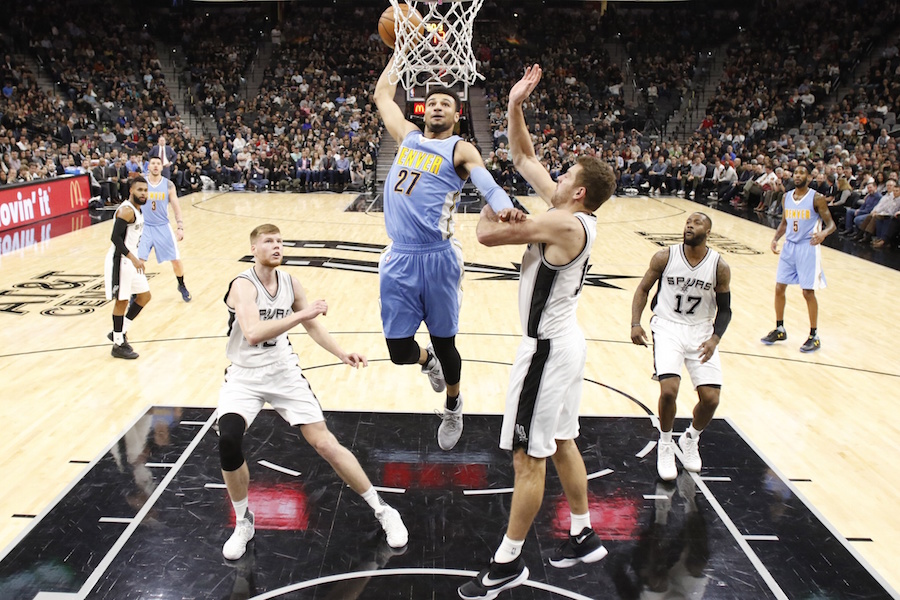 The NBA playoffs begin Saturday and the Denver Nuggets for the fourth season in a row will be watching from home. But that doesn't mean the 2016-17 season wasn't without its highlights.
Nikola Jokic recorded 39 double-doubles and six triple-doubles, turning more than a few heads across the league and becoming one of the hot young faces in the NBA. The Serbian big man finished the season averaging 16.7 points, 9.8 rebounds and 4.9 assists. His 5.2 VOR rating this season ranked eighth all-time for the Nuggets.
Jamal Murray was outstanding as a rookie, even earning MVP honors in the league's annual Rising Stars Challenge.
The Nuggets stayed in the playoff chase until the season's final three games, ultimately falling one game (and the tiebreaker) short behind Portland. Denver beat the Vegas wins prediction of 34.5, finishing the season 40-42 – their highest win total in four years.
There were plenty of game highlights, as well, and the NBA has compiled their top-10 plays from a season that has the Nuggets' faithful feeling hopeful for the future. Not surprisingly, they feature some slick passing from Jokic, high-flying dunks by Kenneth Faried and thunderous slams from Wilson Chandler. Gary Harris, Emmanuel Mudiay and Will Barton also make appearances. Give it them a watch and get excited for the future of this young, talented team.
Next up on the docket for the Denver Nuggets is the NBA Draft. The Nuggets are again a draft lottery team, having missed the playoffs, although their chances of moving up from the 13th pick is very unlikely. Denver has a 96 percent chance of landing that spot, along with a 1.8 percent chance of falling back to 14th. Their odds of landing the Nos. 1, 2 or 3 spot in the draft are 0.5, 0.6 and 0.7 percent, respectively.