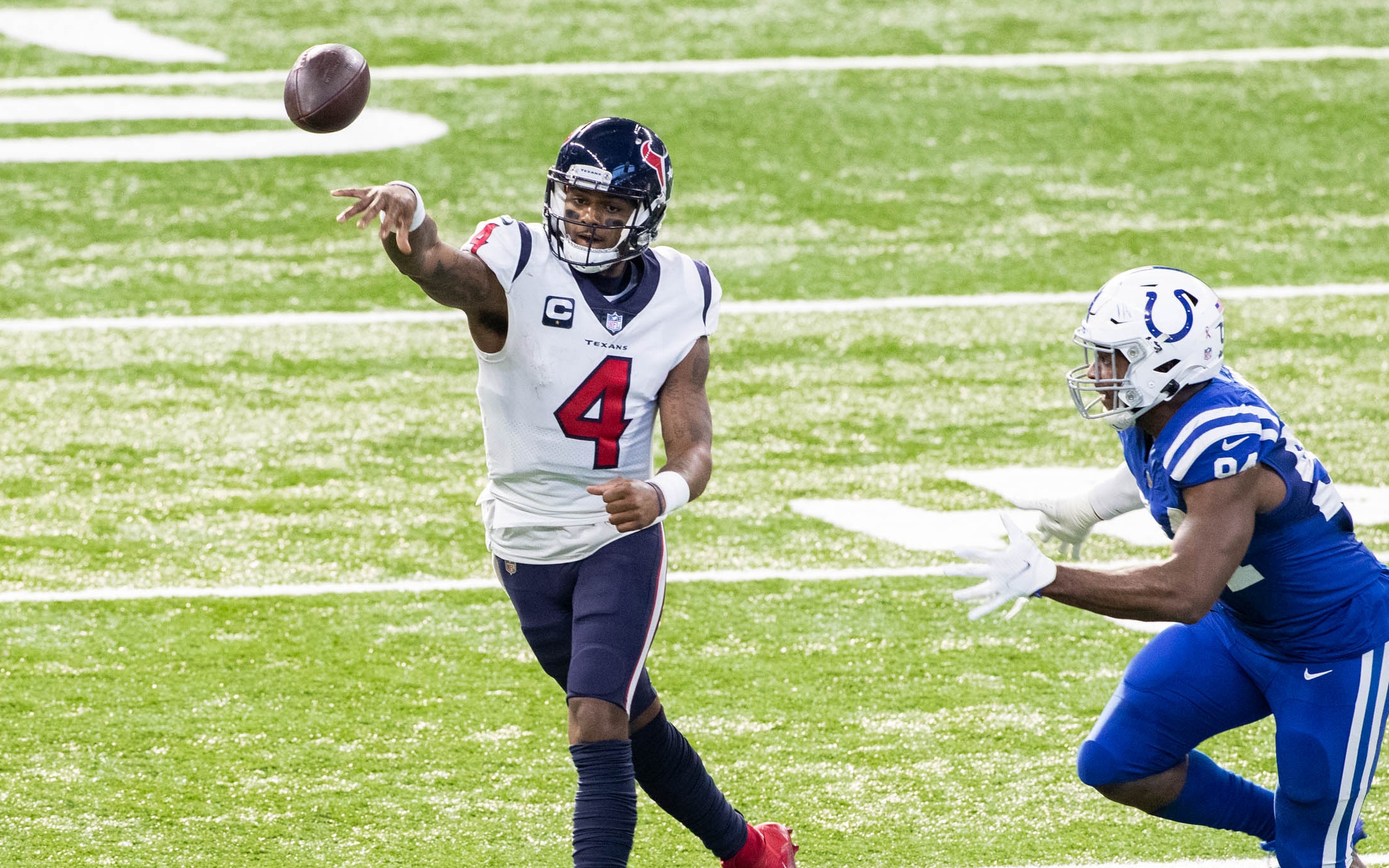 Watson, Wentz and Lock: Oh my!
Which quarterback will the Denver Broncos try?
In the quarterback-obsessed Mile High City, not an offseason can go by without Broncos fans wondering who will be the team's gun-slinger in the fall. And this year, the excitement surrounding the position has reached a fevered pitch for multiple reasons.
First and foremost, the Broncos have a new General Manager in George Paton. What Paton does next is anyone's guess, and during his time as the Minnesota Vikings' assistant GM, that team drafted, traded for and signed free agent quarterbacks to fill the need behind center.
Simply, all the options are on the table, and that includes trading for superstar quarterback Deshaun Watson. Watson, and other quarterback options, are the second reason why quarterback excitement seems to be at an all-time high here in Denver.
And finally, due to a fifth straight losing season, the Broncos are picking at No. 9 overall with a stacked quarterback class.
Let's explore the many quarterback options for the orange and blue, and give each of them a percent chance of actually happening.
Deshaun Watson
Watson is a hands-down superstar. He would immediately be the best quarterback to play in Denver since Peyton Manning, and he'd likely be the most athletic QB in team history. That's no slight to John Elway back in his heyday, and similarly to Elway, Watson is electric in the 2-minute offense. Per Pro Football Focus, he was the highest-graded QB at the ends of halves and games, which is crucial to winning close contests.
The list of jaw-dropping numbers for Watson are long, including PFF's Top 101 ranking him as the 6th-best player in the NFL today. This year, he led the league in passing yards (4,823) with 33 TDs and 7 INTs, while his 112.5 passer rating was second-best.
However, the issue with landing Watson is the massive capitol it would take to secure him. The Broncos would likely need to send three first-round picks, multiple second-round picks and multiple players, too. Interestingly, the Broncos went after Matt Stafford by offering Drew Lock and the No. 9 pick, but LA sent two first-rounders and Jared Goff instead.
Percent chance: 5%
Carson Wentz
Some rumors on twitter are saying Denver is going after Carson Wentz. Don't buy into that, though, because Benjamin Allbright says it's not true.
That's a good thing, too, because Wentz was arguably the only quarterback in the NFL worse than Drew Lock this year. Plus, he's older and has multiple, major injuries. Oh, and while Lock has a long way to go on the field, he is loved in the locker room.
Percent chance: 0%
Sign a free agent
More likely than breaking the bank by trading for a QB, the Broncos will bring in a veteran free agent to compete with Lock. Or, one to just simply be the backup.
For true backups, guys like A.J. McCarron, Matt Barkley and Mike Glennon are out there.
But, for guys who could compete with Lock, there are many options, too.
Tyrod Taylor is an interesting prospect. He was a three-year starter in Buffalo, and was the Chargers' starter last season before a team doctor punctured his lung by trying to give him a painkiller in his ribs. The dual-threat could apply pressure to Lock's grip on the starting spot.
Or, there's Jacoby Brissett. Brissett was the Colts' starter back in 2019 and even played through a knee injury, but then was demoted when Philip Rivers was signed by Indianapolis. Brissett is likely hungry to prove himself, and at only 29 years old, he's got a lot of tread left on the tires.
One more option is Andy Dalton, but he could end up the starter in Indy if the Colts can't pull off a trade for Wentz.
Percent chance a backup wins the job: 10%
Trey Lance
Pro Football Focus has mocked Trey Lance to the Broncos multiple times. The bummer about picking No. 9 overall is that while it's a high pick, it's not nearly high enough to get even a Top-3 QB this year. Trevor Lawrence, Justin Fields and Zach Wilson are expected to go in the first five picks, leaving Lance as the best option at 9.
Lance has a lot of upside in terms of his physicality; he's 6'4″ and 226 pounds with a cannon for an arm. But, Lance only played one game this year and one full season before that, in 2019. Plus, he comes from North Dakota State, meaning while he balled out there, the talent difference in the NFL is multiple levels better.
Percent chance: 10%
Drew Lock
Lock is the odds-on favorite to be the Broncos starter in 2021. For now, he has no competition in the locker room and most of his teammates want to see him grow under center next season. Even if (when) the Broncos bring in a veteran free agent, Lock should be able to win the job. If he can't, that's the end of his story as a starter.
Lock's had an up-and-down first two years, low-lighted by his two injuries to his throwing arm, one each season. That thumb injury kept him from the field until the last five weeks of 2019, with one great game an inconsistency throughout. Again, in 2020, he was injured and sat for multiple weeks. He was again wildly inconsistent, and ranked in the bottom-5 of all quarterbacks in most statistical categories.
It must be noted that he improved down the stretch (some) and it's a promising upwards trend in his play. A second starting season in Pat Shurmur's offense should help him, as well as getting Courtland Sutton back to the gridiron and growth of his young receivers.
If he really wants to be "the guy," Lock must stop throwing off his back foot, he needs to process more quickly, throw the ball away more and stop chucking the ball into double-coverage.
Percent chance: 75%