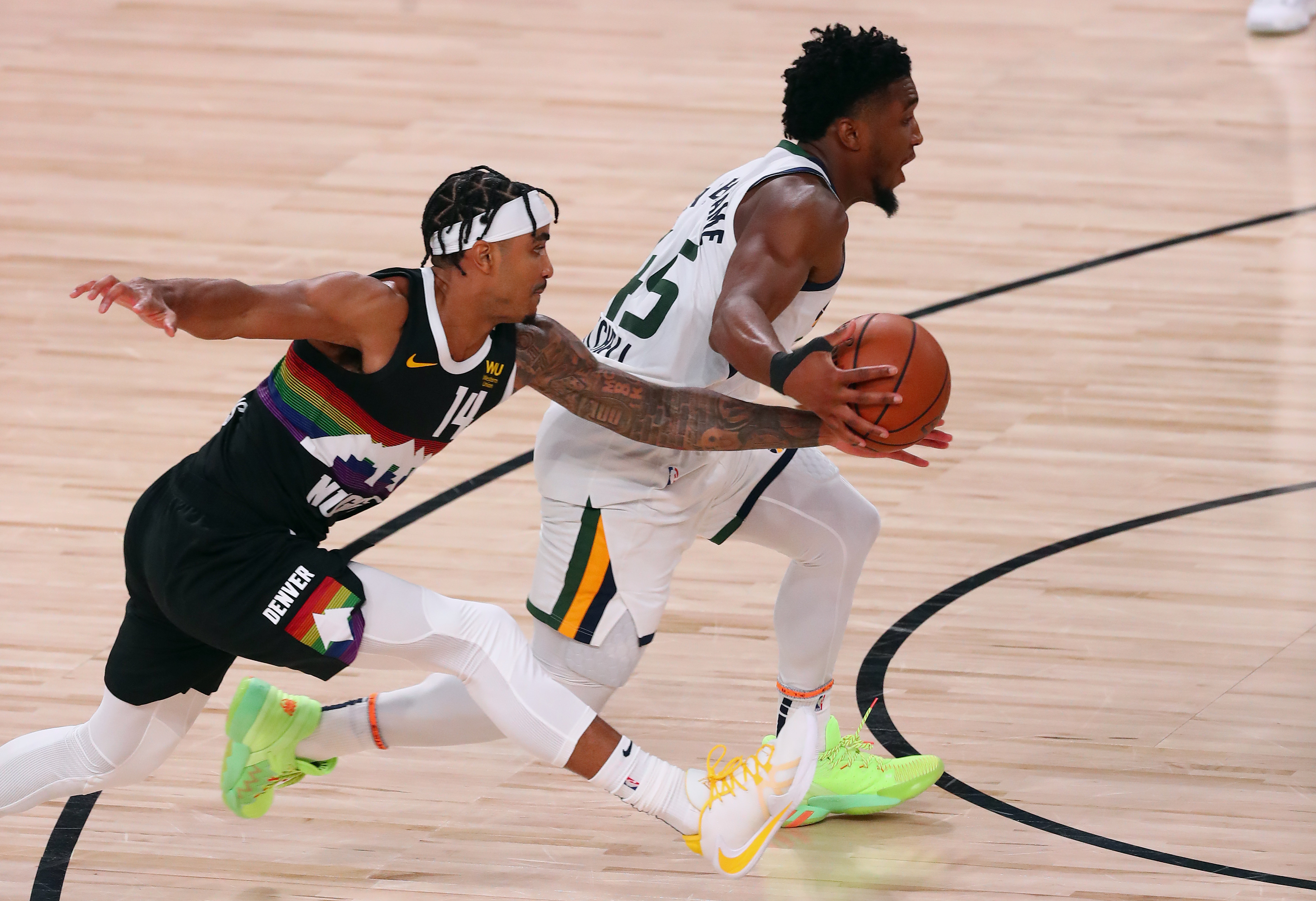 The first round playoff series between the Denver Nuggets and Utah Jazz was defined by its incredible offensive display, but in Game 7 it was Gary Harris defense that saved the day.
All series long, no matter what alteration Nuggets head coach Michael Malone made, Mitchell and the rest of the Jazz roster found a way to surgically dissect the Nuggets defense one possession after the next — well that is until Harris returned to the floor for the first time since March 11th.
From the second Harris stepped on the floor in Game 6, the Denver Nuggets defense looked like a different animal. In their first five games of the postseason, Denver had the worst defensive rating of any team still in the bubble with a abhorrent 127.4 defensive rating. But when Harris returned for Game 6, he brought an improved version of Nuggets defense with him. In the two games Harris played for the Nuggets, Denver had the fourth-best defensive rating of remaining teams with a 101.6 defensive rating.
That means Denver was allowing 25.8 points less per 100 possessions with Harris active than when he was still hurt and unable to play.
Yes, Harris is struggling with his shot, but he is not being relied on for his scoring ability right now. It is his defense that saved the Nuggets season and propelled them past the Jazz in Game 7.
"It's funny, some people would look at his box score and say 'Gary Harris struggled; he was 1-9 from the field'," Michael Malone explained after Denver's historic Game 7 victory. "But we don't win this game without Gary."
In order to explain just how good Harris was on defense, let's go to the film.
What better place to start than with Harris swallowing up Jordan Clarkson one-on-one? All series long, Denver has had no answer for Clarkson as he burned them off the bench, but once Harris returned and was tasked with slowing Clarkson, the Jazz's reserve gunner struggled to impact the game in the same way.
After averaging 19.2 points per game on 48.6% shooting and 39.5% from three-point range in Games 1-5, Clarkson's numbers fell in the final two games of the series at that had a ton to do with Harris' defense. In Games 6 and 7 with Harris active, Clarkson averaged just 10.5 points per game while shooting just 39.1% from the field and 18.2% from three-point range.
In the clip above, Harris does a fantastic job of closing out to Clarkson with a ton of speed, but while staying under control so he can eliminate the space between them while retaining the ability to change directions quickly to prevent the drive. Harris also wisely does not leave his feet on the pump fake which allows him to stay in front of Clarkson and contain on the perimeter — something the Nuggets have struggled with all series long.
Once he completes the closeout and gets into a defensive stance, Harris shades Clarkson's right side forcing him to use his off-hand and go to the left. Clarkson gets uncomfortable and spins back to his right hand, but Murray — who is helping at the top of the key — is already forcing Clarkson back to his left and into the corner. As the shot clock winds down, Harris begins to time up his contest of Clarkson's inevitable jumper and manages to block the shot for a spectacular display of individual defense.
But Harris' defensive impact was not only felt when he was checking whoever was initiating the offense. Harris had some of his most incredible, yet subtle moments while off the ball.
This was one of the most impressive defensive possessions of the night for Harris. Not only did he do a wonderful job of sticking with Clarkson through multiple screens, but once he finds himself under the rim, he shifted into the primary help defender.
Harris knows he is too far under the rim to draw a charge on the driving Mitchell, so instead of sitting back and getting blitzed by Mitchell screaming down the lane, he does the last thing Mitchell expected — Harris stepped up like he was going to draw the charge and then stepped to the side allowing Mitchell to fly by him and miss the tough running floater.
Once Harris stepped up, Mitchell anticipated contact coming as Harris appeared to be trying to draw the charge which tricks Mitchell into thinking a floater is the better option. Right after Mitchell takes off and right before they make contact, Harris slides out of the way to not foul Mitchell ultimately leading to a missed floater and a defensive rebound for Torrey Craig.
Those types of instincts make the Nuggets team defense significantly more productive which is why when Harris was not playing, Denver's defensive impact fell off a cliff. Now that Harris is back and making life difficult for opposing offenses, the Nuggets' defensive potential has risen in a dramatic way.
The other way Harris impacts the Nuggets defense is his ability to limit the opposing team's most threatening guard which has obviously been Donovan Mitchell.
Harris shined brightest when he was asked to slow Mitchell in the fourth quarter
This is just elite one-on-one defense by Harris. Mitchell isolated on him looking to create space, but Harris never allows any of Mitchell's moves to get him off balance or out of position. Harris just sticks to the scouting report and executes it to perfection. Let me explain further.
The first thing you have to do to Mitchell to limit his effectiveness is force him to be a jump shooter and Harris does a great job of staying in front of Mitchell and refusing to let him turn the corner to get into the painted area which gives Harris the advantage.
The second thing you have to do to slow Mitchell is make him go to his left. Mitchell always wants to drive right and is much less explosive going to his left so in order to keep Mitchell off balance, Harris is shading the right side of his body forcing Mitchell to use his off-hand giving Harris the advantage.
The next point of emphasis is being physical and not letting Mitchell get a shot off without a hand in his face. Mitchell is one of the more effortless shooters in the game when he is left open which has been a constant issue for the Nuggets. So instead of just letting Mitchell get to his spot, Harris uses his body to force Mitchell into the shot that he wants him to take once again giving Harris the advantage.
In order to complete such a phenomenal defensive possession, Harris blocks Mitchell's jumper by rotating and getting his strong hand up. All game long, Harris consistently and methodically created advantages for himself while defending. By the time the final buzzer sounded, Harris managed to turn in one of the most impressive defensive performances in the playoffs so far.
So not only did Harris help solve the Jordan Clarkson conundrum, but he also helped slow down a historic scoring run by Mitchell — a run the Nuggets had no answers for before Harris' return to the court.
"One of the reasons I have such an affinity for Gary Harris is because I feel he is one of the better two-way players in the NBA," Malone stated unflinchingly. "The one-on-one defense he had on Jordan Clarkson and the one-on-one defense he had one Donovan Mitchell late was outstanding."
Even with Harris' long list of defensive moments in Game 7, there were two possessions that stand out amongst the crowd: Harris' ball denial when covering Mitchell forcing a timeout with less than a minute to go and the steal to seal the series win for Denver.
Let's start with the former.
"Late in the game, they called a timeout and we forced (them) to call that timeout after denying Donovan Mitchell the ball," Malone explained when discussing some of the most important moments of Game 7 and, of course, Harris was in the center of it all.
Just look at this determination and fight by Harris. This is one of the moments that saved the Denver Nuggets 2019-20 season.
Clip courtesy of Joel Rush of Forbes Sports.
This is Harris flat-out refusing to allow Mitchell to get the ball with the game on the line. It may look simple, but being able to physically corral Mitchell like this is astounding and the fact that it forced Utah to take a timeout ultimately helped Denver win. As the Jazz rebounded Torrey Craig's missed layup with just over four seconds left, Utah did not have a timeout to advance the ball and draw up a play. Instead they had to push the ball up the floor in transition with just seconds left ultimately leading to Conley's missed triple at the buzzer.
While Harris' physical abilities on defense are clearly impactful, what rounds out Harris' defensive skill set is his mental approach to the game and there was no better example than this game-sealing steal on Mitchell with 8.4 seconds remaining.
At first glance, it seems strange that Harris wold allow Mitchell to spin back into the middle lane. Why would Harris allow Mitchell to get downhill going to the rim? Well, after the Nuggets win, Malone shed some light on why Harris did what he did.
"Even in the huddle before the last play, (Harris) knew what Donovan was going to do. He had done his work and prepared," Malone revealed when discussing what impresses him about Harris. "He saw it mentally and he went out there and came up with a huge defensive play."
That means in Harris' film work as he prepared to defend Mitchell, he realized that when Mitchell spins to his left, he almost always crosses back over to his right hand. Harris knowing that allowed him to bait Mitchell into the steal which kept the Nuggets season alive.
All of these moments are incredible in any game, let alone Game 7 after training 3-1 in the series, but to add to the incredible nature of Harris' accomplishments in Games 6 and 7, it is important to note that these were his first two games since March 11th, which means 174 days passed without Harris playing competitive basketball.
"On defense, to not play for six months and come back and make that kind of an impact in two games; that is first team right there," Murray stated when talking about the impact Harris' defense had on the Nuggets Game 7 win. "He is the best defender I know. When he guards me in practice, there is no one who guards me better in the NBA than Gary. You can see it when he is out on the court; he looks like a football player the way he moves his feet, shuffles and slides. His anticipation, his quick hands; he has the whole package on defense so he was huge for us."
Still, Harris has not been perfect. His offensive game has left a lot to be desired so far and his shots are not falling, which is to be expected considering Harris has not played for so long. He is shooting just 15.4% from the field and 14.3% from three-point range for a grand total of four points per game, but his head coach is not concerned about Harris' offense and trusts that his shot making will return as he gets his his legs back after missing so much time.
"Gary, his offense is going to come in this next series," Malone stated with confidence. "That is the next step to getting him back to how he was playing, but his defense, his containment, his one-on-one pride is outstanding and that is why he has been such a big part of our team for the last five years."
Harris is going to improve from here on out. As he gets more and more game repetitions under his belt, he will get acclimated to the speed of playoff basketball which will only enhance his impact.
"This is only his second game in six months," Murray said after the game. "That is crazy."
Despite everything that seemed to stand in Harris' way — his health, Donovan Mitchell's incredible scoring and the time he was forced to be away from basketball due to the hiatus and injuries — he managed to save the Denver Nuggets season with his defense.
Without Harris stepping up, the Nuggets would be conducting exit interviews and looking ahead to their potential free agents right now, but thanks to his heroics, the Nuggets title hopes remain alive.