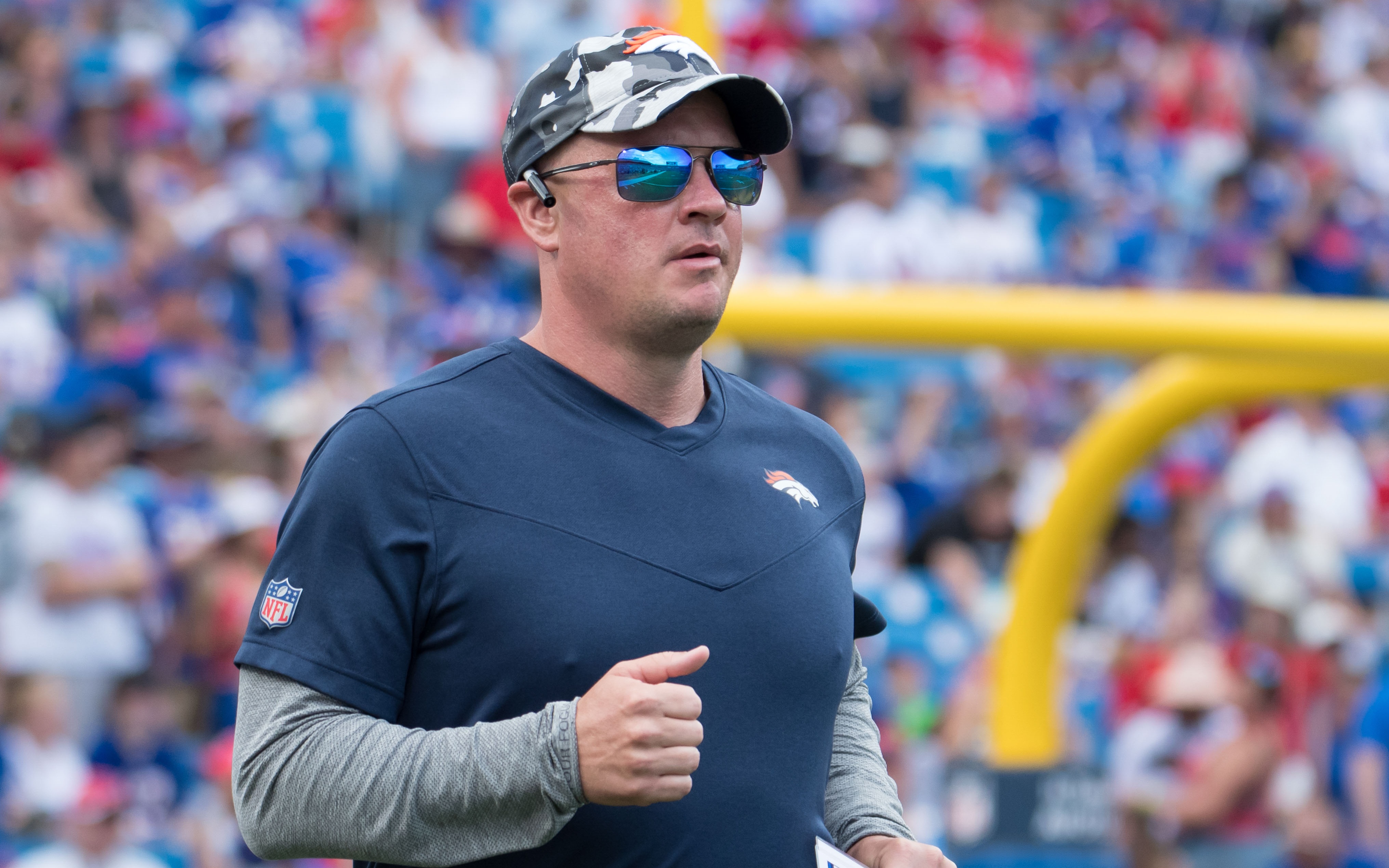 One game into the new era and the Denver Broncos are 0-1.
Fans had been eyeing the Sept. 12 kickoff date for months, not only as a chance to finally see Russell Wilson play, but to see Nathaniel Hackett's offense, too.
These Broncos would be different than the ones we've seen struggle for six years. They were supposed to have an elite quarterback who could pull wins out of the jaws of defeat. The offense was supposed to be high energy and high-scoring.
All those expectations led to disappointment, though.
Denver's $245 million man played more like "Rusty" Wilson than "DangeRuss." In fact, the entire offense was sloppy throughout the contest. While the team had a far-too-many 12 penalties for 106 yards, the offense looked unsettled with two false starts and two delay of game calls. There were also some dropped passes, and then the notable back-to-back goal line fumbles by Melvin Gordon and Javonte Williams were killers.
During the preseason, Hackett decided to rest basically every starter on both sides of the ball, meaning this was the first action of the year for nearly every key player for Denver. The lack of in-game preparation was clear as day; Wilson's timing was off, the fumbles were game-changers and the defense let Seattle do whatever they wanted to in the first half.
That was Hackett's first mistake, not playing starters in the preseason.
His second was thinking he had the entire playbook to use instead of dumbing it down for his new players. That's where those delay of games came from, and there were many more times the Broncos snapped the ball just before the play clock hit double zeros, too.
Hey coach, stop calling plays with complex motion! The players don't even have time to get set.
Then, when it mattered most, the situation was too big for Nathaniel Hackett in first game as head coach.
That's what we say about new players — it was too big a moment for them — and that was the case for the Broncos new head coach in his first contest, too.
Here's what happened in the final 1:11 of the game: With Denver down 17-16, with a 3rd and 14 from the Denver 45, Wilson and Williams connected for a nine-yard gain down to the Seattle 46.
With the completed pass happening in the field of play, the time game clock was still running, and with all three timeouts, it looked like the Broncos would kill the clock and go for it on 4th and 5. Even Peyton Manning was calling for a timeout, just like all of Broncos Country, as the clock ran and ran, from 59 seconds down to only 20 seconds.
Peyton Manning would have handled the final minute different than Denver did…. pic.twitter.com/yRqlxjFDQ3

— Adam Schefter (@AdamSchefter) September 13, 2022
Hackett should have used a timeout and regrouped, come up with a plan of attack and see it through. Instead, he let the clock drain to 20 seconds and then called a timeout, only to kick a 64-yard field goal and lose. Broncos Hall of Famer Shannon Sharpe wasn't happy with the decision, either.
Taking the ball out of Wilson's hands was a huge mistake, but so was not saving the team some 30 seconds. They would have been valuable if the Broncos decided to go for it — which they should have — and converted.
Speaking of the decision itself, the math backs up that Hackett and the Broncos should have gone for a first down instead of settling for a 64-yard field goal attempt.
The probability of Russell Wilson and the Broncos offense converting on 4th & 5 against the Seahawks defense in that situation (factoring in team and QB strength) was 42.1%.

If the Broncos had converted on 4th & 5, even with 20 seconds & 2 TO, the odds of scoring 3+ was 66.2%.

— Next Gen Stats (@NextGenStats) September 13, 2022
So, what were the lessons the Broncos and Hackett should have learned?
Playing his starters in preseason is needed if you want them to be ready to go for the regular season games.
Asking players to know his system inside and out was a case of too much, too soon. In that case, the lesson is: Less is more.
And finally, sometimes a team has to go for it on 4th down.
Down 4 with 6:13 to play, the Broncos faced a 4th and goal from the 8 yard line, and Hackett elected to kick the ball, bringing the game to 17-16. According to the 4th down decision bot, they should have gone for it there, too.
—> DEN (13) @ SEA (17) <—
DEN has 4th & 8 at the SEA 8

Recommendation (MEDIUM): 👉 Go for it (+1.2 WP)
Actual play: 👟🏈 B.McManus 26 yard field goal is GOOD, Center-J.Bobenmoyer, Holder-C.Waitman. pic.twitter.com/gJ6xyhfySL

— 4th down decision bot (@ben_bot_baldwin) September 13, 2022
Luckily, it seems as though Hackett has learned he has to go for it on 4th down, at least sometimes:
Addressing his decision to attempt a game-winning 64-yard FG last night, Broncos' HC Nathaniel Hackett just told reporters, "Looking back at it, we definitely should've gone for it."

— Adam Schefter (@AdamSchefter) September 13, 2022
Looking at the loss, it was avoidable and it was a culmination of many factors.
First and foremost, the Broncos weren't prepared to play. Not physically, as they got pushed around on both sides of the ball, and not mentally with their delays of game and lack of understanding the offense.
And then, with the game on the line, Hackett didn't help his team by calling a timeout to regroup, nor did he make the right call on the final fourth down.
Broncos fans became used to spotting conservative coaching with poor clock and timeout management from their coach with Vic Fangio as the head man the last three seasons.
Hackett needs to step up when it matters most and not let the moment be too big when the game is on the line.