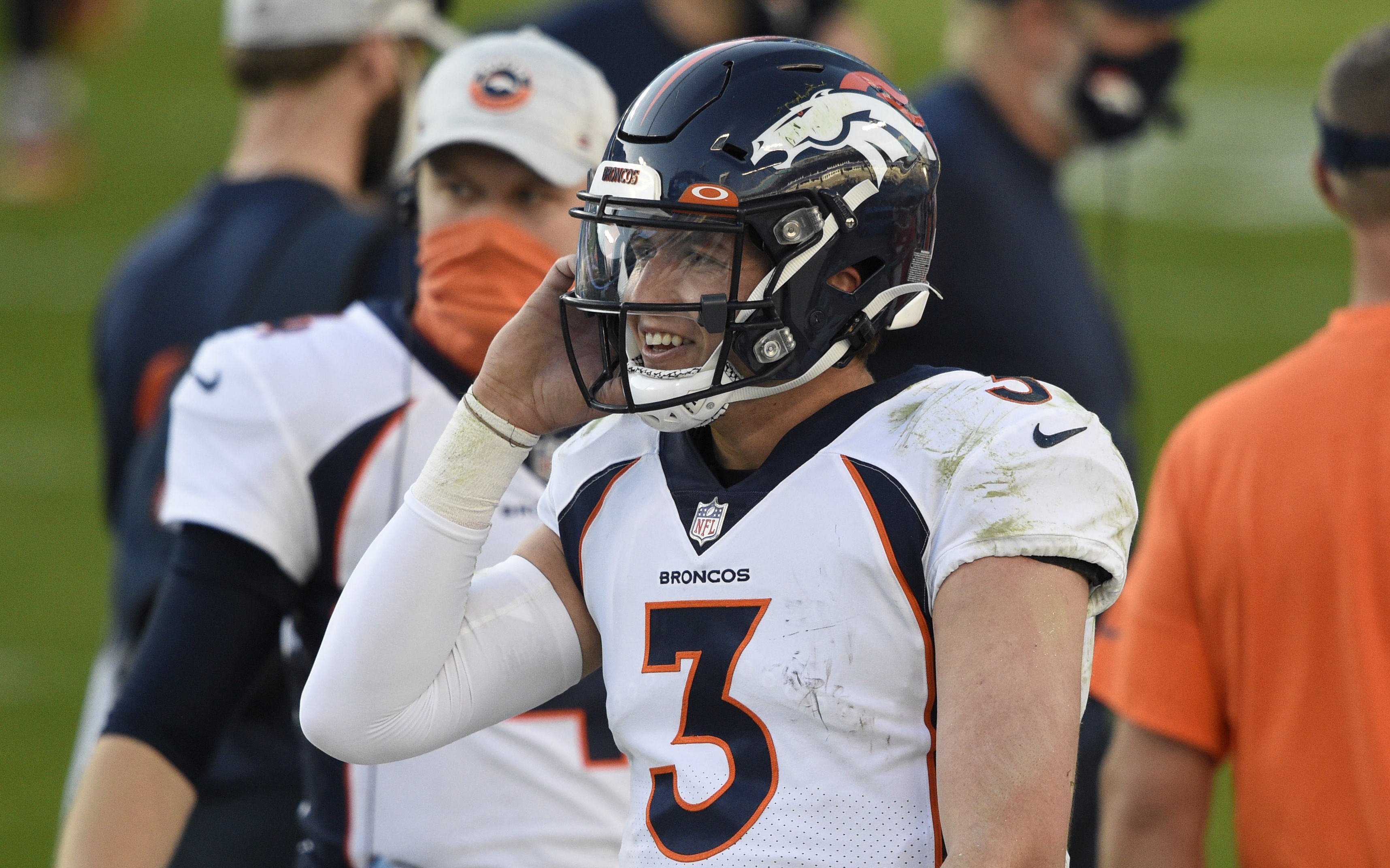 Although there is plenty to look forward to with the Broncos' offense this season, they have strengths and weaknesses, just like any other team. With the limited number of draft picks teams are afforded and a salary cap teams have to abide by, building the perfect roster is simply impossible.
The Broncos spent much of last offseason loading up on the offensive side of the ball in an attempt to build around their young gunslinger, Drew Lock. Doing this primarily through the draft, they had one of the youngest offenses in the league.
Now with another year of experience under their belt and continuity with offensive coordinator Pat Shurmur, expectations for the Broncos offense should be high.
However, if the Broncos are to meet these lofty expectations, they will need to overcome and exceed expectations in these three key offensive areas.
Quarterback
The Broncos' quarterback discussion is extremely tiring for everybody involved but the truth is that it is the key to the Broncos 2021 season being a success.
Whether it be Lock or Teddy Bridgewater, it is important that the Broncos get better play out of their quarterback this season.
With the terrific personnel general manager George Paton has collected both offensively and defensively, a league average or even slightly below league average quarterback that limits turnovers may suffice in the Broncos' quest to become a competitive football team.
While the Broncos have only been in training camp for a short period of time, Bridgewater looks as advertised; consistent, very accurate, and smart but also very conservative. Lock on the other hand has looked quite the opposite; aggressive and explosive but very inconsistent. However, on Saturday, those roles flipped.
This news probably shocks nobody who has been paying attention to the situation as this has gone as expected thus far.
No quarterback has a leg up at the moment as the Broncos are so early into training camp. It is truly impossible to tell at this point, but one thing is clear. For the Broncos to be a successful football team, they must start the best quarterback from week one of the season.
If a midseason quarterback change does happen, that would probably mean that the team is losing and looking for a change. The Broncos cannot afford to play catch up in a division with the Kansas City Chiefs and Los Angeles Chargers who both boast two of the best young quarterbacks in the league.
Right Tackle
This is one of the positions the Broncos just have not been able to figure out since Orlando Franklin left the team in 2015.
After whiffing on Ja'Wuan James, the Broncos have brought in two new tackles in Bobby Massie and Cameron Fleming, while also retaining Calvin Anderson, who is now entering his second season with the Broncos.
While the talented Massie is the favorite to win this position battle, he has been suffering through injuries for the past two seasons, only playing in a total of 18 games in that span. Because of this, Massie is somewhat of a risk if the Broncos can't find quality depth behind him.
Outside of Massie, Fleming has bounced around the league quite a bit playing on now his fifth team in his seven-year career. While it is unrealistic for the Broncos to have great depth behind every key position, if the Broncos are forced into starting Fleming, they could be in trouble.
Fleming's inability to find and maintain a job is telling and on further review of his film, you see why. He struggles in multiple aspects of his game and is not someone a good team would want starting at such a premium position.
As for Anderson, he is somewhat of an unknown. As an undrafted free agent, Anderson was brought into the league as a Patriot before shortly getting picked up by the Broncos.
Entering his second year working with offensive line coach Mike Munchak, Broncos Country is very excited to see his skills set as we have only seen him in a very limited amount of time. Through the short time in training camp, he has looked intriguing, playing right tackle with both the starters and backups while also playing a bit of left tackle.
Projected Growth
As stated earlier, the Broncos' offense was very young last year and did show encouraging signs of growth but this is not a foregone conclusion. Not all players develop or improve at the same rate as we have seen in the past.
Many times people believe there is an improvement from young players year to year, no matter what. There are multiple circumstances that could hurt a player's development such as situation, coaching staff, and work ethic.
Progression and development are not necessarily linear processes.
For the Broncos to be a force offensively, they need to mature and limit young mistakes while also taking a step in their development.
It is vital that the Broncos limit any blunders that usually are chalked up to youth. The Broncos defense has a chance to be special this season and limiting turnovers and taking advantage of the opportunities that are given could be their best chance at winning football games.