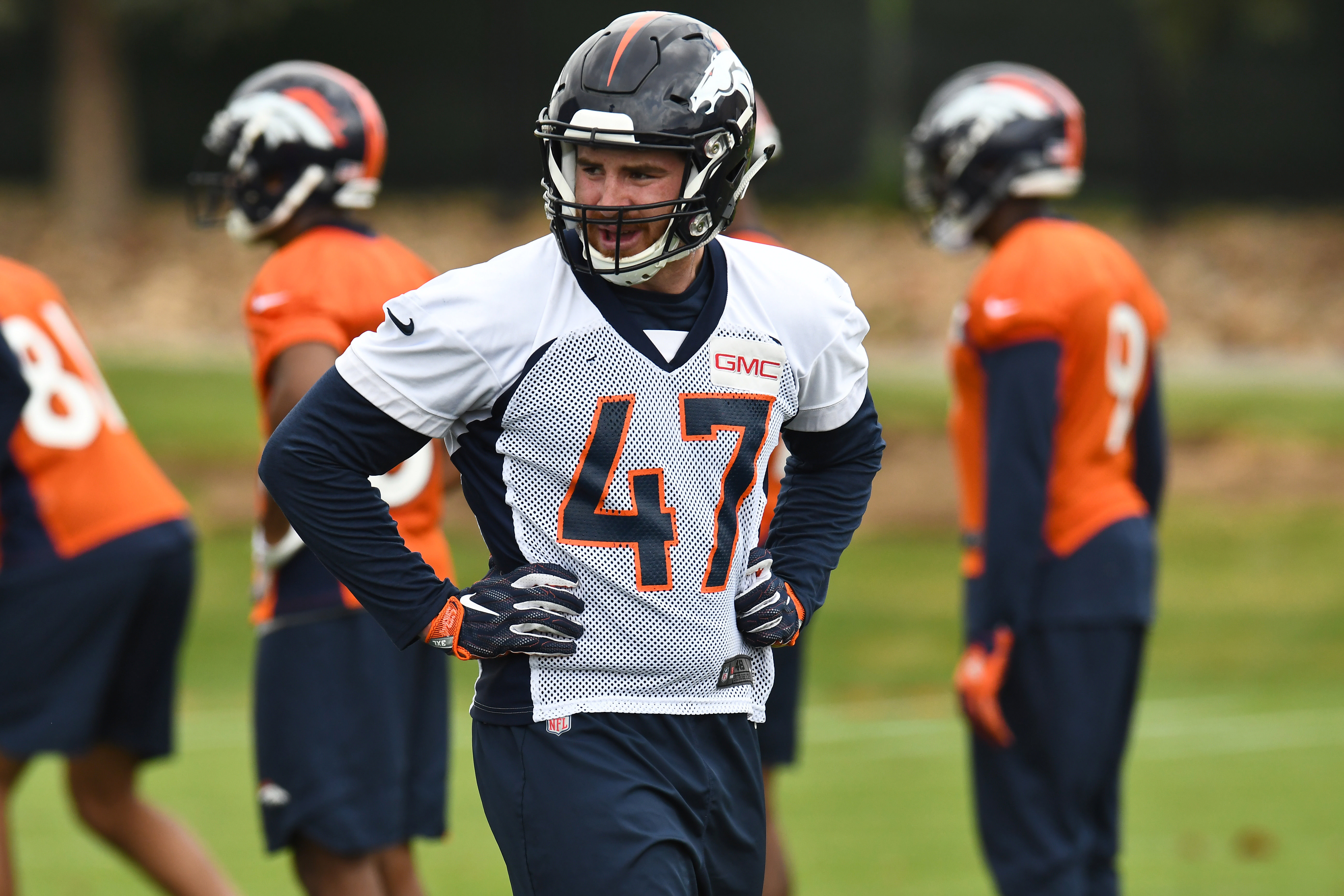 The Denver Broncos have must take retain key pieces to their well-regarded roster if they want to compete with the AFC elite for years to come.
The team is in line for several tough personnel decisions at season's end.
George Paton has made it clear he loves the makeup of the current roster, and it's blend of youth and talent.
As this team tries to be formidable for years to come, Denver must keep their core together.
From his time in Minnesota, Paton prioritizes keeping core players together and with the Broncos, he has begun to identify and target key players, retaining them. It began with the re-signing of Justin Simmons and Shelby Harris, among others. Now he must decide who else the team should keep around.
This series takes a look at pending Broncos' free agents and the likelihood of a return in 2022. First up was running back Melvin Gordon, followed by Alexander Johnson, and now fellow inside linebacker Josey Jewell.
Why should the team want Josey Jewell to return to the Broncos?
Jewell, aka "The Outlaw," seemed to take a hold of the inside linebacker job late in 2018. He entered the 2019 season starting opposite veteran Todd Davis, but then, Jewell was benched in favor of Johnson and did not regain his starting spot until the 2020 offseason.
The former Iowa Hawkeye made Davis expendable with his play during training camp last season, and the team cut the Super Bowl 50 champion. Many assumed Jewell would struggle most of the year. However, he did more than hold his own.
Jewell played steadily throughout the 2020 campaign, although, earning a Pro Football Focus (PFF) grade of 68.1 does leave something to be desired. It should be noted though that Jewell progressed as the season went on and earned improved grades to back it up.
Additionally, PFF ranked Jewell as their 19th overall inside linebacker in the NFL. Considering many teams run a 3-4 defense, being in the top-20 is more than respectable.
Jewell is a below-average NFL athlete. However, his ability and short-area quickness ranked above average according to his RAS score. Additionally, he vowed to improve his speed and ability with a focused training regiment this offseason. Even without elite physical traits, Jewell continues to prove doubters wrong.
Relying on his intelligence and savvy to maneuver through traffic last season Jewell simply produced. He was everywhere on the field, racking up 113 tackles and 5 tackles for a loss.
"The Outlaw's" ability to diagnose a play is outstanding as he moves through traffic to snuff out run plays and rarely misses a tackle.
Because of a lack of elite physical traits, it was widely believed Jewell would be a detriment in pass coverage. His lack of long speed is visible in man-to-man coverage. However, Vic Fangio's match/quarters scheme took advantage of his intelligence. That marriage helped Jewell more than hold his own in the passing game.
"The Outlaw" had 4 passes defended and gave up very few big plays. One can also assume another year as the starter will help him progress on his footwork, and understanding leverage necessary to be a good coverage player.
That's why, earlier this off-season, we broke down why Jewell should garner more respect across the NFL.
When you add his reliability and improvements as a blitzer, the young linebacker is on an upward trajectory. Thus, there is a strong argument Jewell would be a wiser pick for Paton to bring back if he has to choose between both starting inside linebackers.
Why this could be the end of Jewell's time in Denver
Jewell may be consistent but lacks splash plays in his game. Unlike his partner Johnson, his consistency has not to lead to creating turnovers, where the Broncos struggled mightily last season.
Also, the team seems to be adding players with physical traits that allow them to cover more ground in pass coverage. To wit, Denver invested in two young linebackers in back-to-back draft classes in Justin Strnad and Baron Browning. This leads many to believe the organization is planning on life without the "Outlaw."
One aspect many forget is if Jewell shows himself to make plays on the ball and create turnovers, he may end up pricing himself out of Denver.
With the belief that Jewell and Johnson should play well this season, at least one of them is unlikely to return.
Conclusion
Look for Jewell to remain consistent but lose some coverage snaps to Justin Strnad early. If Strnad plays well, it is safe to assume that he will take over full-time next season.
Therefore, the organization must decide whether Jewell or Johnson is a better fit next to Strnad or Browning long-term. And, it could be either one, if not both veterans' last season in Denver.
As we discussed in the Orange and Brew Podcast, the outlook of Jewell returning to the Broncos is truly up in the air.
Jewell provides consistency which coaches love, however has yet to show he can change the course of a game. How the team decided to spend money this past offseason suggests that paying inside linebackers big is not something they are ready to do.
And it's important to note Jewell's future is impacted by the growth of the players around him. If Johnson, Browning, or Strnad show they can be good to great players in this NFL this season Jewell becomes expendable.
Additionally, Jewell may not be successful in another scheme. If the Broncos move on from Fangio, Jewell's future in Denver is in even more doubt.
The team has prepared for turnover at inside linebacker. Paton chose Browning with the plan to have him start in 2022. If Strnad plays well, it is easy to see both veterans move on in 2022.
One scenario that may play out is Jewell's 2-down capabilities lead to a 3-man rotation with Browning and Strnad, and returns at a discount. How this season shakes out will be very interesting, as will Jewell and team's moves this offseason.
Verdict: There is a 40% chance Jewell returns as a starter for the Broncos in 2022, 50% chance he returns as a depth or rotational piece.