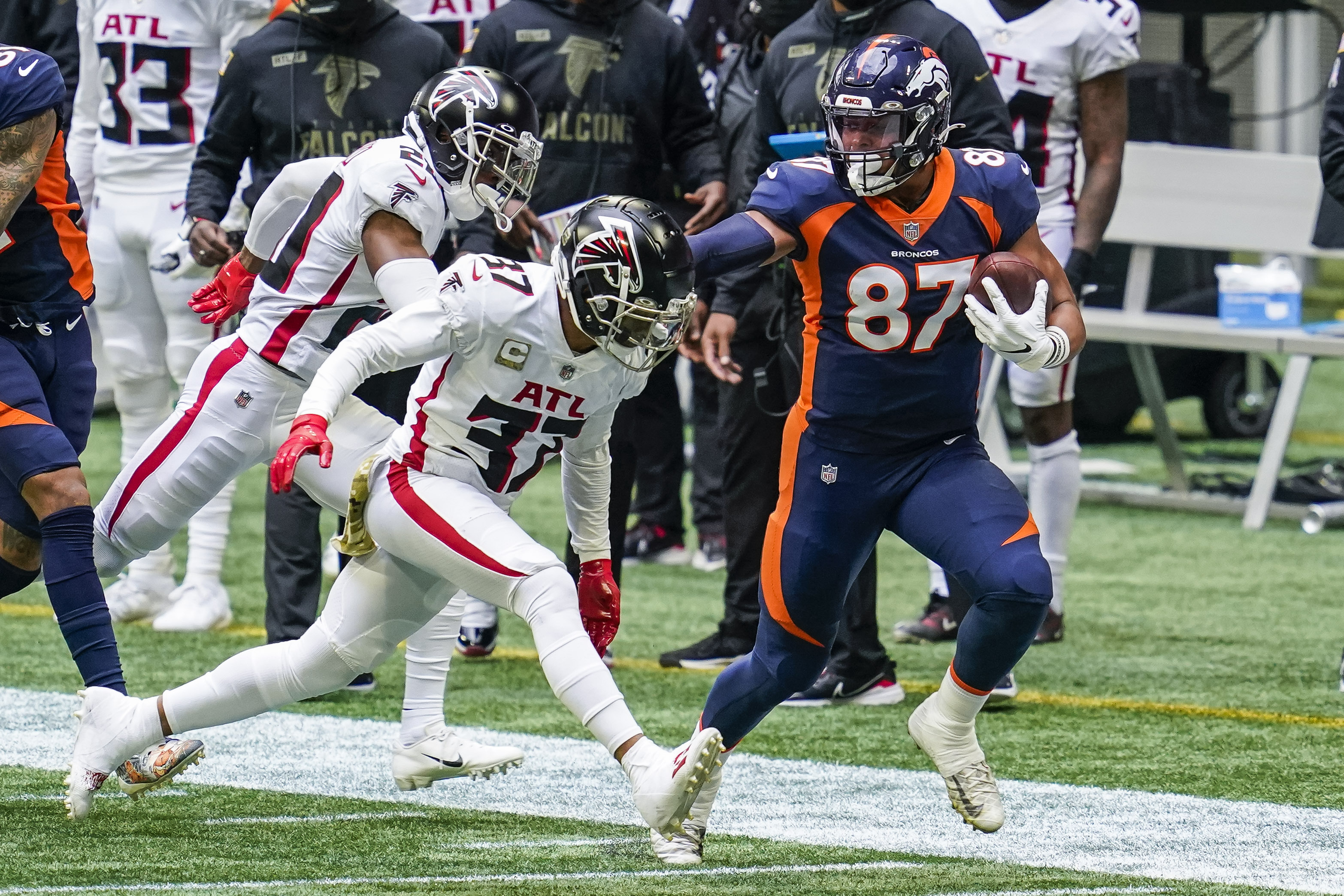 At this point, we all know that the Broncos' wide receiver room is loaded beyond belief all the way to the bottom of the depth chart.
However, there are still position groups on the offensive side of the football that still aren't getting nearly enough love.
Here, we'll attempt to change that by taking a look at three position groups in need of more adoration from Broncos Country.
Running back
Every year, every fanbase around the NFL tricks themselves into believing rookie X will instantly fill roster hole Y, removing that one-time problem-area from the conversation entirely.
'The Broncos will be fine at inside linebacker now that they have Baron Browning.'
Is a fun thought to have, and it's why we all love the draft. Unfortunately, it rarely pans out that way in year one, as rookies at most positions — especially those selected outside the first round — need time to grow and develop before they can fill that glaring need.
Running back, is not one of those aforementioned positions. Players regularly come in and have their best three years of production during their first three years in the league at the running back position. As a result, the Broncos are sure to get a lot out of Javonte Williams in his first season — which is an aspect that appears to be overlooked too frequently in Denver's backfield.
Melvin Gordon was a fine starting running back last year, and likely will be again, but — as is the case with most backs — his most productive seasons came early on in his career and he's seen a steady decline in play ever since. As young players, a competition between between Williams and Gordon would've been exciting, but at this point in their careers, Williams should win the job with ease.
Don't forget just how talented Williams is. During the franchise's 'Behind the Broncos' series, which gave fans an inside look at the team's draft process, director of college scouting Brian Stark — who interviewed for Denver's general manager job before they hired Paton — compared Williams to Ezekiel Elliott and Nick Chubb during their pre-draft meetings.
If he can even sniff the level of production and talent that Elliott and Chubb showed had their first two seasons in the league, he will easily steal the starting job from Gordon, be a massive upgrade, and potentially be one of the best running backs in football. No one is expecting the Broncos to have one of NFL's most deadly ground games, and Williams could easily make that a reality.
Also, as a nice bonus, Mike Boone was the most underrated member of the Vikings backfield for years, and clearly impressed George Paton enough to be brought along to the Mile High City.
This backfield has the potential to be a legitimately terrifying three-headed monster from your nightmares.
Tight end
Earlier this offseason well-respected NFL Network analyst Gregg Rosenthal said of the Broncos' tight end room, "Albert Okwuegbunam looked like one of the most explosive tight ends in the league as a rookie before tearing his ACL, yet he's backing up an even more explosive player in Noah Fant."
He went even further on a recent episode of the "Around the NFL Podcast", in which he called Okwuegbunam and Fant, 'two of the five most-explosive tight ends in the league.'
Frankly, Rosenthal is right. There aren't many tight ends in the league with the size, strength, speed and verticality that Fant and Okwuegbunam have. Few teams have a player on the roster with the physical gifts to matchup with one of those guys, let alone two.
Pair that fact with Denver's loaded receiver group and running back room, and all of a sudden, the Broncos can go from a 10 (one running back, zero tight ends) personnel look to 12 personnel (one RB, two TEs) while rotating in a fresh running back, without really losing much talent or athleticism on the field.
With roster bubble players like Shaun Beyer around too, the Broncos could potentially roll out a three tight-end look that would be nearly impossible for most teams to match up.
Depth is a concern, but the ceiling is so sky-high that the tight end room should still be getting more love in spite of that lack of depth.
Guard
The Broncos have an embarrassment of riches at the guard position.
Now, you would certainly prefer an embarrassment of riches at a more valuable position, but riches are riches nonetheless.
Graham Glasgow is the most established of Denver's four promising guards. Despite being a relative disappointment in his first season after signing an expensive contract to join the team, Glasgow still upgraded the line and helped the unit greatly improve its ability to pass protect.
The starter opposite of Glasgow is Dalton Risner, who is coming off a season that saw him take a step backwards in his development, but is still very promising. The change to Shurmur's scheme could be to blame, and hopefully another year in the system helps him play closer to the level we saw in 2019.
However, if Risner doesn't return to form, the Broncos won't need to stress. Quinn Meinerz was an absolute steal at pick No. 98, which is why the Broncos took him despite not having a need at the position. They also have freak-of-nature Netane Muti, who flashed as a rookie last season, and likely would've been selected in the first 50 picks if not for his atrocious injury luck.
So far though, that luck fortunately appears to have turned around with Muti's move to the pros.
Anyway you slice it, the Broncos should be set at guard — and likely will have a solid backup or two — for the next three-plus seasons. That's a great spot to be in, though that position group never seems to get its fair share of love.