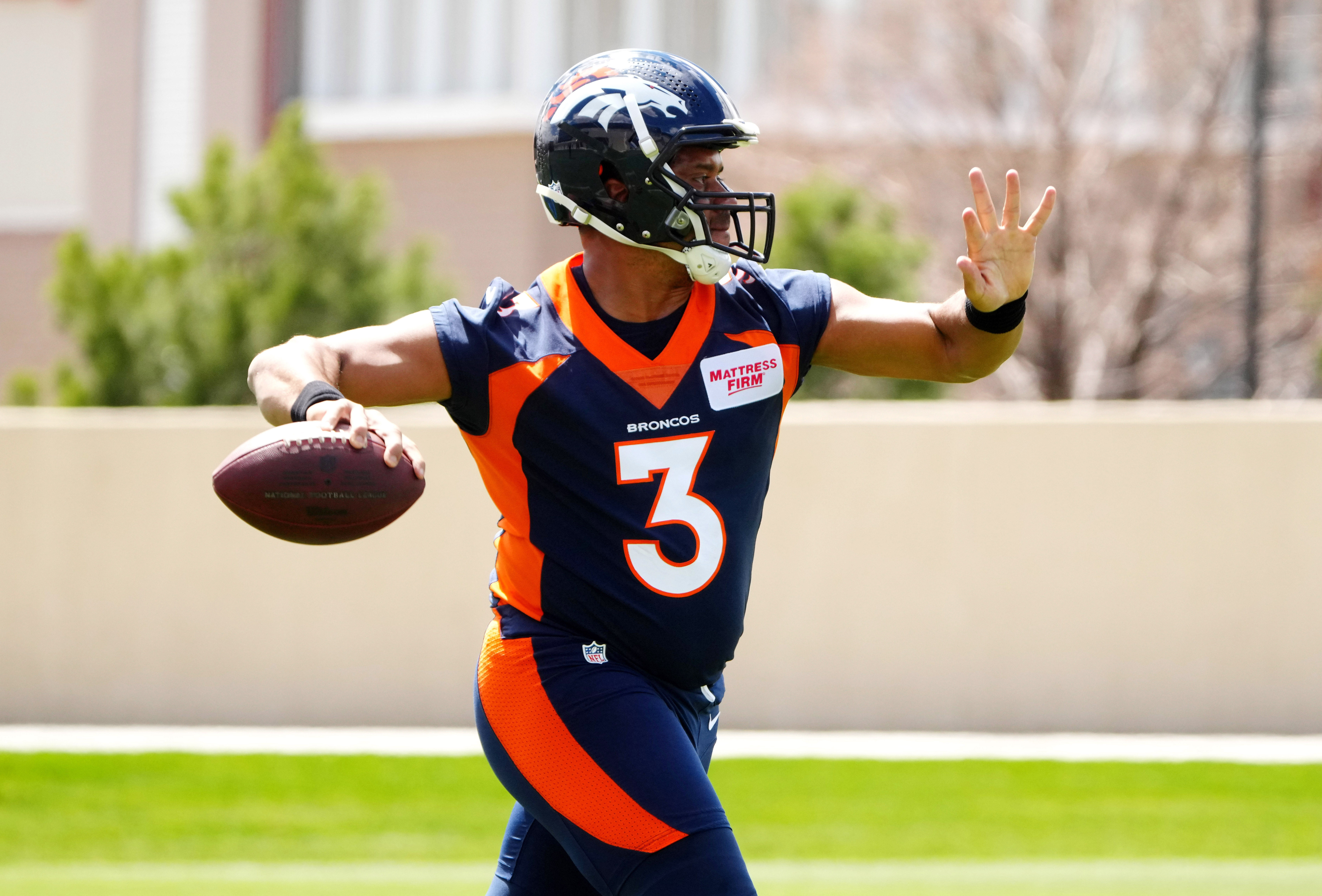 Training camp will officially be underway for the Denver Broncos and their fans starting on Wednesday, and the berm that lines the field at UCHealth Training Center in Dove Valley is sure to be littered with fans throughout the next couple of weeks, as everyone tries to catch a glimpse of Russell Wilson and the new-look Broncos.
When you go out to training camp this summer, what should you be looking for? Let's take a look.
1. Fun offense has made its return to the Denver Broncos
The Denver Broncos and Broncos Country haven't gotten to experience the joy of fun offensive football since midway through the 2014 season, when Peyton Manning's arm began to give out, despite this being the best era of offensive football in the history of the league.
Now, they'll finally get to join the party.
The Broncos and general manager George Paton have cultivated an exciting assortment of offensive talent, which compliments each other well, opening the door for Denver to field one of the NFL's more entertaining attacks.
That all revolves around Russell Wilson, who will be the Broncos' best quarterback since Manning by a country mile, even if he doesn't rebound from his troublesome 2021 performance.
Wilson is the perfect quarterback to help unlock a talented, yet unproductive, pass-catching group with his pinpoint accuracy and beautiful deep balls. Wilson might benefit Javonte Williams the most though, as Williams was forced to face 8-man boxes on 50 percent of snaps down the stretch last season, and there's no way that happens in 2022, with Wilson there to punish defenses who want to stack the box.
At the end of the day, football is a form of entertainment and something meant to be enjoyed. That's been hard for Broncos Country to do over the past half-decade, in part because the team was bad, but largely because the offense was unwatchable. Fun football is back in Denver, baby, and Broncos fans should soak up every second of it.
2. How is the Baron Browning experiment panning out?
Baron Browning was one of the team's most promising rookies last season at inside linebacker, but this offseason, the team has decided to move him to the edge, in an experiment to maximize his value.
The Denver Broncos' new coaching staff is investing a lot in this plan, as they're removing the best young player from what is arguably their worst position group — inside linebacker — to be a reserve player at a different position and a position he hasn't proven he can play in the NFL, at that.
That's a bigger investment than the team is placing in second-round pick Nik Bonitto.
Not only did Browning cost the franchise a third-round pick, but by moving him to edge, this experiment is also costing the team a quality starting linebacker. It better pay off.
Fortunately for Broncos Country, the early reports have been promising, with coaches raving behind the scenes about how Browning is managing the position transition. That said, it's hard to analyze pass-rush performance during OTAs, because of the lack of contact, and this will be the first chance the fans get to observe Browning at edge, so it's definitely near the top of the list of things to monitor.
3. Who is playing in the Dime?
With Ejiro Evero taking over as defensive coordinator, he's expected to make the Broncos one of the most dime-heavy defenses in the league. As a result, one of the biggest mysteries on the roster is, who will see the majority of those slot-corner snaps opposite of K'Waun Williams.
Caden Sterns thrived in the role last season, and could easily run it back, but he could also challenge Kareem Jackson for the starting safety job opposite Justin Simmons.
With that in mind, Jackson is another name to watch in the dime-corner competition. He showed signs of decline last year when playing in deep coverage, has experience playing corner, and has a reputation for being a physical tone-setter — which will be of vital importance at the position — so maybe transitioning Jackson to dime-corner is the best way to maximize both him and Sterns on this defense in 2022.
Watch for cornerbacks Michael Ojemudia, Damarri Mathis and Blessaun Austin to all make a push for that job as well. Ojemudia is widely viewed as a boundary corner, but his natural physicality makes him an option as well; Mathis was drafted to be the long-term nickel-corner, and could start getting his feet wet this season as the dime corner; and Austin was one of the rare bright spots in the Jets' secondary in 2020.
Denver Broncos training camp kicks off today, July 27 at 10 a.m. MT but doors open at Dove Valley for the free and open-to-the-public practices at 9 a.m. MT. There will be 14 practices open this summer, so get to south Denver if you can!