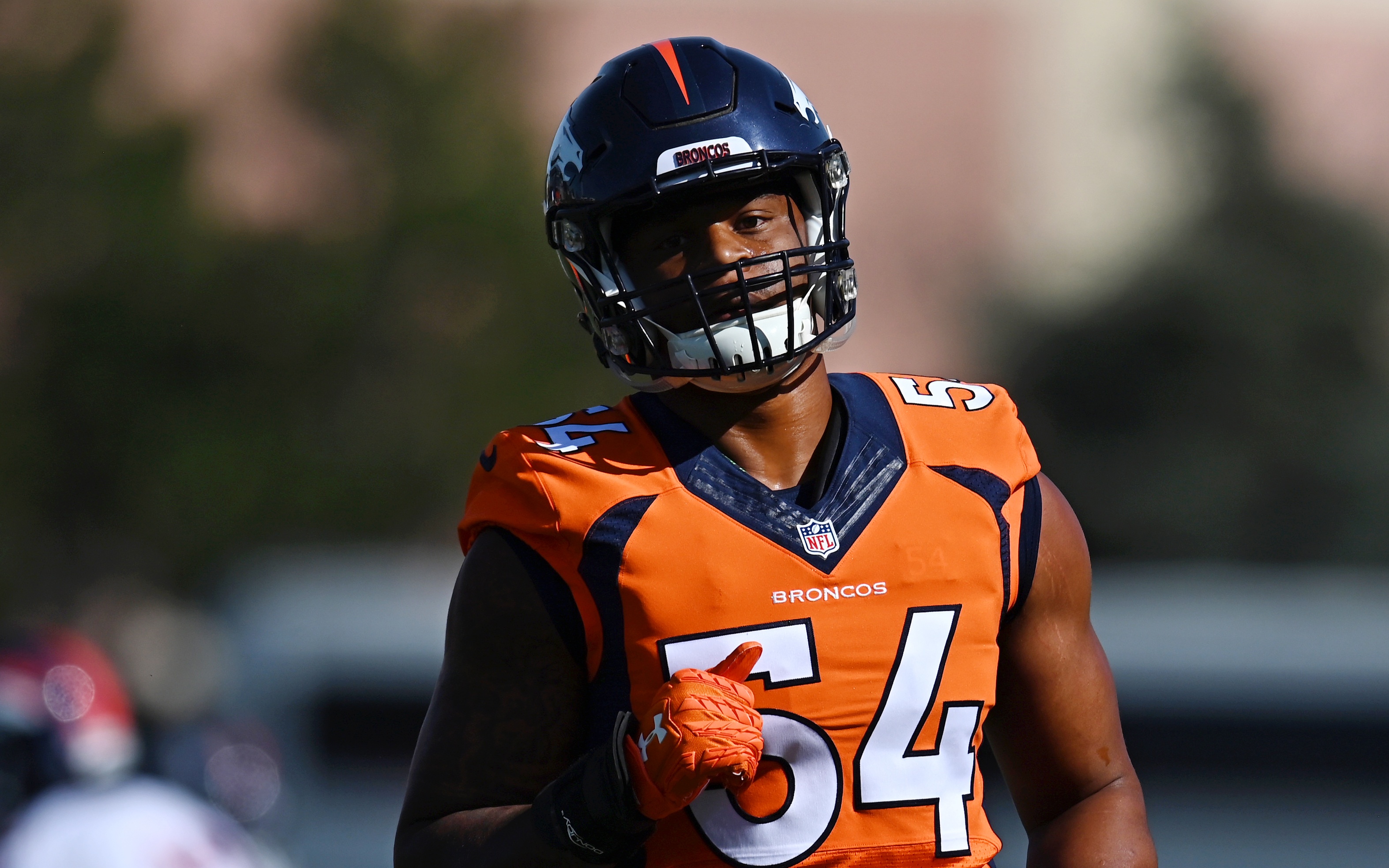 With the Denver Broncos once again forced to shrink their roster down by five players on Tuesday, they once again made a flurry of roster moves to get under the 80-man cap.
It started on Monday, when the Broncos cut the roster down to 82 by moving on from Pita Taumoepenu, Adrian Killins and Nolan Laufenberg, and placing Brett Jones on injured reserve, meaning his hopes of making Denver's final roster aren't dead yet.
Laufenberg wasn't even a remotely surprising cut, considering the Broncos are already full on the interior between Dalton Risner, Graham Glasgow, Lloyd Cushenberry III, Netane Muti and Quinn Meinerz — who Laufenberg was never going to challenge for a roster spot. Considering that depth situation, it's likely Jones is cut once he returns from injured reserve.
Killins falls into a similar boat. His odds of making the roster as a poor-man's Darren Sproles were already slim-to-none considering Denver's depth of talent in the backfield, but the devastating injury he suffered against Seattle removed any and all hope from the equation.
Of the releases, Taumoepenu was the most surprising though it was still somewhat expected. He had flashed pass-rush upside in camp and had an impressive athletic profile, but the Broncos just have too many talented edge rushers for him to make the roster — which is a great problem to have.
Von Miller and Bradley Chubb certainly won't be cut, and the same goes for impressive rotational options Malik Reed and Jonathon Cooper.
Then on Tuesday, Denver moved on from Branden Mack and Josh Watson.
Mack had some exciting moments in camp, but they were few and far between and the receiving corps are just too deep for an undrafted free agent to earn a spot without making a major splash
Releasing Watson was the biggest shocker of any of Denver's roster moves. Their inside linebacking depth is one of the defense's few weak spots and Watson finally seemed due for a roster spot in a special teams capacity. This move seems to suggest the Broncos feel good about Baron Browning playing on the inside behind Alexander Johnson, Justin Strnad, and Josey Jewell. The release of Watson also makes it much less likely the team would move on from Jewell or Johnson before the start of the season.
All those roster moves came paired with the addition of the running back Stevie Scott III. Scott was one of the best running backs in program history for the Indiana Hoosiers — finishing fourth in the program's history in rushing touchdowns, and ninth in yards — who entered the league as an undrafted free agent this year. His odds of making the roster are even lower than what Killins' odds were, as he doesn't possess the same unique skillset. But still, Scott should be a good depth running option for the preseason and practice while Boone recovers, with a small chance of making the practice squad.