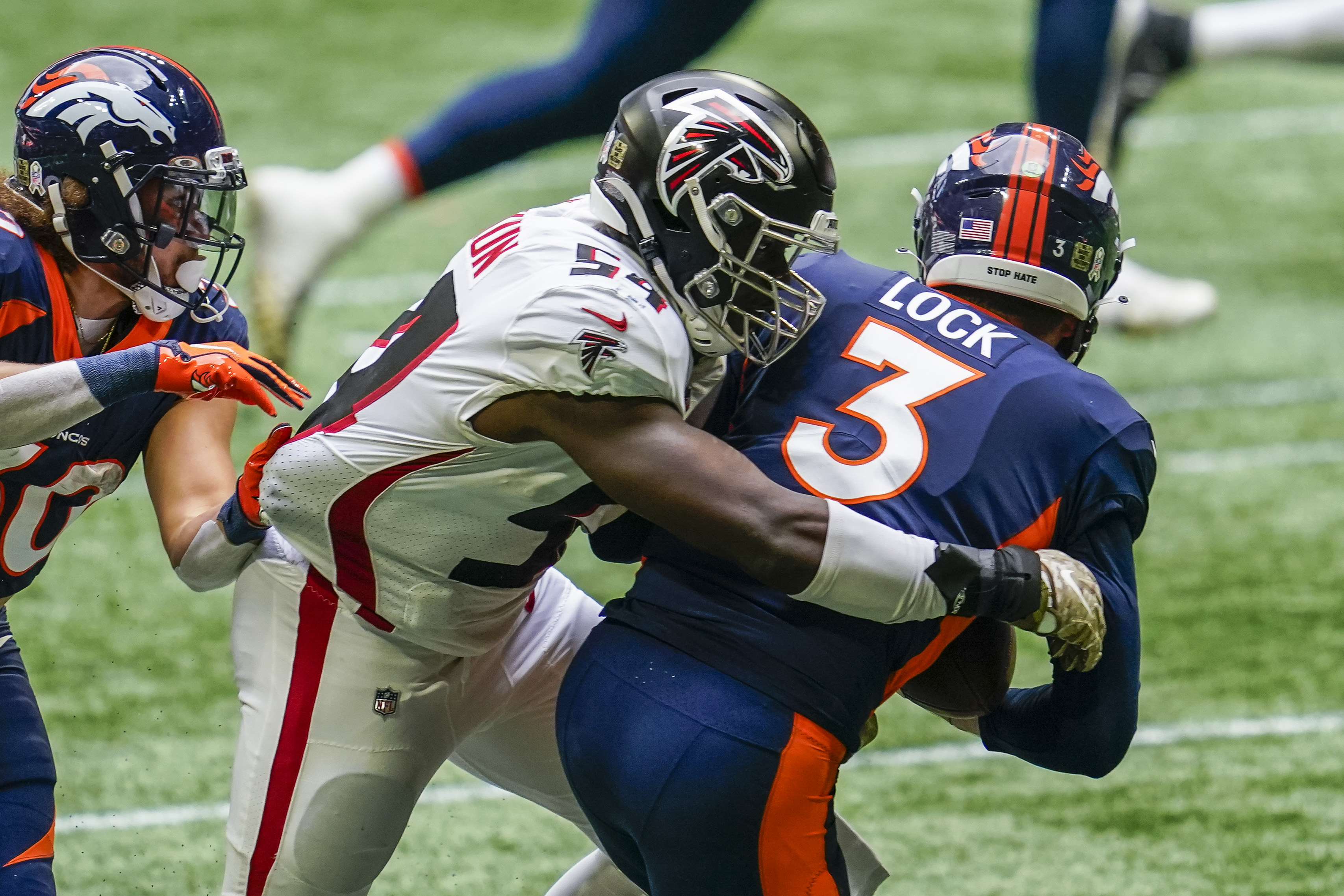 The Broncos season may be over more or less, but that doesn't mean the games don't matter. These final seven games are incredibly important, as it will help the Broncos decide whether or not Drew Lock should be their starting quarterback for 2021.
For our experts' solution to that dilemma, as well as their preview of this weekend's game between the Dolphins and Broncos, keep scrolling.
What does Lock have to show over the final 7 games for you to feel good about bringing him back as the starter in 2021?
Rich Kurtzman (@RichKurtzman): He needs to limit his turnovers, show he can process more quickly, and make good decisions with the football. Consistency and constantly improving rather than floundering.
Doug Ottewill(@Dottewill): I'm not sure it's a stat thing – although more touchdowns than interceptions is a sure start – I think it's more of a "look" thing. He's got to look like he belongs. He's got to look like the guy who's in command. Got to look like the guy who can get past his first and second progression. Got to look a lot more like the guy in the Chargers game, or the guy from 2019. We've all seen capable NFL quarterbacks, and we know what one looks like and what one doesn't. By Week 17, we'll know.
Ronnie Kohrt(@RonnieKRadio): The flash of a playmaker who you can envision winning a Super Bowl with. Nothing Lock has done even borders on the competent starter. Because of this, he has to blow me away to consider him the bonafide starter of 2021.
Zach Segars(@Zach_Segars): He has to play at a high level like he did against Houston and in the fourth quarter of the Chargers and Falcons games. Those are the only six quarters of his career (which spans 45 quarters) in which he played at a high level, meaning he hasn't had two high-end quarters in a row since his second career start. For me to feel confident in Lock, he needs to play at that level for a minimum of four, and more ideally five, of the remaining seven games. That might seem like a high bar, but it really isn't. If you look at the game logs for Lock's peers — Derek Carr, Justin Herbert, and Patrick Mahomes — they're only having one ugly game over a seven-week stretch, if that.
How hot do you think Vic Fangio's seat is right now?
Rich Kurtzman: It's got to be heating up, sure, but he's not getting fired this year. Considering all the turnover in terms of personnel and on the staff, this was always going to be a building year and set up to 2021. If they miss the playoffs again in 2021, he'll be on a very hot seat.
Doug Ottewill: I don't think there's a chair at Dove Valley that could pass the COVID fever check.
Ronnie Kohrt: Anytime you're 3-6 and on the verge of your second losing season, nobody's job is safe. It may not be scolding, but it's not cool.
Zach Segars: On a scale of 1-10 I would maybe say a 4. I think the Broncos will want to give him at least one more year, but the remaining schedule is brutal, and if things start to tailspin, Fangio could be out.
What is the biggest key to a Broncos victory this week?
Rich Kurtzman: The Broncos need to play well in all three phases of the game because the Dolphins have an electric punt return man. If Denver can play disciplined in that department, and if Lock limits turnovers, the Broncos can win this game.
Doug Ottewill: Run the ball effectively and don't turn it over. Despite the hype surrounding Tua, the Dolphins aren't exactly going to the Super Bowl. Take care of business and the score should favor the Broncos.
Ronnie Kohrt: As cliche and John Madden-like as it sounds, score points. Denver needs offensive rhythm. A well-balanced attack throwing and passing. Execute in the red zone and put points on the board.
Zach Segars: Limiting turnovers. Drew Lock struggles against the blitz, and Brian Flores has been dialing up more aggressive and heavily disguised 'zero blitzes' than anyone not named Todd Bowles. Combine that with a loaded defensive backfield, and the Miami defense is perfectly designed to give Lock the worst game of his career. If Lock is merely able to not turn the ball over, the Broncos defense might be able to keep the Dolphins score low enough to make it close.
Who will be Denver's player of the game?
Rich Kurtzman: Bradley Chubb. He's been basically the best defender all year and is quietly balling out on the edge.
Doug Ottewill: Melvin Gordon. It's obvious that the relationship between the Broncos and Phillip Lindsay is icy at best, so if the Broncos run the ball – which they'll have to in order to win – it's going to be on Gordon. Forget about the "why doesn't Phil get touches" debate – it's long gone – and switch to "Run, Melvin, run!"
Ronnie Kohrt: The hope is Drew Lock, but I'm going to lean defensive veterans here getting the best of Tua Tagovailoa, Justin Simmons.
Zach Segars: Mark my words, Drew Lock will be eaten alive by the Dolphins defense and Brian Flores scheme, so if the Broncos want to have a chance to hang in the game offensively, they'll have to lean on Phillip Lindsay and the run game, so he's my player of the game for this one.
What's your score prediction?
Rich Kurtzman: 23-20 Dolphins win.
Doug Ottewill: 30-13 Dolphins win.
Ronnie Kohrt: 24-17 Dolphins win.
Zach Segars: 23-6 Dolphins win.