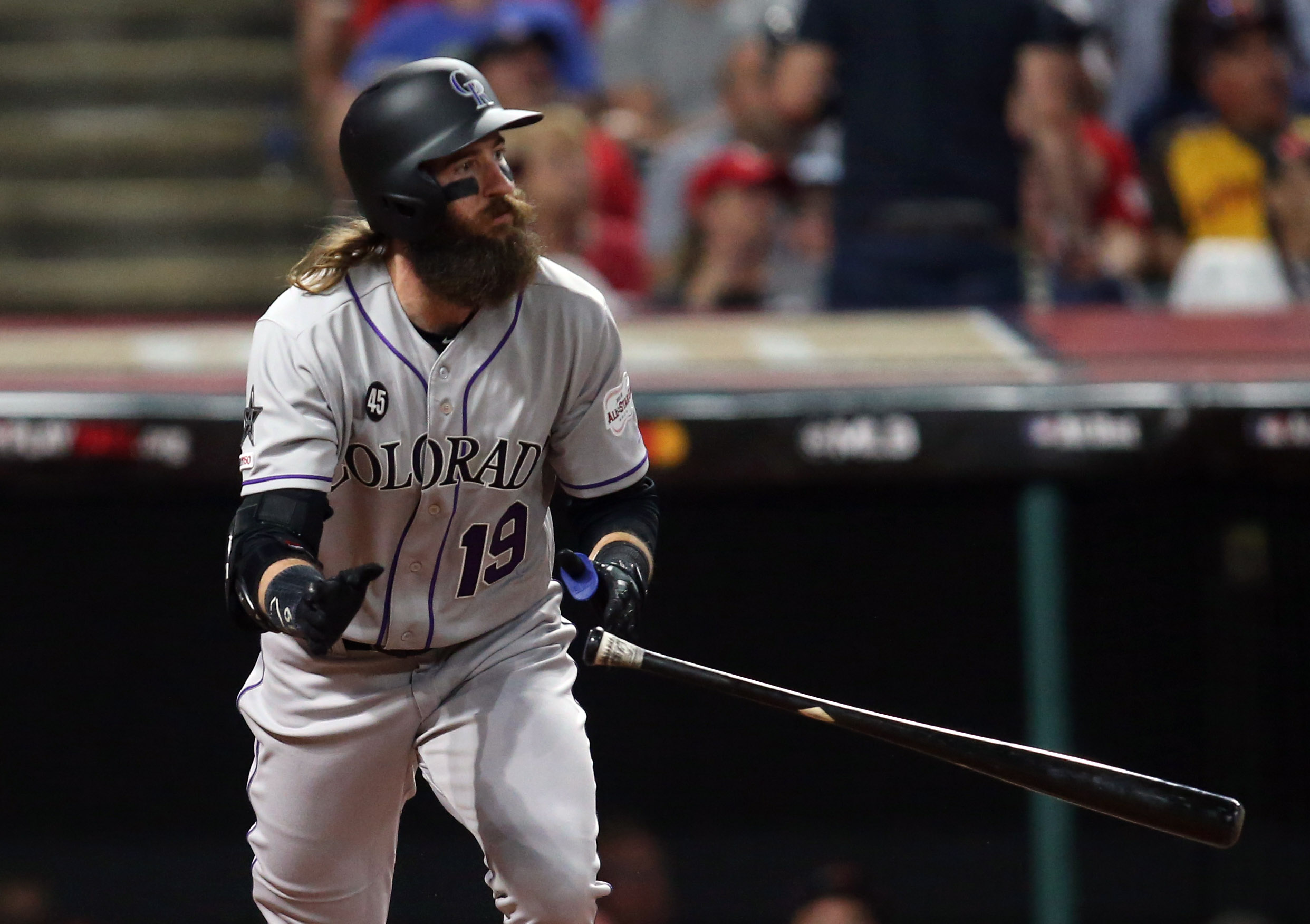 The 2019 campaign has been a disappointment for the Colorado Rockies on many levels.
After making the postseason in back-to-back seasons, the Rockies expected to contend for a World Series in 2019. At the very least, they envisioned a spot in the National League Championship Series.
The Rockies' front office, coaches and players were brimming with confidence ahead of the season, but unfortunately, the club's expectations have not become a reality.
Sitting with a record of 50-58, the Rockies are not entirely out of the playoff hunt; however, their chances of making a run to the big dance are dwindling by the day.
Due to the lackluster results so far this season, the Rockies are not expected to be buyers at this season's trade deadline
"There's really no facet of our game, at this level, that is high-quality right now," General Manager Jeff Bridich told Thomas Harding of MLB.com. "So there is really no group within the group that stands out. It all needs addressing. It's all sub-par. So I don't think there are any quick fixes."
During the postseason runs of 2017 and 2018, the Rockies were buyers at the trade deadline, acquiring Pat Neshek, Jonathan Lucroy and Seunghwan Oh in respective deals. That said, there is a different and deflating energy around the club this season, making it unlikely the Rockies dive into the trade market for a third consecutive season.
"The way that we've looked at the deadline in the past, especially in the recent past, is that if we are truly competing, if we're showing signs as a team of being a legitimate competitor for being a postseason team, we're going to do what we can to add to that and strengthen the team," Bridich said. "Right now, it feels different."
Instead, the Rockies should be open for business when it pertains to selling off some of their assets with the deadline just mere hours away.
Let's take a look at what potential players could be on the trading block for Colorado.
Wade Davis
The Rockies made headlines ahead of the 2018 season when they signed closer Wade Davis to the largest contract ever for a relief pitcher at the time.
The three-year, $52 million contract was an overpay for the Rockies, but a necessary component in order to lure pitchers to Coors Field.
Davis was sharp for the Rockies in 2018, saving a league-high 43 games.
That said, Davis has regressed in 2019, pitching to a 5.46 earned run average.
Despite his inflated ERA, a majority of Davis' struggles have come at 20th and Blake. Davis has been stellar on the road, compiling a 0.68 ERA on the road compared to a mark of 9.00 at home.
Should teams come calling about Davis, the Rockies could pull a rabbit out of a hat and blame his deficiencies on Coors Field. Davis has won a Wolrd Series and is under team control through next season with a vesting option for 2021.
Although he is owed $17 million in 2020, teams could still be interested in Davis due to his track record and the universal need for relief pitching.
Scott Oberg 
Scott Oberg has been the lone bright spot within the Rockies' bullpen this season, owning a 1.62 ERA this year.
Oberg will surely fetch a nice catch within the trade market, but the Rockies would be foolish to trade him unless the deal was lopsided in their favor.
Oberg still has two years of team control and is making next to nothing compared to some of the other relief pitchers on the Rockies roster.
He was linked to a trade proposal on MLB Network, but there has been little to no indication the Rockies intend on dealing Oberg.
Considering his performance and financial situation, the Rockies can compete with Oberg in their bullpen next season and beyond.
Charlie Blackmon 
Blackmon was the other player linked along with Oberg in the proposed trade idea on MLB Network.
Blackmon has bounced back nicely in 2019 after having a down year by his standards in 2018.
A four-time All-Star, Blackmon leads the MLB in three-or-more hit games this season. He also leads the league in batting average with runners in scoring position, posting an average above .400.
Additionally, Blackmon ranks within the top-10 in major offensive statistical categories within the National League such as triples (second), average (third), slugging (fourth), runs (sixth) and OPS (fifth).
On top of that, his 62 RBIs are the most by a leadoff hitter in the NL.
There has been some speculation that the Rockies would consider moving Blackmon, primarily due to his contract. Blackmon, 33, is owed $42 million through 2021 and has player options for the 2022 and 2023 seasons.
Mark Kizla of the Denver Post penned a column discussing how Blakcmon's contract is holding the team back. While he does make some good points about Blackmon's financial impact on the team, the bottom line is he has been one of the best hitters in the sport this season.
Although he's mediocre in the field, Blackmon's offensive upside could be too great for the Rockies to consider parting with.
Also, Rockies' owner Dick Monfort is known to covet his players, especially those who are groomed in the Rockies' farm system.
While rumors are surrounding Blackmon, it's highly unlikely the Rockies decide to move him.
Bryan Shaw and Jake McGee
Bryan Shaw and Jake McGee are two more relief pitchers that the Rockies might be able to move in order to free up some money and replenish their farm system.
Both have struggled to some capacity this season, but they will still have trade value due to the overwhelming need for relief pitching.
Shaw and McGee have both pitched in the postseason and are veteran relievers that could serve as good late-game options for contending teams.
Prior to joining the Rockies, McGee was the closer for the Tampa Bay Rays while Shaw was one of the most durable relievers in the sport.
During his nine seasons as a Cleveland Indian, Shaw was 21-22 and has been one of the most consistent pitchers since his career started in 2011, having appeared in 475 games — the third-most appearances in the league during that span. He is the only pitcher in the sport to have appeared in at least 70 games for five consecutive seasons as of 2017.
Shaw's name has not been linked to any particular team, although that could change as the deadline approaches.
McGee has been linked to the Houston Astros; however, there appears to be no legitimate traction on a deal at this point in time.