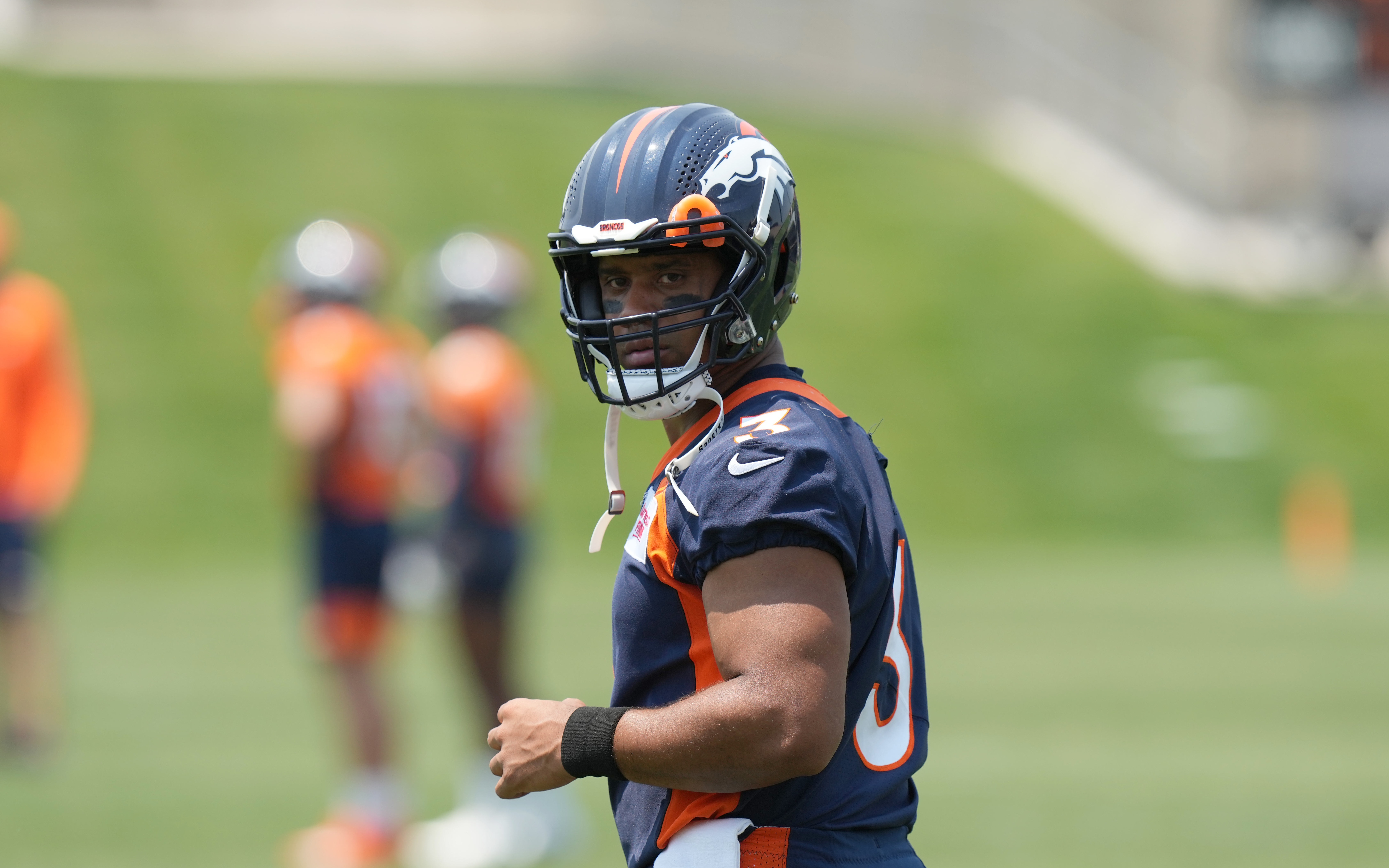 After many cloudy days, it's sunny in Arizona again.
Kyler Murray and the Arizona Cardinals agreed to a colossal contract on Wednesday, signing the star quarterback up through 2028, a five-year extension worth $230.5M. According to Spotrac, there was also a $29M signing bonus and now his $46.1M per year is the second-most money annually next to Aaron Rodgers ($50.3M per).
Murray has only been in the league for three years, but 2021 was his best yet. He finished last season as the second-most accurate passer in the league (69.2 percent), with 24 touchdowns compared to 10 interceptions. According to Pro Football Focus, Murray's 82.9 overall grade put him in 9th among QBs.
Certainly, Murray's a rising star.
As for the Denver Broncos quarterback Russell Wilson, he's a superstar who's sustained success in the league for much longer. Wilson enters his 11th season in the NFL and first in the Mile High City on a steal of a deal.
This season, Wilson's being paid a mere $24 million, which is roughly half the cap hit of his fellow superstar QBs like Rodgers and Patrick Mahomes ($45M per).
What that means is, as long as Wilson returns to his pre-injury form this year — as he's expected to do — the Broncos will be paying him a boat-load of cash very soon.
That likely is factoring in a bit, too.
Rewind to 2020 and Wilson was ranked the 4th-best quarterback in the NFL per PFF. And as they explained, his 93.3 overall grade that year was highest among QBs, although the wheels fell off in the second half of that season due to a high number of sacks. They also mentioned how Wilson leads the NFL in big-time throws (214 up to that point) and his 99.9 grade on 20-plus yard throws is tied with Rodgers and Tom Brady.
Wilson's been extremely consistent throughout his career up until last season, when he fractured a finger on his throwing hand as it collided with Aaron Donald mid-game. Wilson was supposed to be out for 6-8 weeks but pushed it and returned to the football field in a mere five weeks.
On one hand, that shows toughness, grit and determination. On the other, a player returning too quickly from injury can actually hurt his team, and Wilson admitted he wasn't 100 percent when he returned to action.
In the second half of last season, Wilson looked like a shadow of himself at times. But down the stretch, he did regain his prowess, with 9 TDs vs. 1 INT over his last three games.
After he was traded to the Broncos during this offseason, many Seattle Seahawks fans flocked to Twitter to basically throw their former quarterback under the bus and say he's washed up. Undoubtedly, they were sad to see him go and likely upset about the sorry state of the franchise Seattle is currently in without Wilson.
But, most of the football world is wondering: Will Wilson regain his superstar form?
Now that he's healthy again, there's not too much worry about that. It seems extremely likely Denver will have a top-10 — if not top-5 — quarterback this year for the first time since 2014.
Then, the fireworks will begin both on and off the field.
Look, George Paton has to hope that Wilson is a star, even if that means he has to fork out a massive contract soon. That will simultaneously make it easier and tougher for Paton to build the Broncos into a Super Bowl contender; You must have a star QB to be legit in today's NFL, but that massive cap hit means less money to build around the quarterback, too.
How much will Wilson make in his next deal?
Russ was always going to get a top of market deal, assuming he returns to 2020 pre injury play this season.

Probably looking at a 5 year, $250m type extension. https://t.co/eEEUSEXLrP

— Benjamin Allbright (@AllbrightNFL) July 21, 2022
Allbright is likely fairly close here, as Spotrac has a "market value" of $44 million per year, with Wilson's deal coming to a close next year, when he's supposed to make $27 million.
It seems likely that if (and when) Wilson regains his superstar form this season, the Broncos will look to get something done sooner rather than later. That could mean ripping up his previous deal and extending him mid-season, but we'll have to wait and see what Paton's approach is.
This will be the first massive contract extension of Paton's tenure as general manager in the Mile High City. It should also be noted that Wilson could — and likely will — struggle a bit this year, especially early.
New head coach and playcaller Nathaniel Hackett is working to blend his offense with Wilson's, all while the new gun-slinger is learning a bevy of new teammates along the way, in a new city.
Still, expect Wilson to finish among the top-10 QBs this year and for the Broncos to lock him up for many years to come soon.