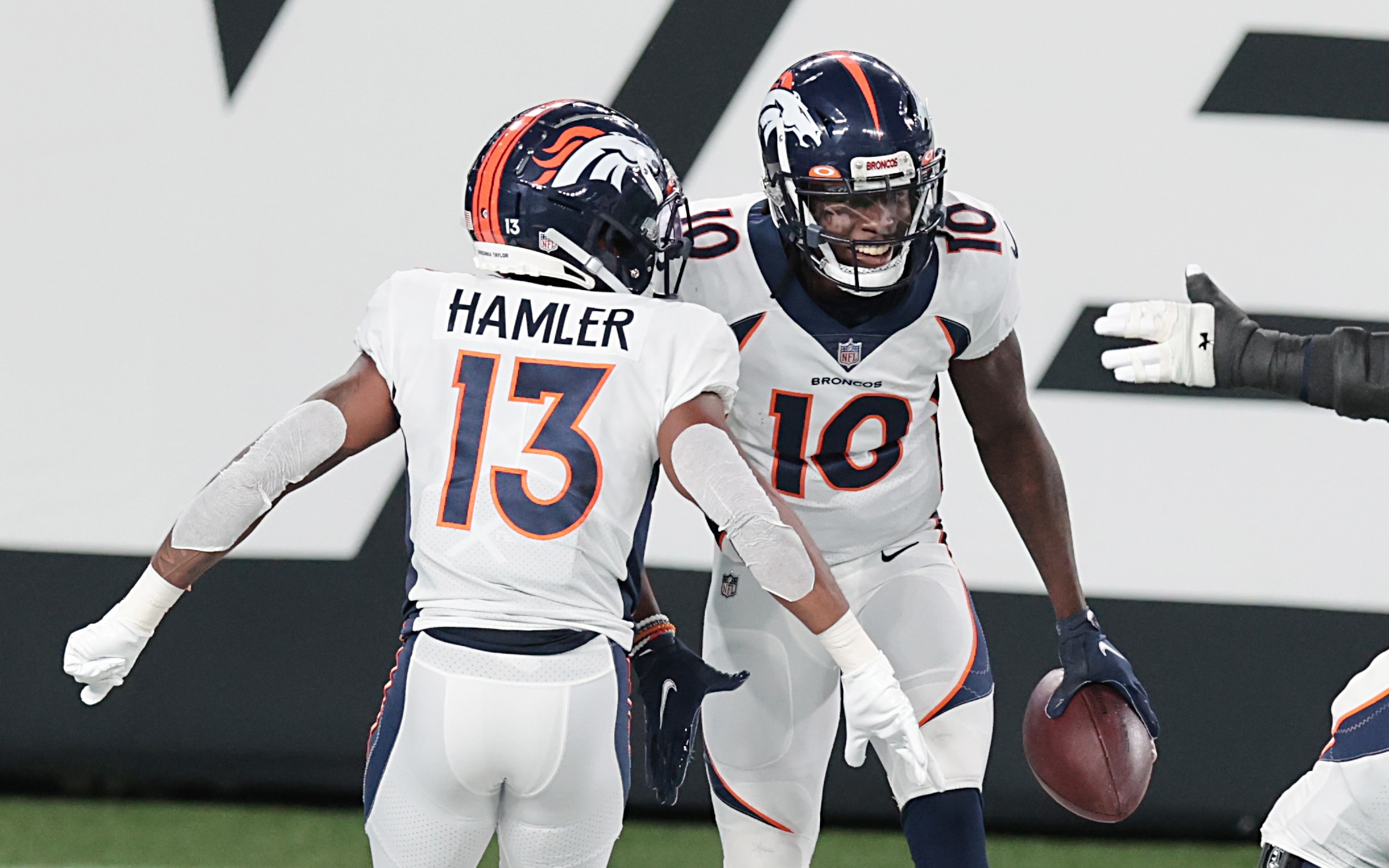 The Denver Broncos' wide receiver room has quite a bit of talent, especially after their off-season additions and with Courtland Sutton returning to the fold.
The Broncos will now have the problem of having to sift through all that talent to try and find the gems worthy of a final-roster or practice-squad spot as training camp approaches — which is a good problem to have, but a problem nonetheless.
Here is how we see things shaping up for the Broncos' pass catchers:
The Broncos' Starters
Courtland Sutton
In 2019, Sutton went over 1,000 receiving yards with no receiving help around him. He also had a quarterback rotation of Joe Flacco, Brandon Allen, and a rookie Drew Lock — who was clearly the best passer in the bunch.
With Lock primed for a year two leap and the offense now having weapons the defense would have to respect outside of Sutton, the third year receiver seemed primed to enter the NFL's elite class of pass catchers.
Unfortunately, Lock didn't make that leap and Sutton tore his ACL in Week 2 against the Steelers. This came after a training camp shoulder injury kept him out of Denver's Week 1 matchup. His breakout campaign was over before it even had a chance to start.
Sutton will get another opportunity to cement his superstar status this season, but will he be able to do so as he tries to return from a torn ACL?
Everything we've heard about Sutton's recovery so far has been incredibly promising. He also suffered the injury early last season, but still, he could struggle to return. It's common to see players struggle to come back from an ACL tear, as Broncos Country saw last year.
Bradley Chubb was a shell of himself the first four weeks of last season, before finally re-acclimating to the field. We could see something similar from Sutton, especially considering how much he relies on his explosive athletic profile.
Jerry Jeudy
Denver's 2020 first-round pick, Jerry Jeudy disappointed in his first year, but don't panic yet.
Yes, Jeudy will have to work on his drops, but that's easily correctable and drops are often a high-variance stat.
Sutton had a drop-rate of 8.3% his rookie year, which is very comparable to Jeudy's rate of 8.8%. That's important to remember, because as we all saw in 2019, Sutton quickly became one of the most sure-handed pass-catchers in the league and had three of NFL Network's top 100 catches of the season.
This is a very correctible issue.
That's why Broncos Country should still be so excited about Jeudy. He has flaws, but those flaws are incredibly correctible. Meanwhile, his strengths are the type of traits you just can't teach.
His short-area quickness and stop-start ability are frankly bizarre. It's unnatural to see an athlete like Jeudy able to run at full speed, stop on a dime, and then immediately transfer all that energy into a sharp, 90-degree cut. That freakish ability allows Jeudy to create separation with ease frequently.
Separation is incredibly important at the receiver and an excellent indicator of success.
While developing Pro Football Network's 'Offensive Value Metric', Brett Yaris interviewed multiple position coaches and front office executives about what they looked for in players at each position to determine what the most valuable skills or traits were. For wide receivers, separation was that No. 1 skill, and it's an area where Jeudy thrives.
Don't sell your Jeudy stock yet folks.
Tim Patrick
With Tim Patrick breaking out last season following Sutton's injury, it seems unlikely he would be relegated to the bench again.
Though, his starting spot isn't a lock, so it shouldn't be considered out of the question. The Broncos did invest a second-round pick in K.J. Hamler, who is incredibly talented and a part of the team's long-term plans, which probably isn't the case for Patrick unfortunately.
However, looking at the receivers Paton has brought in is telling. Almost all of them are similar stylistically, as a receiver, to Patrick. Now, this could be so that the team has a capable replacement waiting in the wings, or it could reflect a greater team-building philosophy.
Something our own Joey Richards' recently covered.
We saw the Panthers take a similar approach of targeting big-bodied receivers when they were building around Cam Newton, to alleviate some of his accuracy hiccups.
Hamler can devastate a defense in a single play with his speed, but he's also a smaller target who needs a precise passer to be utilized effectively, and Lock has serious lapses in precision.
Meanwhile, Patrick excels at making the difficult catch and going up-and-over opposing defenders. That seems to fit George Paton's vision of this Drew-Lock-offense better, so expect him to remain the starter.
Denver's Depth
K.J. Hamler
Much like Jeudy, Hamler dealt with drop issues during his rookie campaign, but also like Jeudy, he has special traits that can't be taught and that should provide optimism for the future.
If Lock's improved footwork leads to more consistent accuracy, Hamler has the potential to be a game-wrecker. His speed and quickness is unmatched. He can score from anywhere on the field and few defensive backs have the gas to keep up with him in coverage.
He has to become more reliable, both in terms of pass-catching and staying healthy, but he has the potential to be a unique weapon if he improves his consistency and can gel with Lock.
Tyrie Cleveland
One of the most pleasant surprises from the Broncos 2020 season was seventh-round pick Tyrie Cleveland.
Cleveland's playing time and opportunities were incredibly scare last season. He played just 72 snaps on offense and saw just nine targets. Though, he made the most of those opportunities, coming away with six receptions for 63 yards, and four converted first downs.
The hope for Cleveland is that he can fill Patrick's large shoes after he likely leaves in free agency in 2022, and it's not crazy to think he could. Both have excellent frames and strong hands, but one could argue Cleveland is the better athlete. His speed jumped off the tape last year, as not many receivers his size can move how he does.
Obviously, there's more to playing receiver in the NFL than an athletic profile, and fortunately, Cleveland is much more than just an awesome athlete.
Seth Williams
Going back to the well of big-bodied jump-ball targets, we have rookie receiver Seth Williams out of Auburn.
The Broncos only spent a sixth-round pick on Williams so he might not make the final roster. For now though, he's a favorite to be one of the six or seven wide receivers to make it.
When Williams was at his best, he looked worthy of a top-50 pick. He's got great hands and excellent strength, which helps him come down with contested catches. He also has a good understanding of how to use his frame to box out a defender and create separation.
The problem is, that high-end version of Williams appeared far too rarely. Fortunately, wide receivers coach Zach Azzanni has consistently helped receiving prospects realize their full potential for the Broncos.
The Broncos' Roster Bubble
Diontae Spencer
Spencer has been a solid kick returner for the Broncos each of the past two seasons, but doesn't offer much otherwise.
Those kick-returning skills might be enough for him to make the final roster, as they were last year, but he's certainly on the hot seat. All it will take to be replaced would be another player showing they can return kicks and offer more.
If no one shows the ability to do that though, Spencer should retain his roster spot.
Trinity Benson and Kendall Hinton
Trinity Benton and Kendall Hinton spent the majority of last season on the practice squad, with Hinton's noteworthy start being a rare exception.
They could find a spot on the practice squad again, but making the final roster seems far-fetched. Five of Denver's receivers are locks for the final roster, and Seth Williams isn't terribly far behind that five. That leaves just one or two spots left for a lot of receivers to compete for.
Benson could maybe challenge Spencer for his role as the team's kick returner, but that challenge was unsuccessful last season.
It would be awesome to see Hinton stick around considering the sacrifice he made last season. However, with him now taking routes at defensive back, he feels like a man without a position. It's tough to find room for such a player on a 55-man roster.
DeVontres Dukes, Warren Jackson and Branden Mack
DeVontres Dukes, Warren Jackson and Branden Mack find themselves in a similar position to Benson and Hinton. They're battling over a very small number of roster spots, and hoping for a spot on the practice squad as a backup.
However, Dukes, Jackson and Mack seem to be competition for Williams instead of Spencer. Neither Dukes, Jackson nor Mack appear to offer returning prowess. Contested catches and the redzone are their specialties.
Damion Willis
The Broncos signed Damion Willis recently after he last spent time with the Bengals. Unfortunately, it's hard to see Willis being anything more than a camp-body. He can take some reps and maybe serve as motivation for the UDFAs, but he doesn't offer much otherwise.