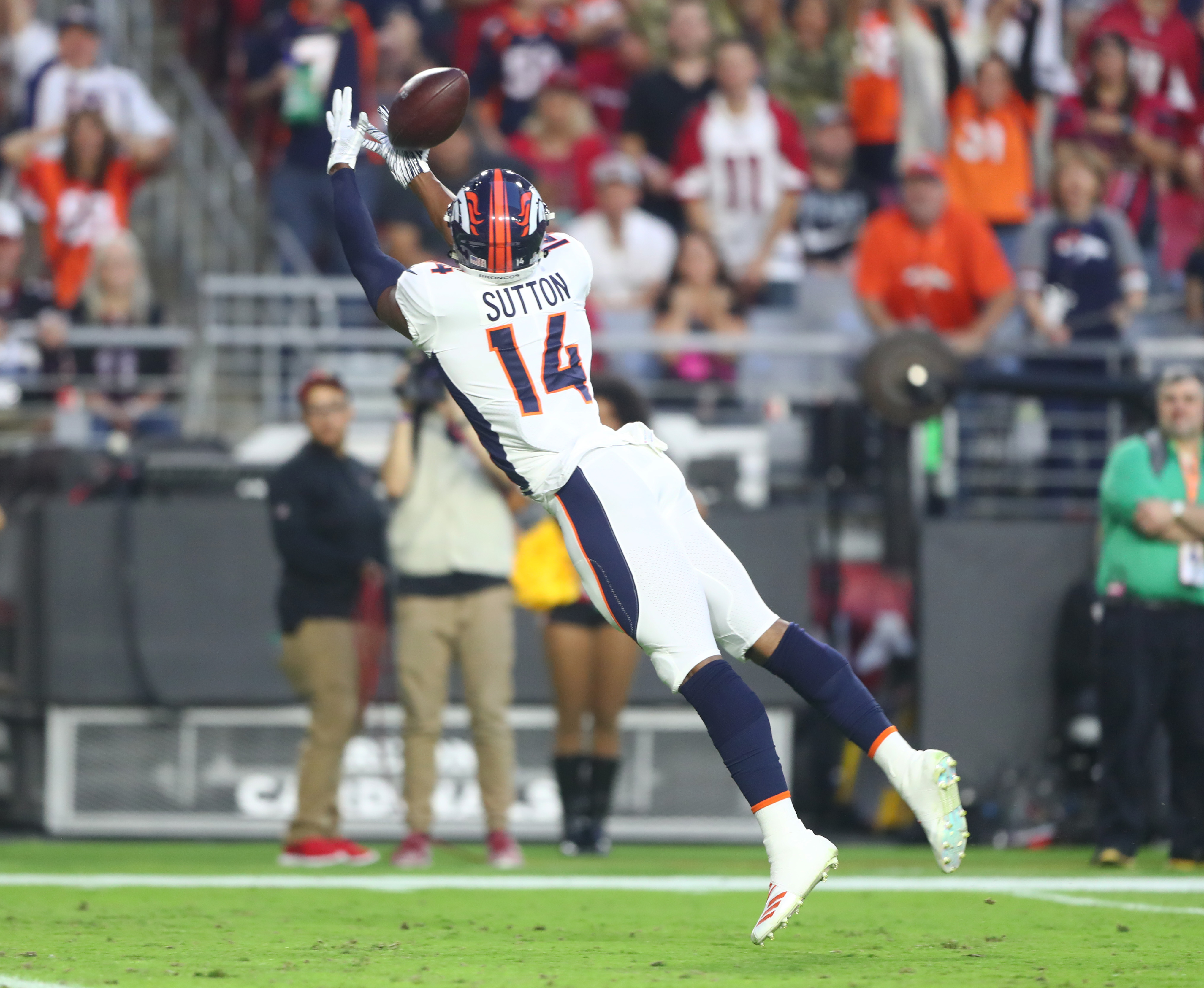 Being without Courtland Sutton last season was devastating for a Broncos' offense which continued to struggle in his absence, but there's reason to believe his return could be the spark the unit so desperately needs.
As a second-round pick out of Southern Methodist University, Sutton would arrive in Denver as the third wide receiver on the depth chart. Behind two very talented and established veterans in Demaryius Thomas and Emmanuel Sanders, Sutton would flash.
Taking full advantage of his limited role, he would display a massive catch radius and physicality at the catch point that often overwhelmed opposing defensive backs.
This would obviously impress former General Manager John Elway, as he would soon trade Thomas after a Week 5 loss to the Jets on October 10th, 2018, clearing the path for Sutton to have a more prominent role in the Broncos offense.
In this expanded role, Sutton would be inconsistent. While still flashing the ability to dominate in contested catch situations, he struggled to separate at an NFL level. This was not a shock as Sutton was not asked to run much of a route tree and dominated greatly off his physical tools while in college. Sutton simply lacked the nuance or experience to excel as a route runner so early in his career.
Entering his second year, this was an area Sutton clearly improved in. Now with a season under his belt, he was able to showcase his very dominant and physical style of play at an elevated level. Finishing the year with 72 reception, 1,112 yards, and 6 touchdowns, Sutton looked like one of the most promising wide receivers in the NFL.
Getting a healthy #14 back would be pretty spectacular pic.twitter.com/e6NsGCNvnV

— Joey Richards (@JRDrafts) May 15, 2021
Coming off such a spectacular sophomore year and with optimism around quarterback Drew Lock at an all-time high, Broncos Country had extremely high hopes for how Sutton would perform in 2020.
Unfortunately, these expectations never materialized as Sutton's season would be over before it ever took off. In his very first game against the Pittsburgh Steelers, in week 2, he would tear his anterior cruciate ligament, ending his season.
Now with the 2021 season right around the corner, what can the return of Sutton bring to a Broncos offense that greatly underperformed last year?
If Sutton has returned to full health, he has the capability to be the team's No. 1 wide receiver. With the Broncos taking back-to-back wide receivers in the first and second round last year, in Jerry Jeudy and K.J. Hamler, and Tim Patrick returning to the team after having a career year, adding a dominant wide receiver would help all of them produce at a more efficient level.
Sutton could be a player other defensive coordinators have to game plan for. Whether they stick their best cornerback on him, double him, or slide coverage to his side of the field, other receivers will benefit from this by reducing the attention they are given. Their job simply becomes easier with a top-tier wide receiver on the field.
Especially considering that Lock will likely be the team's starting quarterback.
Since Lock was at the University of Missouri, accuracy has been a big issue that he has yet to resolve. In fact, he was only on target 68.9% of the time in 2020, according to Pro-football-reference.com. That ranks him dead last out of 35 eligible quarterbacks for this stat.
The addition of a 6-foot-3 wide receiver with a large wingspan like Sutton could help mitigate this issue. Sutton's tremendous catch radius and ball skills should give Lock more room for error on throws targeted for him. In particular, this is magnified when comparing to what the Broncos had last year.
While Jeudy and Hamler both excel in other skill sets, catching outside of their frame is not one of them. Both are players that need an accurate ball to play into their strengths. While both are still projected to have prominent roles in 2021, Sutton's return should give Lock plenty of bigger targets to throw to this season.
With Sutton's imminent return, the wide receiver room is deeper than ever. If the season were to start today, the projected fourth wide receiver on the depth chart would be between Hamler, who is entering his sophomore year as a second-round pick, and Patrick, who is coming off a 742 yard and 6 touchdown season. This added depth gives Offensive Coordinator Pat Shurmur an array of capable players to move around and be creative within his offense.
For example, with Sutton and Patrick playing primarily the boundary wide receiver position, we could see Jeudy play more in the slot role, where he thrived for the Crimson Tide.
While Sutton was spectacular in 2019, it is important to acknowledge that he is coming off a serious injury that ended his season in 2020. Until he is on the field and playing, it is uncertain how he has recovered and if he will be the same player we saw in his sophomore season.
Even if he has completely recovered, often, players need time adjusting back to the game after missing a significant amount of time. Let's not forget that Bradley Chubb's 2020 Pro Bowl campaign was incredibly quiet the first few weeks of the season.
For Sutton, it will be a little more than eleven months since he played in a game by the time the Broncos make their first preseason appearance this year. It would be unfair to the player and speculative to assume that he will have a huge season coming off this injury.
There is no doubt Sutton's return to the football field will have a positive impact on the Bronco's offense. To what extent is unknown but his talent is undeniable. If Sutton has returned to full health, he is one of the most promising players at his position and will make life easier for whoever is under center for the Broncos in 2021.