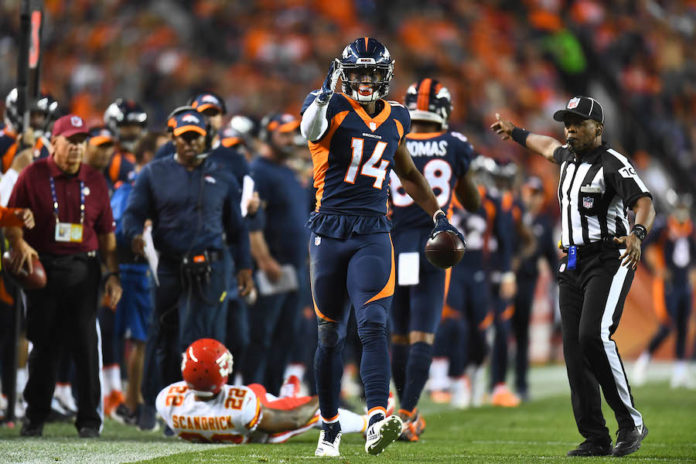 Before this season's start, the Broncos wide receiver room looked to be one of the strongest units on the roster but after multiple unforeseen circumstances, where do they stand now?
Through the years, the Broncos have poured plenty of assets into wide receivers, spending two first-round picks and one second-round pick into the position since 2018. Those players, Courtland Sutton, Jerry Jeudy, and K.J. Hamler, all have different concerns surrounding their present and future with the Broncos.
Jeudy and Hamler, drafted in the same class, are both out due to injury. With Hamler being out for the year and Jeudy on injured reserve, the Broncos offense has suffered.
At the moment, there is only one healthy player in that group.
That player being Sutton, who is coming off an ACL tear just a season ago and doesn't look entirely like himself just yet. While peaking at the box score stats may lead one to feel different, he doesn't look nearly as explosive downfield as he did in 2019. Still safe and dependable, he is by no means playing badly, but as a player fans and analysts think of as a premium wide receiver, he is not meeting those expectations.
The other top outside target on the Broncos, Tim Patrick, is playing well.
As an undrafted free agent, all Patrick has done and continues to do is exceed expectations. He has been awesome for the Broncos but shares a lot of the same traits as Sutton.
Both players being longer, 6-foot-4 targets makes them a team's prototypical "X" wide receiver. Neither are overly explosive but offer whoever is throwing them the ball a bigger catch radius and physicality at the catch point.
While that is great, neither are exceptional separators or field stretchers. This is where the Broncos' offense is limited. With both Jeudy and Hamler out, there has not been much variance to what the starting wide receivers are able to succeed at.
This is even more so an issue when considering who the Broncos had to play in place of Hamler and Jeudy. Those players being Kendall Hinton, Diontae Spencer, or David Moore, are lacking experience in the Broncos offense or on an NFL field altogether.
Without any of the Broncos' wide receivers excelling at separating, the job of the offensive play-caller and quarterback is that much more difficult.
For the quarterback, there are more tight-window throws that need to be made. While Patrick and Sutton's catch radius mitigate this to a degree, there won't be receivers running open nearly as often. If even slightly off target, the receiver often has to make a spectacular play on the ball or things could end up poorly for the offense.
For the play-caller, Pat Shurmur has to dial up more plays that manufacture open receivers. While that may be the job of the offensive coordinator, this is the NFL and it is a lot easier said than done.
At the end of the day, even though coaching and scheme may matter more than the average sport, the NFL is a talent-driven league. Lacking such a crucial part of what makes the passing game successful, is exceedingly difficult to overcome.
While this is true, there is plenty of blame to go around. Football is extremely physical and injuries should be expected.
The trade of Trinity Benson now doesn't look like a very good decision for the Broncos. He hasn't been overly productive for the Lions, only having six receptions for 55 yards, but he was clearly the better player between Hinton and Spencer throughout the entire offseason and preseason. As for Moore, Benson has a better understanding of the offense and would be able to step in the role of a wide receiver three without having to go through a learning curve.
In an attempt to resolve this issue, George Paton recently added veteran speedster, John Brown. Long overdue in the eyes of many fans, Brown's playstyle most definitely compliments the offense well.
The main issue with this is that it is in fact overdue. Much like Moore, this is his first week with the Broncos and there will be a major learning curb before he is playing a high percentage of offensive snaps. Fans should expect some but not a lot of playing time from Brown until he feels comfortable with Shurmur's playbook.
On the bright side, even when Jeudy returns, Brown offers the depth needed to not be in this situation again.
A talented group on paper, the Broncos' wide receivers have been decimated by injuries, making things a lot more uncomfortable for the entire offense. To bounce back from this will be a team effort. Shurmur and Teddy Bridgewater will need to step up to the plate and exceed expectations if the Broncos' offense hopes to overcome this challenge.