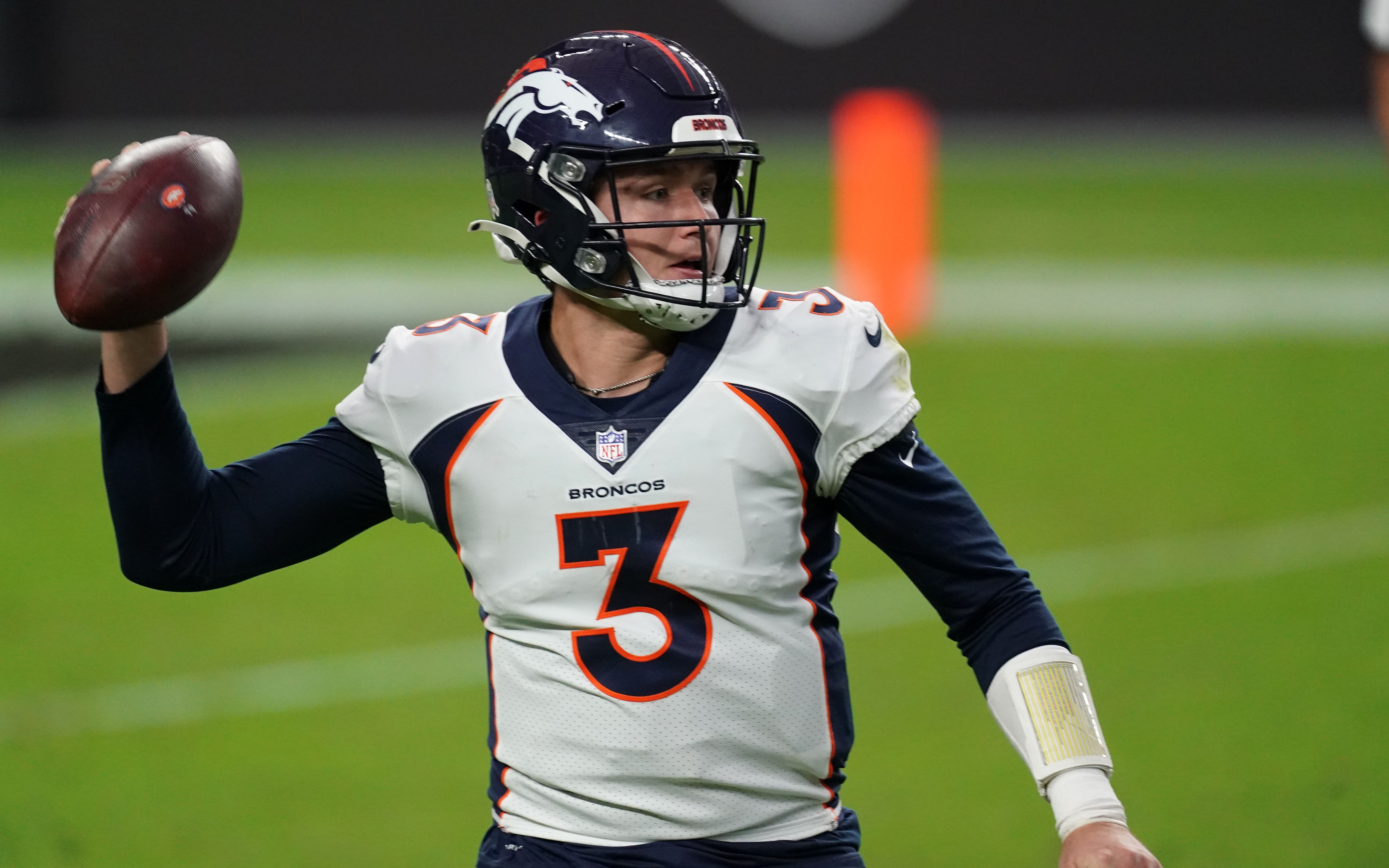 Halfway through this 2020 season and most everyone is realizing Drew Lock isn't good enough to be a starting quarterback. At least, not right now.
To say Lock has a long way to go, and a lot of room for growth, is an understatement.
Currently, when one adds up all the metrics used to measure quarterback performance, Lock is basically the worst starting QB in the entire NFL. His QB rating is 66.5, second-worst in the league, as is his QBR (36.3). The Broncos quarterback's yards per attempt (6.3) are fourth-worst and his 10 interceptions are third-most right now. Finally, his bad throw percentage (25.3) is worst in the league, as is his completion percentage, a mere 55.0.
Let's stick with completion percentage for a minute.
Many this week are comparing the start of Josh Allen's career to Drew Lock's beginnings. The stats are similar, sure. But that doesn't guarantee anything.
In fact, it discredits the amazing transformation Allen was able to make over the last three years. Go all the way back to his college days at Wyoming, and while Allen possessed all the physical traits desired in a quarterback, his accuracy was awful. Allen never hit 60 percent in college, topping out at 56.2 in his third season.
Look, you can have a rocket launcher of an arm, but if you can't hit an open receiver, it doesn't translate into on-field success.
Allen's accuracy issues continued in the NFL as he was the worst in completion percentage as a rookie (52.8). But, we started seeing a transformation last year and as he improved to 58.8 percent, we saw his TD-INT ratio improve dramatically (from 0.83 to 2.2).
This year, he's emerged as one of the best quarterbacks in the National Football League. His completion percentage skyrocketed to 68.2 (8th-best) and so did his yards per attempt (7.9, 8th) and his QB rating (103.0, 8th). Not coincidentally, Allen's bad throw rate dropped from 25.2 percent in his rookie year to a more respectable 15.1 percent this year.
Weirdly, Lock is incredibly similar to Allen in terms of accuracy.
In college, Lock was wildly inaccurate for his first two years but continually improved and finished with a 62.9 percentage. That's, at least respectable. However, 66 percent is the bar in terms of being mediocre in the NFL.
It means Lock needs to not become slightly more accurate, but much, much more accurate. 10 percentage points are a giant leap for the least-accurate quarterback in the NFL. And he's got to get that "bad throw" (uncatchable balls) percentage down, too. A full quarter of his tosses aren't near enough to receivers to even give them a chance.
But, on the positive side, Allen has shown it is possible.
What does Allen have that Lock doesn't?
He's a slightly bigger dude, and he possesses a stronger arm, too. He's also a more gifted runner, able to take off with speed or lower his shoulder like a power back.
That's not taking away from Lock's strong arm — which he may be a bit overconfident in — nor his mobility. But what Lock must do is become a more polished quarterback in terms of throwing with balance (not off his back foot) and decision-making. While attacking down field is great, forcing the ball into double and triple-coverage has resulted in incompletions and interceptions this year.
Yes, Lock had to sit for half of last year due to injury and then only started five games, but we're interestingly seeing a regression, not a progression, in his skills compared to last year.
In his five starts last season, Lock completed 64.1 percent of throws and his bad throw rate was 17.8 percent. Also, his TD-INT ratio was a respectable 2.3 compared to this year's 0.7.
Not only is he regressing overall from 2019-2020, but over the last three weeks as well.
Simply, Lock must break out of this recent slump, and even if the 3-6 Broncos are going to miss the playoffs again, he needs to show improvement down the stretch.
Otherwise, the argument for giving him more time to prove himself becomes a question of, "When is enough, enough?"
John Elway and the Broncos hoped Drew Lock would be the quarterback of the future when they took him in the second round last year. All hope isn't lost yet, he could grow into a successful quarterback like Allen, or Derek Carr, but we need to see that improvement over the next seven games.
Otherwise, the Broncos will need to take another quarterback in next year's draft, or possibly go after one in free agency.