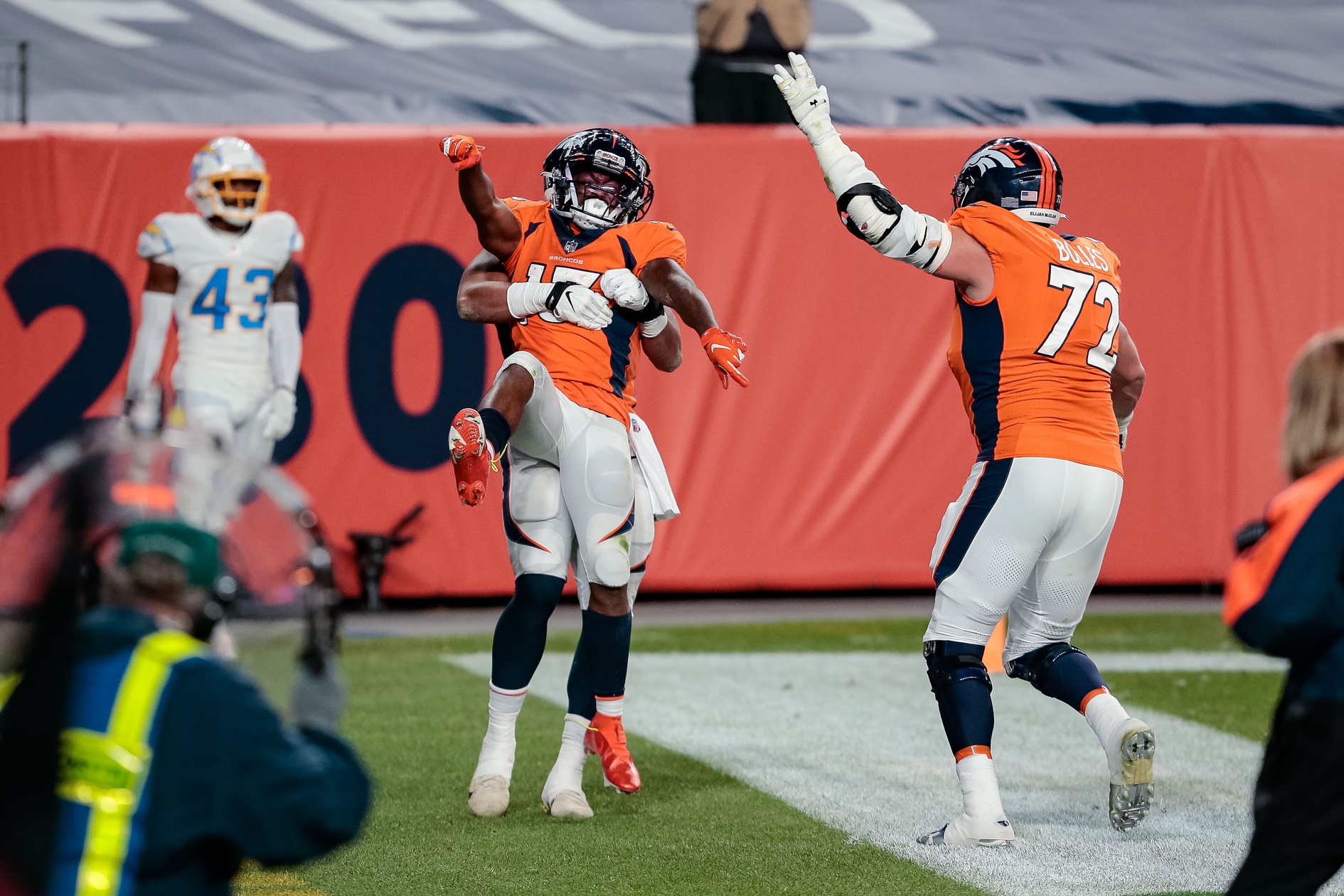 Drafted in the second round just last year, K.J. Hamler had a very up and down rookie season for the Denver Broncos in 2020. Showcasing both game-breaking talent and concerns that must be improved upon, Hamler is still very much a work in progress.
As we highlight both his highs and lows, we'll look into what must happen for Hamler to take a positive step in the right direction, solidifying himself as the Broncos slot receiver of the future.
Coming out of Penn State University, he was a highly thought of player, enjoying two 750-plus yard seasons for the Nittany Lions.
Building around quarterback Drew Lock and needing to add a dynamic receiver to the offense, former General Manager John Elway selected Hamler with the 46th pick of the 2020 NFL draft. That meant making the Hamler pick the second of what turned out to be back to back wide receiver selections in the first and second round.
While in his rookie year, the quality that best stood out was also maybe the most underrated part of his game. Hamler's route running and ability to separate was phenomenal in many cases. Using his absurd quickness, speed and ability to transition speeds, Hamler is a nightmare to cover man to man for most defensive backs.
K.J. Hamler… pic.twitter.com/BvI1FaYVUW

— Joey Richards (@JRDrafts) September 22, 2020
With an array of high twitch moves off the line of scrimmage, Hamler can get open fast, making things easy for his quarterback. This is an area of his game we saw at Penn State and looks to have carried over to the NFL rather smoothly.
Once open, securing the ball is an area he really needs to work on. At 5'9′, it's hard to criticize him too harshly as plucking the ball out of the air like Julio Jones would be an unfair expectation, but he did drop quite a few easy targets last year as well. Cleaning this up would do wonders in Hamler's development to become more of a complete wide receiver.
Better, more accurate, and timely, quarterback play should also help him in this instance. His frame is just not very large, making the room for error bigger when throwing to him. The quarterback has to be on the money consistently to take full advantage of Hamler's skill set.
At 5'9, there's not much room for error when throwing to Hamler. Has to be on the money. pic.twitter.com/4Ip4TsYHEJ

— Joey Richards (@JRDrafts) June 20, 2021
In the open field, Hamler is extremely dangerous for opposing defenses. Fast, explosive, and shifty, Hamler is a threat to score with the ball in his hands from anywhere on the field.
In year two of his career, offensive coordinator Pat Shurmur should make it a priority to get Hamler more designed touches. Whether it be through sweeps, screens, or even punt and kick returns, Hamler's game-breaking speed has to be utilized.
The difficult part that the Broncos will face when implementing this is that the wide receiver room is loaded. With four starting quality players at the position, playing time will be hard to come by as Courtland Sutton and Jerry Jeudy will get the lion's share of snaps on the field.
Hamler will be competing with Tim Patrick, who is coming off the best year of his career, as the Broncos' third wide receiver. Both players have completely different skill sets so this could be determined by opposing team's matchups on a week-to-week basis. But either way, getting the necessary playing time to have a large impact on the season could be tough.
Hamler will have to make the most out of the opportunities he is given in both practice and in games, even if they are hard to come by.
A big leg up Hamler will have on Patrick is his ability to attack the defense vertically, manufacturing more explosive plays. Unfortunately, he did not participate at the NFL combine or the Penn State pro day so we do not have an official 40-yard dash time, but one look at his film and there is no doubting his speed.
At Penn State, we saw a ton of this as he torched defenders deep by simply running past the defense in many cases.
Here's a video of K.J. Hamler beating DB's on nothing but slot fades lol. pic.twitter.com/CLHbwRN3aB

— Joey Richards (@JRDrafts) June 2, 2020
Outside of the game against the Carolina Panthers, we have not seen many deep connections to Hamler as a Bronco just yet. This could be for a multitude of reasons, some of which have already been mentioned, but Hamler must also stay on the field to maximize the opportunities he is given.
At his small size, durability has always been a concern. Last season, Hamler dealt with various different injuries that kept him out of three games and probably made the adjustment to the NFL that much more difficult, having to sit out of many practices.
If healthy and utilized correctly, Hamler's ability and threat to win vertically could give the Broncos' offense an entirely new way to attack the defense. While making the offense much more explosive, the opposing defense will have to gameplan for this threat, potentially opening things up for other receivers on the team.
As a second-round pick just a year ago, Hamler has plenty of room to grow as an NFL wide receiver but the skill set he brings is unique to a Broncos offense that lacks his dynamic and game-breaking ability. His role is unclear but if implemented correctly, Hamler could be big for the Broncos in 2021.