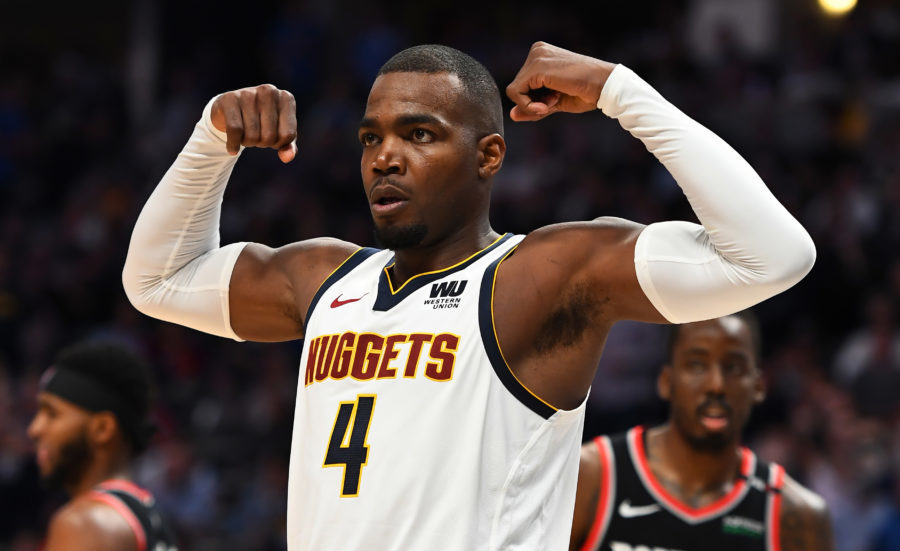 On Monday morning, USA Basketball released their 20-man training camp roster and the Denver Nuggets had a member of their team on the roster.
Paul Millsap is the lone participant from the Nuggets and will being joining a roster of 19 other incredibly talented players who will represent the United States of America. Here is the full list of players who are on the 20-man USA Basketball training camp roster: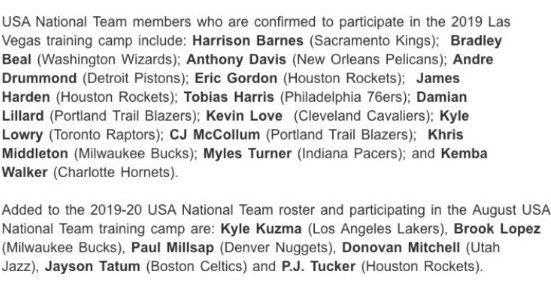 As noted in the press release above, Millsap was a late addition to the USA Basketball roster along with Kyle Kuzma of the Los Angeles Lakers, Brook Lopez of the Milwaukee Bucks, Donovan Mitchell of the Utah Jazz, Jayson Tatum of the Boston Celtics, and P.J. Tucker of the Houston Rockets.
Additionally, making the 20-man training camp roster does not guarantee Millsap a spot on the team. Only 12 players will make the final roster before heading off to China for the FIBA World Championships. The 20-man roster will have to be trimmed down to 12 players by August 17th. Millsap is competing with 11 other forwards and centers — Harrison Barnes, Anthony Davis, Andre Drummond, Tobias Harris, Kyle Kuzma, Brook Lopez, Jayson Tatum, P.J. Tucker, and Myles Turner — for a spot on the final 12-man roster.
There will be other members of the Nuggets organization that will be represented at the FIBA World Championships, but not on the USA Basketball team. Nikola Jokic will be representing his native country of Serbia while Juancho Hernangomez will have a spot on the Spanish National Team. Jamal Murray has the option to play for the Canadian national team, but has neither confirmed nor denied if he will be playing for his home country this offseason.
While it is certainly an honor for Millsap to be selected as a member of the 20-man variation of the USA Basketball team, there is an even bigger opportunity that now exists for the Nuggets organization — so long as Millsap remains a member of Denver's team (more on that later).
Everyone has now heard about how Steph Curry and Andre Iguodala were able to build a relationship with Kevin Durant at the 2016 FIBA World Championships. As the story by Sam Amick goes, that was one of the first steps towards convincing Durant to join the Warriors. Of course, the Warriors already had the likes of Curry, Iguodala, Draymond Green, and Klay Thompson on the roster so that definitely did not hurt Golden State's sales pitch.
Still, Millsap has an opportunity to put his recruitment hat on and try to find a way to build more free agent interest in the Denver Nuggets organization.
The fact remains that being able to participate with USA Basketball can only help when it comes to free agent recruitment. With Millsap — a trusted and tough-minded winner and veteran of the National Basketball Association — leading that charge, the Nuggets have a respected individual among the greatest players in the world spreading information about how terrific the Nuggets' young core really is and how much Millsap himself has enjoyed his time with Denver.
There are multiple players on the 2019 USA Basketball training camp roster who are free agents or, in some capacity, available for trade. Those players are Bradley Beal of the Washington Wizards, Anthony Davis of the New Orleans Pelicans, Kris Middleton of the Milwaukee Bucks, Tobias Harris of the Philadelphia 76ers, Kevin Love of the Cleveland Cavaliers, and Kemba Walker of the Charlotte Hornets.
Looking beyond the 2019 free agency period, there are other free agents in the year 2020 who will also be on the USA Basketball training camp roster like C.J. McCollum and Kyle Lowry who will also have the chance to learn more about the Nuggets franchise.
For a Nuggets team that began the 2018-19 season as the second-youngest roster in the league and finished as one of the most injured squads in the Association, they were still only one win away from the Western Conference Finals. They have one of the strongest cultures in the league already in place and a head coach who has not only grown with his squad, but has been able to get the best out of his players for his entire tenure with Denver. Oh, and they also have a bonafide top-10 player in the world in Nikola Jokic. It is hard to find fault with what the Nuggets have built over the past four years which is why they could become a potential landing spot for some high-level free agents over the next few years. Millsap's inclusion on USA Basketball's training camp roster will hopfully catalyze that process.
With all of that being said, free agency begins on July 1st and Millsap has a team option so there are multiple directions the Nuggets and Millsap could go before training camp for USA Basketball even begins. Despite all of the different options that are on the table, both Millsap and the Nuggets seem eager to stick together.
"Our goal — and Paul's goal — is to have him back with us…I'm pretty confident that will happen," Nuggets president of basketball operations Tim Connelly said during his exit interview when asked about Millsap's team option. "I'm having dinner with Paul very soon. He's got a fantastic agent, DeAngelo (Simmons). We'll catch up, but we both want the same thing. We'll figure out the best way for the organization and Paul to make sure that is achieved. So, I fully expect Paul to be back in a Nuggets uniform."
In addition to Connelly's words, Millsap vocalized his desire to stay in Denver during his own exit interview as well.
"Look, from how I want to do it and how I want my story to be told, it's definitely the group that can help do it," Millsap said when asked if this Nuggets team is the group that he can see himself attempting to win a championship with. "That's definitely a dream and a goal of mine and I think it's the goal for everybody else; especially younger guys. They see guys winning championships and they see teams winning and they want to be a part of that and they want to be in that category. I see the drive on these guys' faces and I know that they have the same goal and mentality to get there. This organization does too and I feel comfortable with that."
With both Millsap and the Nuggets front office on the same page with the same vision, it seems destined that Millsap will end up back with Denver either on a restructured deal or by the Nuggets picking up his $30 million team option. Neither side has any ambition to end this union between Denver and Millsap.
Instead, all eyes are on the future, and Millsap has a great opportunity to help quicken the Nuggets' ascension by spreading the facts of what Denver has built to all of the incredible talents who will be on the same team for USA Basketball's training camp and for the FIBA World Championships.