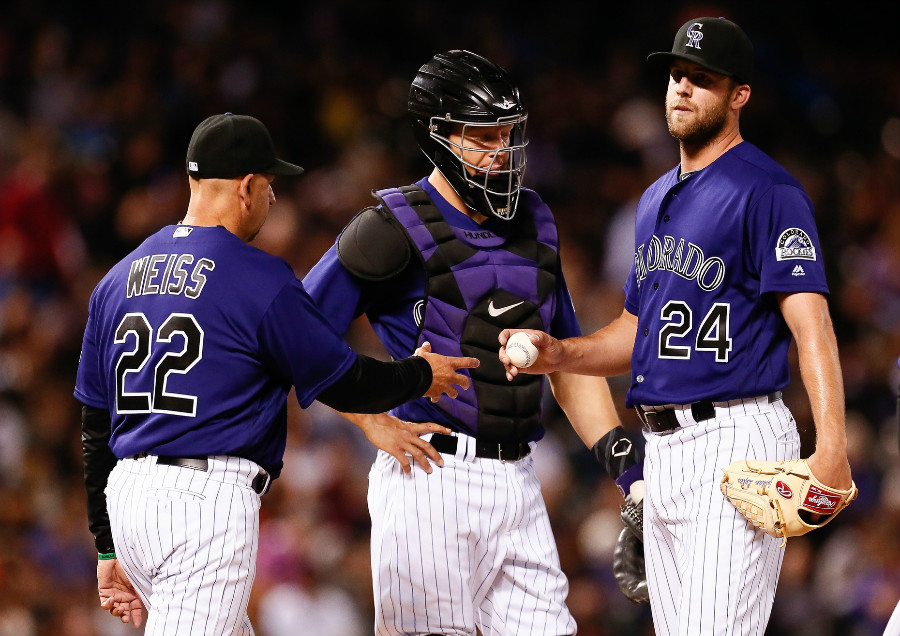 The Colorado Rockies announced Monday they had optioned pitcher Jordan Lyles to Triple-A Albuquerque due to a poor start to his season.
Lyles, 25, was 1-1 with an era above seven on the season prior to being sent down.
Chris Rusin will take the spot of Lyles in the starting rotation.
Lyles only lasted two innings in his last start, surrendering seven runs on five hits and five walks.
Following the rough performance Jordan talked about what has been going wrong for him.
"To many missed fastballs, right off the plate, some were not contested." said Lyles. "To many walks … Unacceptable."
Lyles shaky start was due to the finish on his delivery, he explained:
"I think it's how I finish, delivery wise. I'm just falling off a little bit too much, trying to get to much movement on the pitches. I've just got to do a better job at attacking hitters,"
Jordan's control has seemed off all season, surrendering 11 walks this season.
"We have to get Jordan right, and that's tough to do going against major leaguers every fifth day," manager Walt Weiss told Patrick Saunders of The Denver Post. "We know (his talent) is in there, we saw it just a week ago in Cincinnati."
So, what is next for Jordan Lyles?
Well, he will have to prove why the Rockies should give him another crack at the starting rotation.
An era over seven and a hefty amount of walks will not suffice. Obviously, no one wants to be informed that they are not good enough for the big leagues, but in this case, it is what needed to be done.
Jordan has performed fairly well in the minors, owning a career record of 28-31 with an era of 3.57, nearly two points lower than his Major League career era.
"He's working through some things, and we have to get him in a different environment so he can get back to being himself, so he can come back here and help us. We need him." said Walt Weiss.
Yes, they do. The Rockies desperately need Lyles to figure it out as their starting rotation is hanging on by a thread as is.
With Lyles down and Rusin in, the Rockies don't have a legitimate fifth starter on their roster or in AAA except for Lyles, meaning Jordan may be forced back into the rotation if something were to happen.
Jordan has shown he has what it takes, but lack of aggression on the mound seems to be what Weiss is most concerned about with Lyles.
"He hasn't been as aggressive as we've seen in the past," Weiss said. "He's usually a guy who attacks the strike zone with a lot of stuff. For whatever reason, he hasn't been as aggressive in the early going here."
If for whatever reason Lyles continues to struggle as a starter, he could possibly switch over the bullpen and become a long man.
That may prove to be useful for the Rockies as the bullpen can use the help.
If Lyles can transform himself into a long reliever/spot starter he could really help boost his value to the team.
Statistically speaking, Lyles is best suited for a long reliever role at this point.
In his career Lyles's best innings are 1-3. Over the course of innings 1-3, Lyles has an era of 3.82 and is holding his opponents to a batting average of .243, statistically his best three-inning stretch.
Also, Lyles seems to work best on shorter rest, something he would be called to do more often if he switched to the relief role. On two-days of rest Lyles has held the opposition to a batting average of under .200.
Likewise, he is also most effective when throwing between 1-25 pitches, holding his opponents batting average to .246. In a relief role, that's exactly what he'd be dong.
Although the sample size is small, all of his numbers indicate that he has been better in shorter outings.
There is always the possibility that Lyles puts it all together in Triple-A and manages to bounce back and become an effective starter; however, at this point, with all the failure Jordan has endured, the team may have to begin looking at other ways to use him.