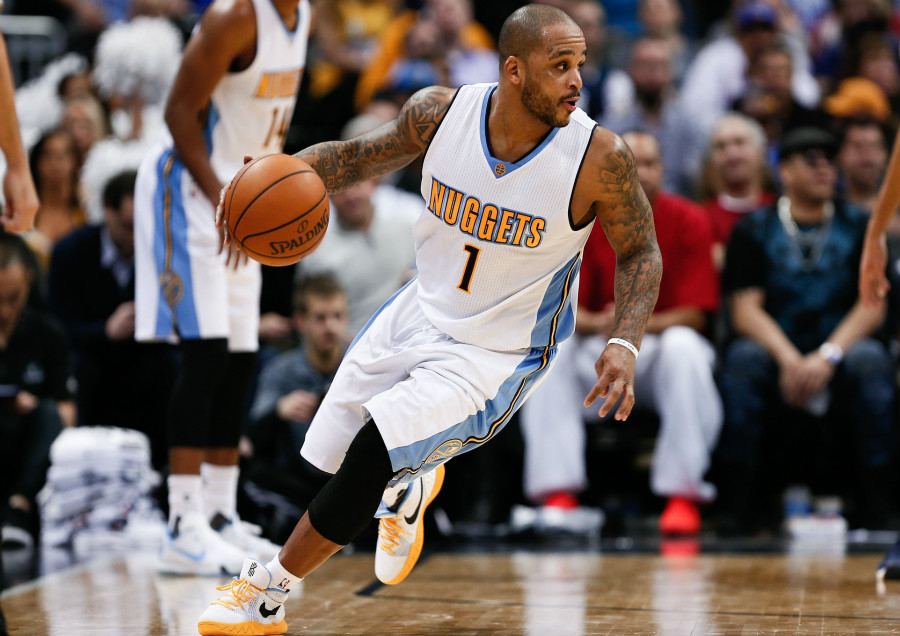 The Denver Nuggets season has come to a close and the offseason has begun. One of the major questions surrounding the Nuggets is what to do with Jameer Nelson.
The Nuggets acquired Nelson in a trade with the Boston Celtics back in the 2015 season, and he has since gone on to average 7.7 points and 4.9 assists per game in Denver, both being at the low end of his carer average.
Nelson still has two years remaining on the three-year, $13.5 million contract he signed with the team last offseason.
"We'll see how things go," Jameer Nelson told Chris Dempsey of The Denver Post. "We all have decisions to make."
One of the big issues with Jameer Nelson moving forward is playing time.
After seeing a decent amount of it in the early going of the season, he quickly saw his minutes get slashed, thanks to a lingering wrist injury and the acquisition of D.J. Augustin.
"Like I said, we'll figure it out and see what's going on," Nelson said. "I would love to come back here. That's the reason why I signed a three-year deal. But it's just one of those things that, it's a business. It's a business, and we have to figure it out."
Nelson may want more playing time, but that doesn't mean he's going to get it.
He only appeared in three of the team's final 42 games, and every sign points to that being the case going forward as well. With three picks in the first round of the NBA Draft, this Nuggets team is only going to get younger and deeper, neither of which help Nelson's chances of getting on the floor.
"It wasn't ideal at all," Nelson said. "But you look at the situation and you see me, D.J. and Emmanuel (Mudiay). I was their biggest fan. It was just one of those things that was out of my control. I talked to coach, talked to (GM) Tim (Connelly) a couple of times. You know, this wasn't my time to play. So, I'm going to always be a pro, I'm going to always be who I am. Obviously I wanted to play. Frustration sets in, but at the same time you have to take a step back and realize how fortunate you are."
So, what should the Denver Nuggets do with Jameer Nelson?
Well, there a few factors that both sides will have to take into account:
Do they sign re-sign DJ Augustin or acquire another point guard?
Is Jameer willing to take a smaller role?
Is he of any value to the Nuggets?
All three of these questions must be answered before either side decides on what the next move is.
If the Nuggets decide to re-sign DJ or trade for another guard, that would pretty much spell the end of Nelson's career in Denver; unless he's willing to play a Mike Miller-like mentorship role, he's never going to be happy with the minutes he's getting.
If Denver does decide to stick with Nelson, though, and let Augustin walk in free agency, then there's really no reason why he wouldn't stay. As a veteran point guard behind Emmanuel Mudiay, the Nuggets would be hard pressed to find a better option.
The biggest question moving forward is do Jameer Nelson and the Denver Nuggets see eye to eye?
This is critical, as the Nuggets may view Nelson in a different way than he views himself. Moving forward, the Nuggets and Nelson need to come to an agreement on a clearly defined role; if that role doesn't fit one side, then a divorce is probably in order.
The two need to find that balance and utilize that to their advantage, instead of butting heads about playing time or role play.
So, what do the Nuggets do with Jameer Nelson?
The way I see it, Nelson's best role with the Nuggets is as a guy that can play 5-7 minutes a game and help mature and nurture the young guys.
While I do believe Nelson has enough in the tank to be a solid player on a nightly basis, it doesn't seem like that's a role he'll be happy with. That's why I think the best option for the Nuggets and Nelson is to cut ties and move on. Nelson is a luxury they can afford to pass on right now, especially with a younger Augustin in the mix. And if they can flip him into another asset, even better.
There's a reason why Nelson was all but absent from the final half of the Nuggets season, and it's not because he's a broken player; he and the Nuggets are simply on different ends of the spectrum.