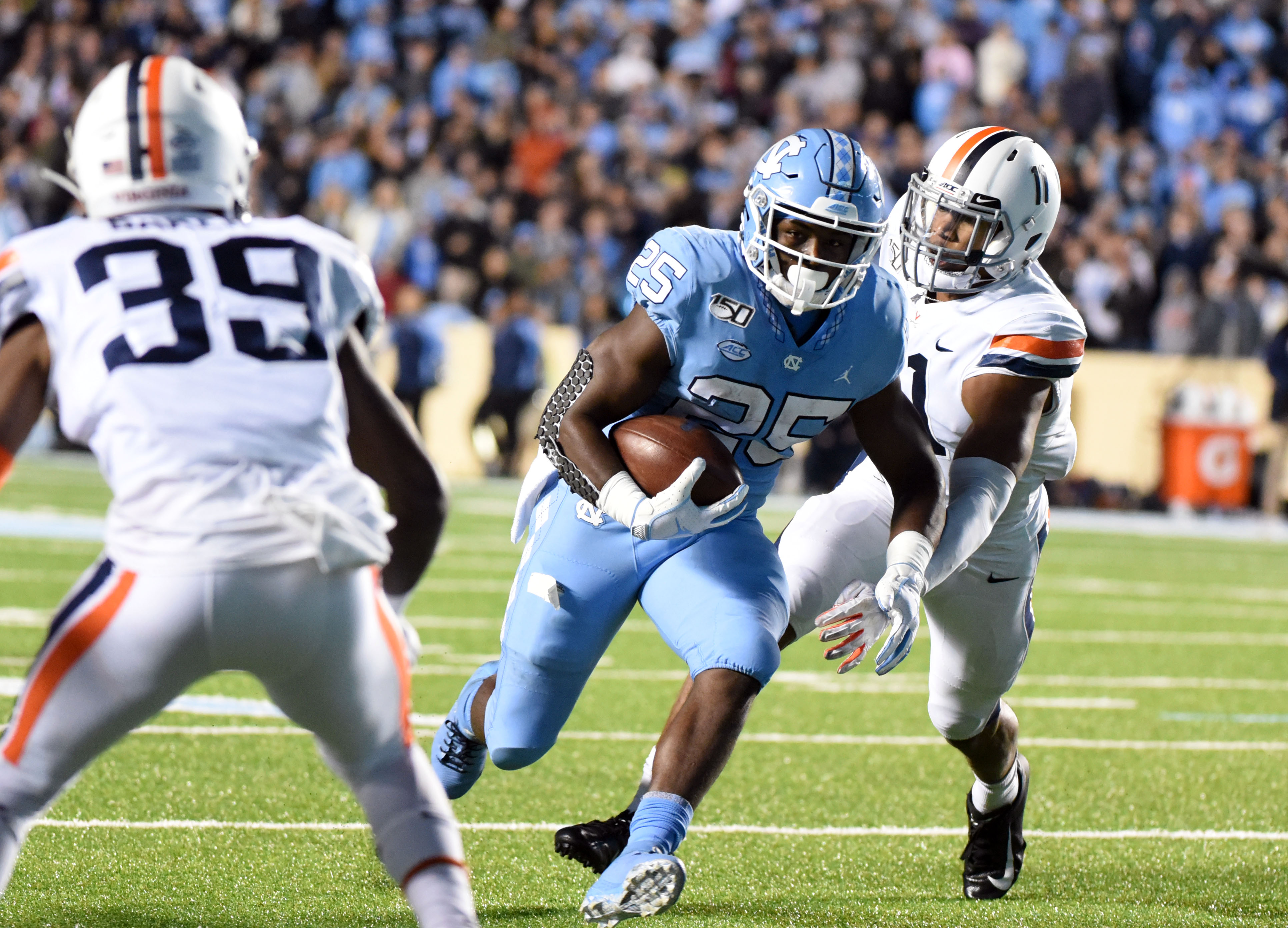 Despite the offense needing more help, the Denver Broncos chose to heavily invest in the defense in this year's draft. With that said though, they still picked up a handful of players who project key offensive contributors.
Here's what Broncos Country should expect out of the rookie seasons of each of the Broncos' three offensive draft picks.
Javonte Williams, RB
Javonte Williams should be the Broncos' most productive rookie and there isn't really a clear-cut second option behind him.
This is in large part because Williams is a running back, and running backs generally have their three most productive seasons their first three years in the league. Look no further than his running mate in Denver's backfield, Melvin Gordon.
Ever since his first three years with the Chargers, Gordon's performance has been a steady — although gradual — decline. Last year his season-long numbers saw a slight uptick, but that had more to do with Phillip Lindsay's injury and the offense leaning on the run game more down the stretch, than it had to do with Gordon once again being a high-end starter.
The fact of the matter is, Gordon is no longer the player he once was. Him no longer being a top-10 back isn't even really debatable. Meanwhile, Williams has the potential to be that top-10 guy, could be that guy immediately, and frankly, might even be better than top 10.
That sounds lofty for a rookie, but it also matches Denver's in-house expectations. During the team's 'Behind the Broncos' docuseries, it was shown that director of college scouting Brian Stark compared Williams to Ezekiel Elliott and Nick Chubb.
Who in their right mind is sitting Chubb or Elliott behind late-stage Melvin Gordon? No one.
Now, whether the workload is more of a 50-50 split or Williams wins the starting job outright, Williams should get plenty of touches.
No quarterback in football saw a greater disparity between their play-action and non-play-action performance than Drew Lock and Teddy Bridgewater is nothing more than a game manager, which means having a strong running game to carry the offense will be a necessity, no matter who wins the competition.
Projected stat line: 13 starts. 210 touches. 1,035 rushing yards and 180 receiving yards for nine total touchdowns.
Quinn Meinerz, C
Quinn Meinerz could win the starting center job from Lloyd Cushenberry III outright, but that feels like a lot to ask from "The Belly."
Meinerz was a great value pick at the end of the third round, but it would be surprising if he's ready to be an NFL starter early on in his career. The highest level he's competed at has been Division III college football, and even then, he hasn't played in a real game since 2019.
Now, he did attend the Senior Bowl and was maybe the most impressive lineman there while competing against FBS prospects, but that doesn't mean he'll be ready to go for the Broncos. Cushenberry was the most impressive lineman at the Senior Bowl a year ago, and was a much more pro-ready prospect than Meinerz, and struggled mightily as a rookie.
All that said, the Broncos are bound to lose one of their interior linemen to injury at some point this season, and Meinerz has a great chance of being that next man up.
Projected stat line: Three starts. One sack allowed. One penalty.
Seth Williams, WR
With Tim Patrick slated to earn a big contract in free agency next year, the Broncos need to have someone ready to take his place and Seth Williams might be that guy.
Williams is an impressive, big-bodied, jump-ball receiver who went much later in the draft than expected, but might not even make the Broncos final roster through no fault of his own.
Denver is just loaded at wide receiver. Courtland Sutton, Jerry Jeudy, K.J. Hamler and Patrick are locks for the final roster and Tyrie Cleveland is right behind them. That leaves one, maybe two spots open for other wide receivers, and the Broncos might already be covered on big-bodied, jump-ball receivers with Sutton, Patrick and Cleveland.
Williams is talented enough to earn a roster spot at the end of the day, but he's unlikely to see the field much.
Projected stat line: Two receptions for 23 yards. Three special teams tackles.