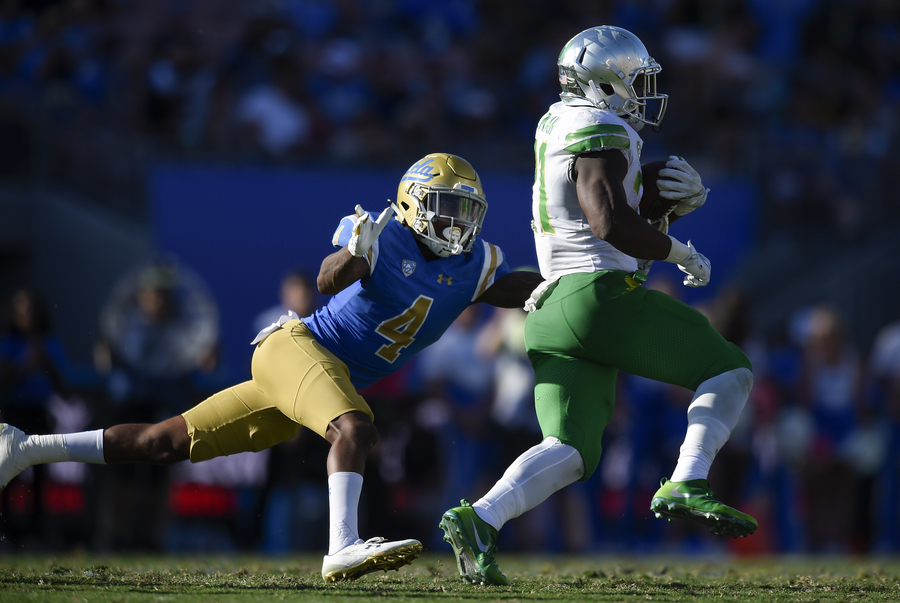 Through the struggles of a 5-11 season highlighted with failures across the board, the 2017 Broncos 2017 draft class particularly stands out.
Despite having eight total picks, the Broncos were only able to get regular contributions out of their first-round pick, Garett Bolles, second-round pick DeMarcus Walker and fifth-round pick Isaiah McKenzie. Even then, Walker struggled to perform as he was forced to switch between defensive end and outside linebacker. And McKenzie's constant fumbles during punt returns caused him to be benched partway through the season.
So, with several of the same weaknesses lingering from the previous season, general manager John Elway set out to readdress the issues plaguing Denver. As a result, several of the picks from the 2017 draft should be concerned with their job security.
Taking Bradley Chubb at No. 5 shows Elway wanted to solidify Walker on the defensive line. Walker was forced to switch between outside linebacker and defensive end throughout the 2017 season and struggled significantly as he tried to learn the aspects of two different positions at the next level.
In the 10 games Walker played, he only contributed seven tackles and one sack. Chubb will join the team playing outside linebacker, allowing Walker to go back into his natural position of defensive end.
The Broncos also addressed their newfound need of running back in the third round. After releasing C.J. Anderson on April 16, Denver was left with just two running backs – Devontae Booker and DeAngelo Henderson.
By picking up Royce Freeman, they bolstered their core and identified how they will attack opponents on the ground. Henderson, who only got seven touches for all of the 2017 season, showed moments of flash in the preseason and was able to score a receiving touchdown during his limited playing time during the regular season. 
Now, with the Freeman pick, his role has been clearly defined as the change-of-pace back while Freeman and Booker will most likely work in tandem to take the main workload. Henderson's ability is still shrouded, but the Freeman pick does not appear to threaten his status on the roster.
Where Chubb and Freeman will complement their counterparts on the roster, Denver's second pick, Courtland Sutton, is the player who will be threatening roster positions for 2017 picks.
McKenzie and Carlos Henderson were both put on notice with the announcement of the second-rounder out of SMU. Henderson, who sustained a preseason thumb injury, did not see the field at all in 2017, while McKenzie had a share of chances as the punt returner, but managed to literally fumble them away.
As of now, Sutton will now be a major player for the No. 3 receiver behind Demaryius Thomas and Emmanuel Sanders, meaning he will be competing directly with Henderson, McKenzie, and even the veteran, Taylor. Along with the addition of Sutton, Henderson is further in danger of losing his roster spot to DaeSean Hamilton, who the Broncos closed out their fourth round with.
Despite the Broncos stating that they want Henderson to take over the role as the slot receiver, Hamilton's selection shows a lack of confidence in his ability to get the job done, especially when considering Taylor is also available to take snaps in the slot. McKenzie, on the other hand, needs to improve his special teams play. Otherwise he runs the risk of getting left in the dust.
As for a vote of confidence, the Broncos are still all-in on tight end Jake Butt. After a knee injury kept him off the field in 2017, Butt enters the 2018 season with a chance to compete for a starting position with Jeff Heuerman. After passing on a tight end in the opening four rounds, the Broncos are showing they are committed to their young tight ends.
Brendan Langley can also move into his second year without having to look over his shoulder too often. Despite drafting cornerback Isaac Yiadom, who will most likely fill a role on special teams for at least the first year, Langley will likely have a chance to keep his spot on the team.
Langley struggled in his opportunities on the field, most notably against the Oakland Raiders after Aqib Talib was ejected for an altercation with Michael Crabtree. But, the Broncos are still confident that he can develop into a suitable backup to Chris Harris Jr. and Bradley Roby.
No early quarterback selections also means 2017's Mr. Irrelevant, Chad Kelly, will get a big shot at competing for the backup position with Paxton Lynch. Kelly's contract is much more team-friendly than his counterpart's and Lynch has struggled mightily since the Broncos traded up to select him in the first round two years ago.
The Broncos will have several tough decisions to make in training camp regarding the depth chart and who makes the final cut, but they have sent a clear message to their 2017 draft class.