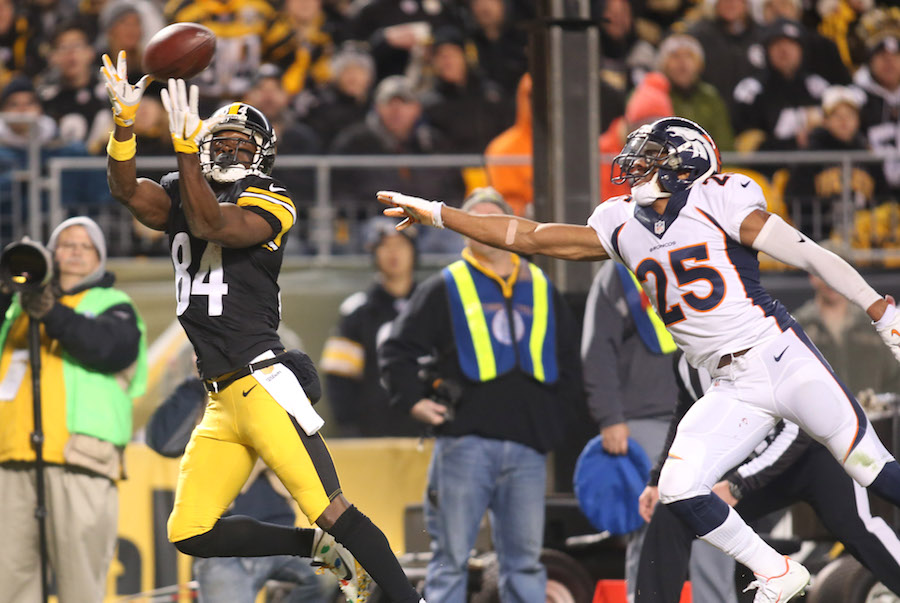 Finally, after weeks of mind-numbing speculation over whether or not one of the league's perennial top talents at wide receiver would be traded and where he would end up, Antonio Brown has found a landing spot.
The bad news for Broncos fans is that landing spot rests in the home of their most hated rivals.
Denver's secondary, which appeared to be one of the worst in the NFL for multiple stretches in 2018, will have to improve drastically to contain an AFC West loadedwith passing weapons.
They will not only have to face the Chiefs with reigning MVP Patrick Mahomes, Travis Kelce and Tyreek Hill as well as the Chargers led by Philip Rivers, Mike Williams, Hunter Henry, and Keenan Allen, but now the Raiders too.
So what does this mean for the Broncos?
For starters, watch for John Elway to invest heavily in the secondary this offseason. It would be surprising if the Broncos don't take a cornerback early, to pair with a high profile free agent signing in the back end.
In 2018, the Broncos allowed Derek Carr to toss for a then record-setting completion percentage of 90.6 with a poor group of surrounding talent. The Raiders are likely to continue the upgrades at receiver and get younger at running back, making their offense even more potent.
Luckily the Broncos have Chris Harris Jr., but even he has struggled with stopping Brown in the past. Even though their 2018 matchup ended with Brown kept out of the endzone, gaining just 67 yards on his 14 targets, and earning his worst grade of the season from Pro Football Focus (55.0), he's given Harris nightmares in the past.
In Week 15 of the 2015 NFL season, Brown went off for 189 yards and two touchdowns, while catching a season-high of 88.9 percent of the passes thrown his way. For the Broncos to bank on Harris' ability alone would be foolish.
Fortunately for Broncos Country, it isn't all bad news.
Despite the Raiders getting a future Hall of Famer for pennies on the dollar, their roster talent is still towards the bottom of the barrel. An Oakland offensive line once thought to be second only to the Cowboys, ranked 26th last year in Pro Football Focus' pass blocking efficiency metric. That offensive line won't get any better with the Raiders trading Pro Bowl guard Kelechi Osemele to the Jets.
The Raiders will not only have to patch holes in the running game and along the offensive line, but they also have to upgrade their depth at receiver behind Brown, and those are just their holes on the offensive side of the ball. Newly hired general manager Mike Mayock will also have to completely overhaul a defense that ranked 30th in Football Outsiders' Defensive DVOA, 26th in total defense, 19th in pass defense, 26th in run defense, 32nd in scoring defense, and has the worst pass rushers in the NFL.
The best case scenario for the Raiders is that they're only two years away from competing, at which point Brown will be entering a contract year at age 32, and well past his prime. Brown has consistently been a top-five wide receiver in terms of production for much of his career, yet that's likely to change now. A mere four percent of wide receivers over the age of 30 were able to finish among the top five wide receivers.
This means that during his newly signed three year deal with the Raiders, he'll be making quarterback money, but won't even be among the most valuable or productive players at his position.
The move for Antonio Brown is a short-term one that the Raiders will be paying long-term ramifications for. The move will likely boost the sale of PSLs in the Raiders' new stadium, far more than it will improve their odds of making the playoffs.