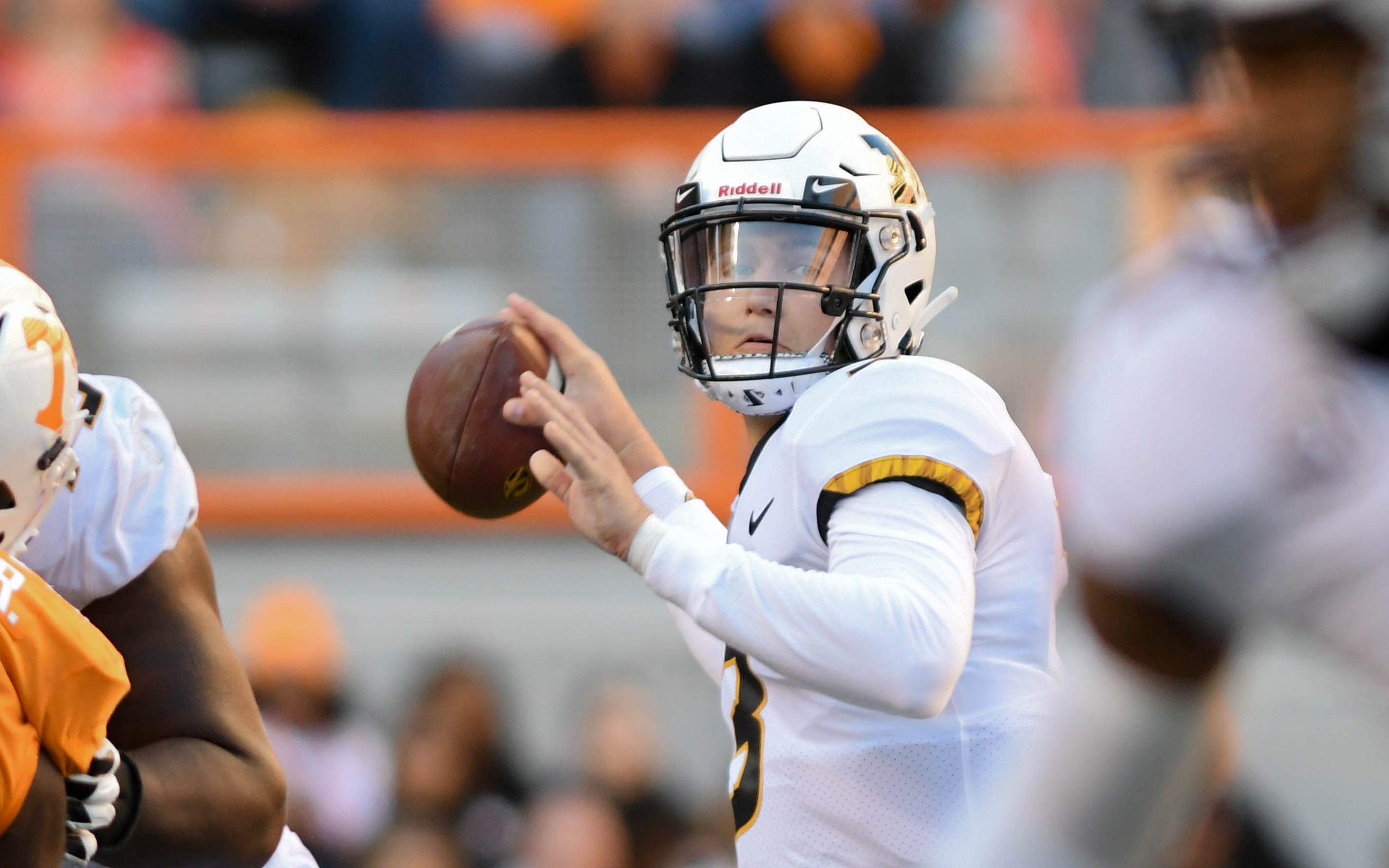 It's finally here! After months of speculating and postulating, we're about to finally see what the Broncos will actually do when they're on the clock come Thursday.
Over the past few weeks, the Broncos have held pre-draft meetings with several players, giving us a good idea of what their plan for the draft likely is.
That plan appears to be investing heavily in the passing game, early and often.
Of all 32 teams, the Broncos met with the third-most quarterbacks in seven different players. That trails only the Giants, who brought in 11 QBs, and Washington who met with nine to try to address their obvious need at quarterback following Alex Smith's injury last season.
The Broncos met with each of the top four quarterbacks in Kyler Murray, Dwayne Haskins, Drew Lock and Daniel Jones, as well as Clayton Thorson, Brett Rypien and Jarrett Stidham.
Thorson and Rypien are widely considered to be developmental quarterbacks or backups that shouldn't hear their name called before the third day of the draft, but Jarrett Stidham could be a great fit in Denver.
Stidham will probably go in the second or third round when all is said and done, but before the 2018 season, he was viewed by most to be the best quarterback in the draft class. Stidham struggled mightily behind Auburn's porous offensive line, slowly watching his stock fall.
If the Broncos pass on a quarterback with the tenth pick, Jarrett Stidham and Buffalo quarterback Tyree Jackson would be ideal options on Day 2. Like Drew Lock, Stidham has good size, a strong arm, above average mobility, but is more accurate and would cost the Broncos a fraction of the price they'd have to pay for Lock.
However, unfortunately for Stidham, it seems more and more likely now that the Broncos will take a quarterback with the tenth pick. They were the only NFL team to fly all four of the top quarterback prospects to Denver for a private visit, while no other team brought in more than two.
Kyler Murray will be long gone before the Broncos pick, but Drew Lock, Daniel Jones and Dwayne Haskins could all be on the board when the tenth pick rolls around. General manager John Elway's infatuation with Lock has been rumored since the Senior Bowl, making him the likely pick, but Dwayne Haskins did his best to impress "The Duke" on his visit.
Dwayne Haskins wore a John Elway jersey to his job interview with… John Elway. Haskins visited the Broncos yesterday and wore a throwback No. 7 Elway jersey. He also wore No. 7 at Ohio State. https://t.co/CHF8lTr7gP

— Kalyn Kahler (@kalynkahler) April 11, 2019
While Haskins and Lock may be the front runners for Denver's first-round selection, Broncos fans shouldn't sleep on the possibility of Denver taking a tight end at ten.
Along with the Lions, the Broncos had private visits with eight different tight ends, the most of any team. This further validates NFL Network's James Palmer's report that John Elway desperately wanted to solve Denver's problem at tight end in the draft this year.
However, the Broncos may not be looking for that solution with the tenth pick. Despite meeting with eight different tight ends, the Broncos didn't have a visit with T.J. Hockenson, the top tight end in this year's draft.
Though that's not the most surprising thing as Hockenson is viewed as one of the safest prospects in the draft and the Broncos could've decided there was nothing more they needed to know, and they'd be better saving that visit for a prospect with more question marks.
It would be a shock if the Broncos don't take multiple pass-catchers in this year's draft, as they also had private visits with nine different receivers. Only eight teams had more wide receivers in for visits.
While the quarterbacks and tight ends might come off the board quickly for the Broncos, don't expect them to take a wide receiver early. Of the eight receivers Denver visited with, none are expected to go in the first round, and only two (Deebo Samuel, and N'Keal Harry) are expected to hear their names called on the first two days of the draft.
No one knows for sure what will happen come draft night, but it would be shocking if the Broncos don't have a bunch of new weapons for Joe Flacco or a new rookie quarterback when it's all said and done.