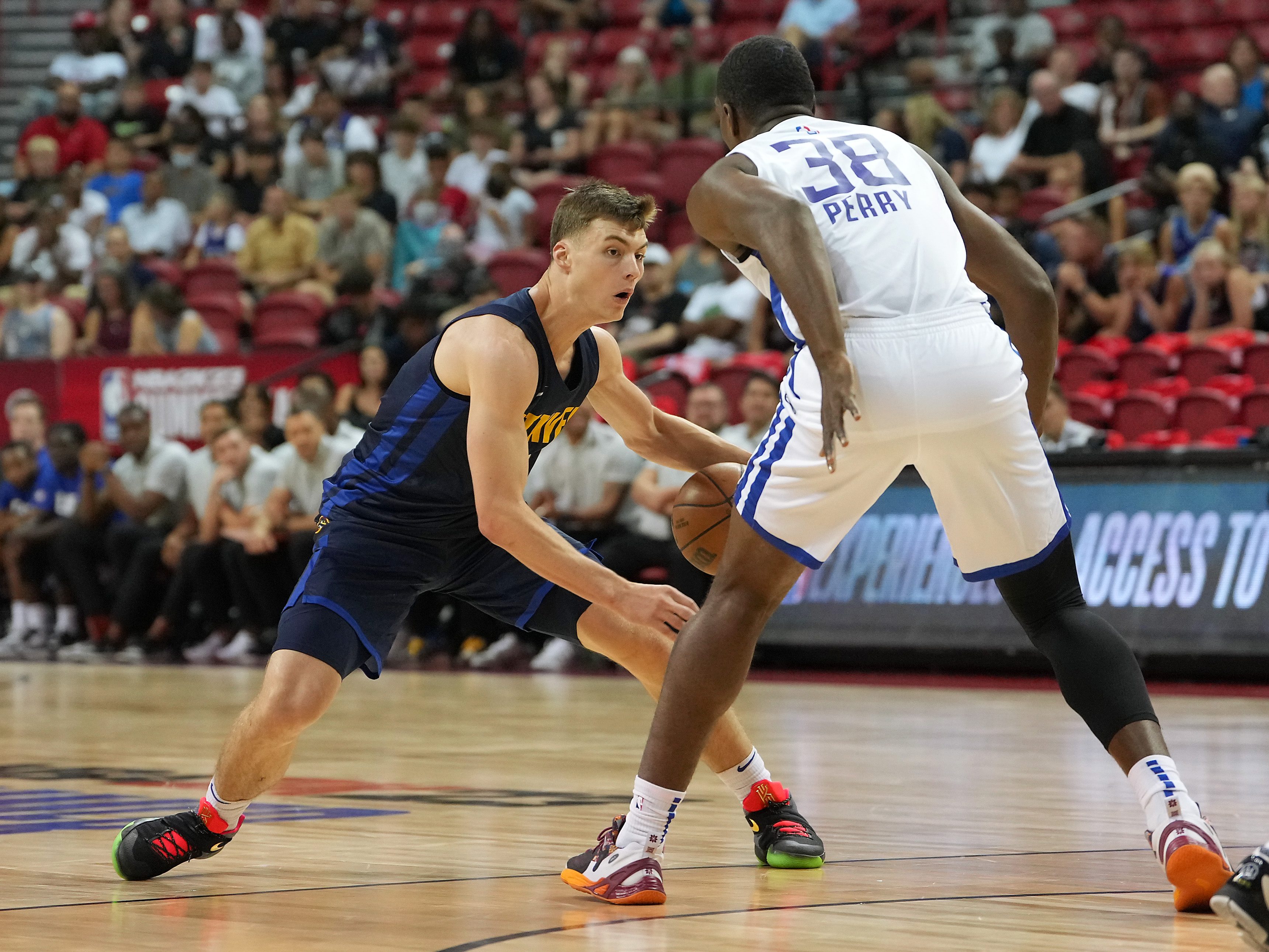 The NBA has officially reached the deep offseason.
Following the conclusion of Las Vegas Summer League on Sunday, the NBA as a whole will now take a brief hiatus in preparation for the 2022-23 season. Players will mix in training with vacation time, and teams will separate for just a little bit before returning for open runs in September.
For the Denver Nuggets, there were several data points to take away from Summer League. Because the Nuggets drafted three players and added another on a two-way contract, the last couple of weeks were always going to be interesting in determining just how prevalent Denver's newest players will be for the future of the organization. Add in a two-way contract spot to fill, and there was certainly some intrigue.
Should the Nuggets like what they saw? Was the team successful in Summer League? Should fans be excited about the future?
Here are my takeaways:
---
Christian Braun played playoff caliber defense
Denver's 21st overall selection, 6'7″ wing Christian Braun of Kansas, was the leading attraction for the Nuggets in Summer League. Tasked with that pressure, Braun showcased the single most important trait the Nuggets hoped to add: perimeter defense.
Going against Ochai Agbaji and the Cleveland Cavaliers in the second game, Braun helped limit Agbaji to to just eight points in 33 minutes. Agbaji only shot the ball just 11 times as Braun did an excellent job of both ball denial and cutting off most of Agbaji's drives to the rim. It was a strong performance.
Not to be outdone, Braun spent the majority of the next game guarding Los Angeles Clippers wing Brandon Boston, who showcased some serious scoring talent during his rookie season last year. Braun held Boston to eight points on 3-of-15 from the field, including zero assists and two turnovers. The defense was smothering, and Boston had nowhere to go for most of the night.
The Nuggets are going to need high quality performances from Braun on the defensive end next year. Though Kentavious Caldwell-Pope and Bruce Brown were added to shoulder the bulk of the defensive responsibility on the wing, Braun can help the team by committing to that end as well, and he will earn favor with head coach Michael Malone by executing defensively at a high level. If he proves himself legitimate on that end, he will see playoff minutes as soon as next April.
Braun still needs seasoning on offense
As strong as the defensive performance was for Braun, there were some definite red flags on the offensive end. For one thing, Braun shot just 3-of-24 from three-point range, a cool 12.5 3P%. He appeared uncomfortable shooting in both standstill and movement scenarios, and while it's not the end of the world if Braun isn't a quality three-point shooter in his first season, it would certainly help.
There were also some bad moments as a driver to the basket with the ball in his hands. Braun averaged 2.5 turnovers per game, many of them on drives and passes to nowhere. Though his role is supposed to be more of a 3&D role, becoming a capable ball handler would help him showcase the rest of his skills at the NBA level.
The good news for Braun is that he did end up showing some good things on the offensive end. His transition play was mostly very good, and he showed some good instincts as a cutter to generate easy baskets for himself. He also averaged 4.8 assists per game, which ranked 15th among all Las Vegas participants. In a Nuggets system reliant on both ball and player movement orbiting around Nikola Jokić, seeing the floor well enough to identify the easy baskets is key. Braun appears to have that skill already in an on and off-ball capacity. Perhaps it's something he can build upon to anchor the rest of his offensive game.
Peyton Watson's skill set at 6'8″ is worth the gamble
Denver's next first round pick, Peyton Watson, certainly had an eventful Summer League himself. In five games, Watson averaged 24.5 minutes, 8.4 points, 5.6 rebounds, 1.4 assists, and 3.0 turnovers per game. He shot 31.6% from the field and 11.8% from three-point range, somehow worse than Braun. That wasn't exactly the offensive debut the Nuggets were hoping for.
And yet, the Nuggets may be proven right in their gamble on Watson. His defense, like Braun, is already at a level where he can be impactful in the NBA. He had four steals and five blocks in what amounted to four and a half games, and his ability to switch and contest shots 1 thru 5 stood out as a major positive. He's still raw as a defender, but the skill set is definitely there.
Watson is so far away offensively that he may never make it, but in the NBA where versatility is key, Watson stands out. He was the most capable defender on the board when he was selected 30th overall, and the Nuggets liked what he offered on that end of the floor across five games. On the mere chance that the offense will manifest one day, Watson is a lottery ticket the Nuggets will look to cash in a couple of years. Hopefully, the Nuggets player development team helps him realize that potential.
Ismael Kamagate is a hidden gem on defense
Though he is less heralded than the other two, Ismael Kamagate may end up being the most impactful defender the Nuggets selected on draft night.
With a 7'3″ wingspan and a wide area of coverage, Kamagate projects to be a really interesting defender. Though the Nuggets played mostly drop coverage in Summer League, they occasionally switched, and Kamagate was able to show off some impressive mobility. It helps that Kamagate is only about 225 pounds, but he has the instincts and physical tools to do much of the same at the NBA level.
Kamagate will spend next season developing his game in France, and the Nuggets will surely hope that he spends significant time developing his skills on both ends of the floor. He can always fall back on defense though, and given the importance of big man defense at the NBA level, Kamagate could be in line for minutes as soon as next year.
Collin Gillespie will have a long NBA career
It was announced on draft night that Collin Gillespie would be signed to one of Denver's two-way contract slots for the 2022-23 season. The Nuggets didn't waste any time, knowing that Gillespie could be a quality addition as a steady point guard option sooner rather than later. The fifth year senior from Villanova was a leader of one of the most prestigious programs in college, and he will be taking those qualities to the NBA level sooner rather than later.
Though the shooting percentages weren't great, Gillespie showed the ability to create a shot for himself and others. The gap in athleticism will be an adjustment for him, but Gillespie showed poise in several situations during Summer League, and he was perhaps Denver's most reliable scorer and playmaker on the roster. As long as Gillespie can continue adjusting to the speed of the NBA and remain a quality three-point shooter, he will have a long NBA career ahead of him. Many teams look for backup guards like Gillespie, and the Nuggets may need to do the same sooner or later.
Jack White was the right choice for Denver's other two-way contract
The battle between Jack White, Adonis Arms, and others for Denver's other two-way contract didn't end up being much of a battle until the race was already over. Through the first four games, White clearly separated himself as perhaps the best player on the Nuggets with a complementary skill set. As a defender, rebounder, and offensive connector, the Nuggets will struggle to find better than White.
There's a notion that White is a lower ceiling option than Arms or another wing on the Nuggets Summer League roster. Perhaps that's correct, but the addition of White symbolizes a different style between Tim Connelly and Calvin Booth. Connelly would have went with Arms, a high ceiling wing with an impressive array of scoring moves and above the rim athleticism. Booth went with White instead, the safer option with a higher likelihood to impact that Nuggets roster in a positive way sooner than Arms. Whether it's the right decision or not remains to be seen.
Both White and Arms will (probably) be in Denver Nuggets training camp in September and October. Arms and fellow wing Kellan Grady signed Exhibit 10 contracts that tie both players to the Grand Rapids Gold at least at the outset. Last offseason, the Nuggets signed Davon Reed to an Exhibit 10 contract before bringing him onto the roster via 10-day contracts and ultimately a two-way. Now, Reed is on the full-time roster the following season and is expected to play a role. Perhaps Arms or Grady could be in line for a similar path, even if it's not an immediate two-way contract.